Dayle Shafer was going through a box of her father's things after he died when she found an old silver cigarette case and lighter.
They were beautifully engraved with the initials C.G.W., but no one knew where they came from or who they belonged to.
"They were all tarnished and battered, and they looked like they'd been through the wars, literally," she said.
"They were going to go in the rubbish dump.
"But I couldn't just throw them out, so I kept them."
It would be years before she learnt the story behind them.
They belonged to her grandfather's eldest brother, Private Charles George Waugh, who died in France during the First World War.
Her father, Walter Charles George Waugh, was born three weeks before Charles died.  He was the only person she knew growing up who had three Christian names: Walter, after her grandfather; and Charles George, after his uncle.
"Dad never mentioned any of his uncles," she said.
"It was just something that was never talked about."
Years later, an unexpected letter arrived in the mail, leading her on a journey of discovery.
"I got a letter from the daughter of Dad's sister about family history and wrote to her," Dayle said.
"She sent me all this information, but she knew nothing about Charles George or what happened to him. She said, 'We just don't know.'
"So we got onto his war records at the National Archives [of Australia] and that's how I found out who the cigarette case and the lighter belonged to.
"They're engraved with his initials – C.G.W. – and the penny dropped.
"I'm glad I've kept them all these years.
"It's one of the very few things I have that belonged to my father's family.
"And it is one of my most valued possessions."
Her great-uncle, Charles George Waugh, was born in 1891, the eldest of five boys born to Charles and Cecilia Waugh, of St Leonards, in Sydney.
Known as "Charlie", he was working as a storekeeper on the railway when he enlisted in the Australian Imperial Force in September 1915.
His younger brother, Carlton John Waugh, had enlisted in August 1914, weeks after the outbreak of war.
A horse-breaker, Carlton had signed up using the name John Carlton Waugh. He claimed he was 20 at the time, but was just 19 years old.
He had completed two years of compulsory military training with the 18th Infantry Regiment in North Sydney and became one of the original members of the 1st Battalion.
The first infantry unit to be recruited for the Australian Imperial Force in New South Wales, it was raised within a fortnight of the declaration of war and embarked for overseas service two months later.
Carlton sailed with the original convoy and took part in the Gallipoli landings on 25 April 1915, rowing men to the beach and taking wounded back to the hospital ships. He later wrote about his experiences, saying that he remembered the date well; it was the date of his 20th birthday.
Carlton's brother Charles embarked for service in France on 20 December 1915 as part of reinforcements for the 17th Battalion.
The brothers experienced their first major battle on the Somme at Pozières in July 1916:  Carlton with the 1st Division; Charles with the 2nd.
Over 42 days of bitter fighting, the 1st, 2nd, and 4th Australian Divisions wrested a small, devastated area from the Germans, at a staggering cost.
In six weeks of fighting at Pozières and nearby Mouquet Farm, the three Australian divisions suffered 23,000 casualties. Of these, 6,800 were killed or died of wounds.
Charles was killed in action near Mouquet Farm on 24 August 1916.
His body was never recovered, and today his name is listed on the Australian Memorial at Villers-Bretonneux in France, and on the Roll of Honour at the Australian War Memorial in Canberra.
His younger brother, Carlton, went on to serve at Bullecourt in May 1917 and returned to Australia after the war. His parents were desperate for him to be home before Christmas, but it was not to be.
Carlton returned to Australia in May 1919. He was on the same ship home as Australia's official war correspondent C.E.W. Bean, and the poet, journalist and author, Major A.B. Paterson, better known as Banjo Paterson.
Carlton went on to serve during the Second World War and died at Concord Repatriation Hospital in Sydney on 9 June 1970.
His brother Charles's story was told at the Memorial recently as part of a Last Post Ceremony commemorating his life.
His great-niece, Dayle, was among several generations of the family who attended the ceremony and laid wreaths in his honour. The youngest, aged 15, is named after him.
For Dayle and the family, the ceremony was particularly moving.
"When they started reading about him, it wasn't just a story on a piece of paper anymore; this was a real person who was a relation of mine," she said.
"It was very sombre, and very emotional, so you really do understand the gravity of what happened.
"It must have been very sad for the family.
"We all accept we will one day lose our parents, but to lose a child, I just can't imagine the pain …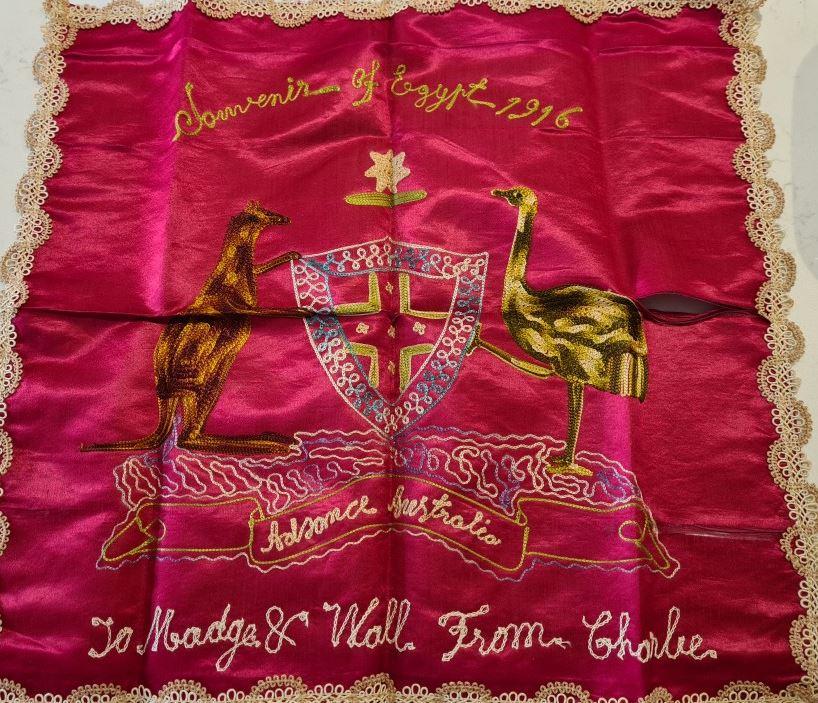 "To have had two sons over there, imagining what might happen to the other ... it must have been awful …
"He was still so young, but then you look around at all these names [on the Roll of Honour at the Memorial].
"There's 103,000 names of people who have lost their lives in war, and you think, 'Why are we still doing this; haven't we learnt'?
"For me, Anzac Day is a very personal day of grieving ...
"My grandfather died before I was born on the 25th of April 1953.
"I can remember from when I was very little, Mum would say Dad would be very upset.
"Dad was always in a very sombre, quiet mood [on Anzac Day], and as we got older, I remember he would watch the [Veterans'] March. He would see the different battalions march by, and then he would go outside … so he was obviously looking for something.
"Then I lost my mother on Anzac Day too, so I can understand why he was very upset.
"I just wish I could have ten minutes with him to say, 'What's the story?'"
Today, the battered old cigarette case and lighter that she found amongst his belongings and saved from the rubbish dump is a poignant reminder of her family's history and the great-uncle who died during the war.