Slouch hat memorial at Bullecourt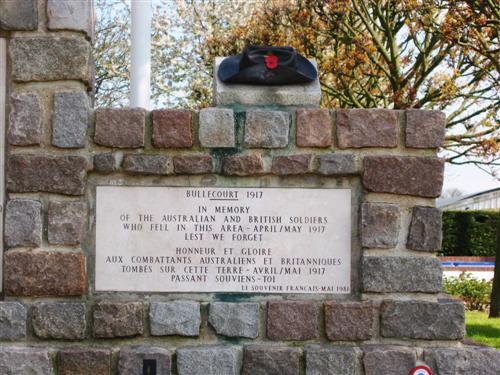 A bronze slouch hat must be a unique commemorative device.
A Bullecourt school teacher, Claude Durand, began to translate Charles Bean's account of the battles, partly for his own interest, partly for the benefit of his students. He was struck by the scale of the British and Australian casualties and realised that they had no local memorial. He and the mayor Jean Letaille started a campaign to build one. The funds were raised locally and the memorial was unveiled outside the village church on 24 May 1981. The ceremony was attended by the Australian ambassador John Rowland.
An Australian contribution was arranged by the AWM from a donation by the RSL and the Department of Foreign Affairs. As the cairn already displayed the Rising Sun badge, the slouch hat was agreed to be a distinctively Australian emblem. A bronze hat, weighing 7 kg, was made by Victorian sculptor Roy McPherson. The AWM director Noel Flanagan presented it to the village of Bullecourt on 17 September 1981.
The belief that the sculpture is an original digger's hat covered in bronze is without foundation.
In 1982 a stone cross was erected outside Bullecourt in memory of the Australian soldiers who died there but with no known grave. A bronze statue of a digger was erected in the village's memorial park in 1993.
See more images on the DVA website, Australians on the Western Front - Bullecourt Read more on Bullecourt: