Diorama conservation - Condition reporting and documentation
Thursday 4 July 2013 by Alana Treasure. 4 comments
First World War Centenary, Conservation, Dioramas
Before beginning conservation treatment on any item in our National Collection (whether it is an artwork, uniform or tank...) the first step is to inspect and document its condition. We look at how the item is made, what materials are used, what state it is in and whether there are any damaged or unstable/fragile areas or components. We can then safely handle/move the item and determine what conservation treatment is required.
Last year David and I began with initial exploration below the surface of the dioramas to gain a better understanding of their construction, taking photos and notes and drawing diagrams as we went.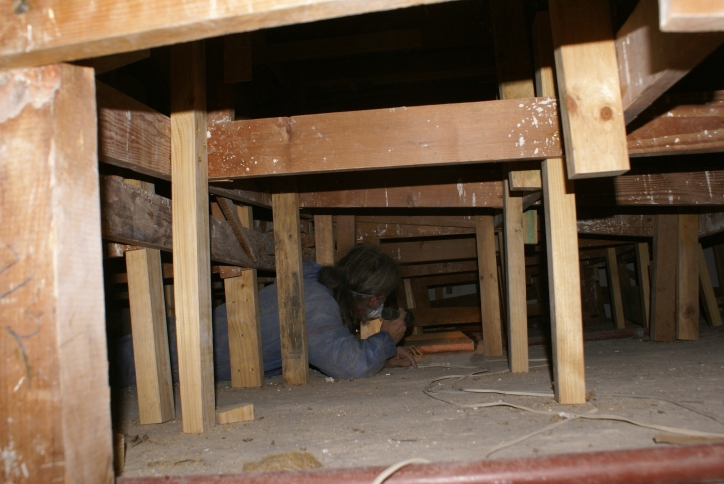 David during one of our inspection sessions - yes Lone Pine is particularly complicated!
We are able to investigate original plaster and lathe in sectioning, along with more recent previous additions to the framework.
We then called in AWM photographers Adam and Fiona with Charis to take a series of images (8 - 16 per diorama depending on size) in a 'mosaic' style so that we could record the location of damages and the condition of the top landscape and components. This required the hire of jib arm equipment and technicians John and Rohan from Candlelight Pictures, to allow our photographers to get a birds-eye view, remotely capturing photos with the camera connected to a laptop at ground level.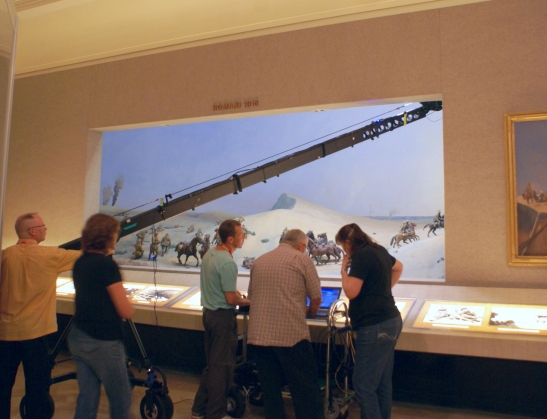 The team undertaking photography with the jib arm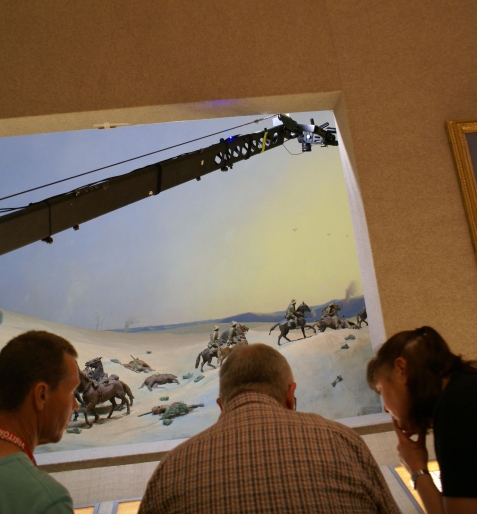 John, Adam and Fi operating the camera above Romani remotely
Some resulting birds-eye mosaic photos of Bullecourt that we use for our overlay images during condition reporting the surface
Using A3 size prints of these images the team can more easily label areas of major cracking of plaster, losses, fragile areas, broken components, and indicate areas that we've had to treat or repair.
Photos have also been taken from the front of the dioramas at various angles for record purposes before any work was undertaken, and we will continue to take many photos of specific areas and components as our treatments progress.
More on the materials and construction of the dioramas in a future blog! I'm sorry it's been a while since the first – a lot has happened in the galleries already and I will fill you in over the next month.
The Diorama Gang in the gallery
Three months ago Nick, Jocelyn, Janet and I welcomed Helen and Kasi to our core team of conservators giving us a great mix of Objects and Paintings conservators, working full-time and part-time on the project. It's hard work, but with such a fantastic, close team our time spent together is very enjoyable!
We are also very much enjoying working with the Workshop boys; Tim, Ray, Duncan, Tim and Chris on the more fundamental structural aspects of the dioramas and basically anything else required (what can't these blokes do?!), and when we need to move anything, the Registration team; Gordon, Paul, Neill, Linda, Jenn, Dom, Chris, Brendan and Michelle in the logistics and practicalities of movement.
You'll see photos of the gang at work in upcoming blogs, but for now I particularly love this one of a few of the workshop guys – great photo Jocelyn!