Film Screenings
There are no upcoming dates for this event.
That's quite a view: the Second World War on film
After the success of last year's Summer Film Series, the Australian War Memorial will again be screening a selection of films on Sunday afternoons, this time focused on varied perspectives of the Second World War. This is a rare opportunity to see these classics on the 'big' screen.
All screenings start at 1:30 pm in the BAE Systems Theatre and will be accompanied by a short introduction and insight into the film.
Cost: Free, but bookings are essential
Please email film.screenings@awm.gov.au with your name, contact number and the number of seats required.
Sunday 26 January (Australia Day)
The Rats of Tobruk (PG)
Dir: Charles Chauvel, 95min
Starring: Chips Rafferty, Peter Finch and Grant Taylor
The screening series opens on the Australia Day long weekend with an Australian classic. Chauvel spent a year researching the men that fought in Tobruk and the final product is an honest and realistic film that deserves its place in cinema history. Though in moments a piece of wartime propaganda and a product of its time, the film's laconic spirit and narrative core of mateship shines through.
Sunday 2 February
The Dam Busters (G)
Dir: Michael Anderson, 124min
Telling the inspiring true story of RAF 617 squadron's unique mission to destroy the Ruhr Dams with bouncing bombs, this film is an honest depiction of an iconic attack and the men that flew in it. Celebrating British inventiveness, determination and general stiff upper-lipped-ness, Anderson's film builds from the opening credits through to the climatic bombing of the Dams, keeping the audience soaring throughout.
Sunday 9 February
Das Boot (The Boat) (M)
Dir: Wolfgang Petersen, 209min
Based on Lothar-Günther Buchheim's bestselling fictionalised autobiography, Petersen's Oscar nominated film set aboard U-96 is a breathtaking and detailed account of one submarine's harrowing voyage through the Atlantic. Stunningly shot and with a magnificent soundtrack, this film is tense and inescapable, grabbing hold of you from the very beginning and almost never letting you up for air.
Sunday 16 February
Saving Private Ryan (MA)
Dir: Steven Spielberg, 169min
This multiple award-winning epic tells the powerful story of eight men sent on a mission to find one. Most famous for its visceral and intense depiction of the Omaha Beach landing that occupies the first twenty five minutes, the film is both expansively grand in scope and profoundly personal in tone. Equal parts brutal, honest and profoundly moving this is a film that deserves a re-visit on the big screen.
(Warning: this film contains graphic war scenes)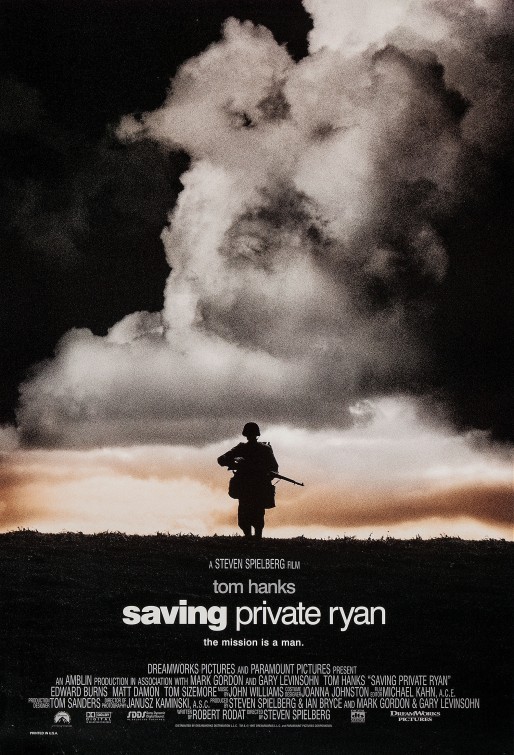 Sunday 23 February
La Vita e Bella (Life is Beautiful) (M)
Dir: Roberto Benigni, 122min
Likened to Charlie Chaplin's The Great Dictator for its combination of sublime slapstick, nuanced social commentary and inescapable celebration of the human spirit, this film is a charming ode to the power and importance of imagination. Following the story of a Jewish man who first uses humour in a whirlwind romance he must then draw on it to protect his son during the Holocaust. This exquisite film will soften even the hardest heart.