Glen Braithwaite
Flying falling diving drowning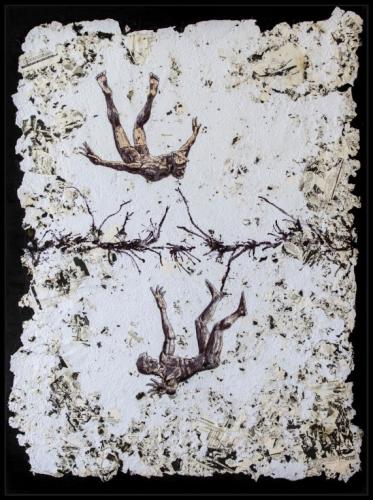 Highly commended
2021 
ink and bleach painted on recycled Commando comics and shredded slouch hat
115 x 86 cm
How do some people fly through traumatic experiences, riding the turbulence seemingly unharmed, while others struggle and ultimately drown in the currents? Although the situation may appear identical, the human experience is not. To better understand mental trauma, I needed to strip ideas of uniforms, ranks, and identity and look at the person from every angle with an altered perspective.
I embedded my own experiences in this work by recycling my childhood Commando comics and shredding my first slouch hat to create a unique, personal and war-torn textured canvas. The comics represent my childhood perception of Army life, the action and adventure, now shredded and blended with the symbol of my service, my slouch hat. The naked forms are painted in ink and highlighted with bleach. Painting with bleach is like gradually recognising your unconscious biases. Each invisible brushstroke applied to the canvas slowly appears, erasing the unerasable. Nothing, not even opinions, should be impervious to change.
The art is mounted on a 360 degree rotating bracket to enable the viewer to interact with the painting and alter their perspective. The appearance of flying from one angle may be falling from another.