The rhythm of bloodshed echoes the pulse of my beating heart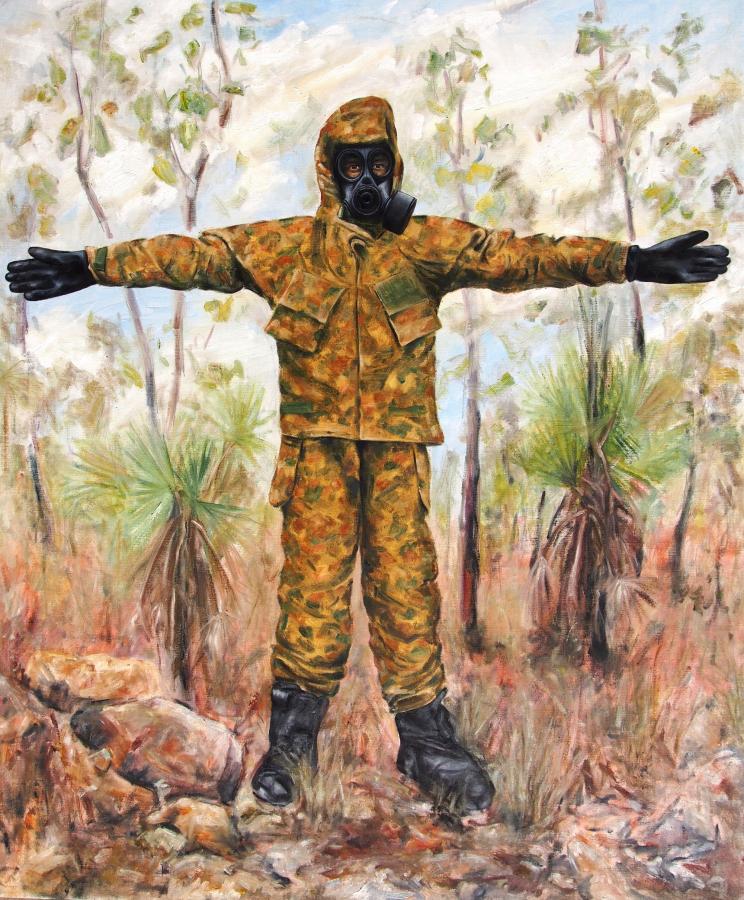 Artist statement:
The Rhythm of Bloodshed Echoes the Pulse of My Beating Heart is a self-portrait generated following chemical, biological, radiological and nuclear hazard training conducted prior to deployment to Task Group Taji IV, Iraq, in 2016-2017. The stance is a deliberate aspect of the drill; its uncanny resemblance of crucifixion bolsters the association between military service and personal danger, although this danger is distributed unevenly among those who deploy.
In an Army-issue chemical suit a soldier may survive, astronaut-like, amid the hideous vapours conjured by the militarily unscrupulous; simultaneously the suit is an image in disruptive pattern camouflage of the very Australian landscape in whose setting it is so incongruous, remote from bloody schisms episodically traumatising far-away lands. Subsumption into the landscape and the press of one's comrades-in-arms belies peering eyes behind the mask's windows, which are a conduit to the person and their lived experience within. A cocoon of inward refuge and an outward signifier: the suit is a visual foil for the two constituents of identity.
oil on linen
137 x 112 x 4 cm