It's now time to tell the story of a new generation of Australian servicemen and servicewomen.
At the heart of the Memorial development is honouring 100,000 Australians who have served our country in war, conflict and peacekeeping, humanitarian and disaster relief operations over the past 30 years. Our new exhibition spaces will allow us to tell the stories of these veterans and to recognise their service.                                                                                                                             
Share your story or donate items
If you have stories, items or objects to share from your experiences in recent conflicts, peacekeeping or humanitarian and disaster relief operations, our curators would like to hear from you. Get in touch via gallerydevelopment@awm.gov.au
We are collecting a wide range of significant material such as, uniforms, personal equipment, photographs, video footage, artworks, letters and diaries.
Of particular interest for our collection are:
|              Middle East region operations |          Australian Peacekeeping operations |
| --- | --- |
| Gulf War | Rwanda |
| Afghanistan | Somalia |
| Iraq War | Cambodia |
| Northern Iraq and Syria | East Timor |
|   | Solomon Islands |
|   | Bougainville |
Diverse voices and multiple perspectives will reveal the experiences of those who served, as well as the impact of these conflicts on veterans, their families and civilian communities. We will expand the stories of Aboriginal and Torres Strait Islander service in our galleries and we are committed to telling stories of those who continue to serve with honour among our military forces.
The display of large military equipment and objects (such as aircraft) powerfully illustrates the experiences of those who served. These objects support a greater understanding of lived history, continuing the tradition of iconic displays including the Ascot boat from Gallipoli, the "G for George" Lancaster from the Second World War, and the Huey helicopter from Vietnam, all of which present significant history and personal stories of service.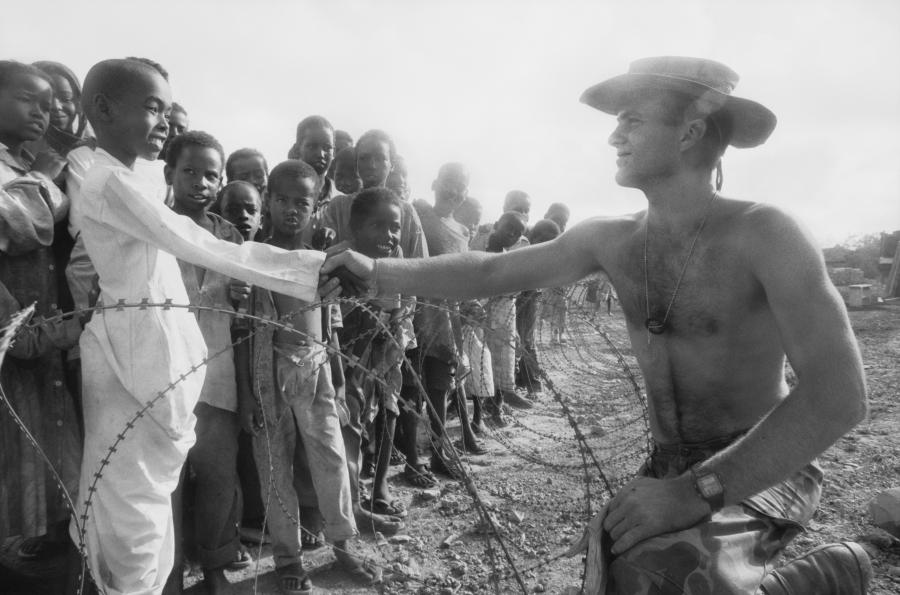 Image: Gary Ramage, MSU/93/0224/26
Description: Baidoa, Somalia. 1993-04-24. B Squadron, 3/4 Cavalry Regiment and engineers combined to work on a new roof for the Baidoa school. Sapper Keith Bawdan, of Kelmscott, WA, and Aitkenvale, Qld, greets one of the local native children looking on behind the perimeter wire.
Humanitarian and Disaster Relief
The Asia–Pacific region is more vulnerable to natural disasters and their impacts than anywhere else in the world. When they occur, these events devastate urban and rural environments, destroying livelihoods and disrupt regional prosperity and security. Australia, through the ADF and other government agencies, conducts humanitarian and disaster relief operations for humanitarian ideals, and because it is in Australia's national interest to ensure that the Asia–Pacific remains a resilient, safe, and prosperous region. Australia's first overseas disaster relief operation was in response to the "Spanish flu" pandemic in the Pacific in 1918. Since then contributions such as to the Indian Ocean Boxing Day tsunami (2004), Cyclone Winston (2016), Operation Vanuatu Assist (2017), Operation Bushfire assist (2020) and the recent COVID-19 global pandemic have helped thousands of people internationally as well as local communities here in Australia.
Image: Photographer unknown, P01665.032
Description: Bartufa, Northern Iraq. 1991-06. Woman doctor captain jane morris, medical officer with a medical aid team ('charlie' team) in the australian service contingent operation habitat, surrounded by kurdish children. The medical team had a roving commission to provide treatment to kurdish refugees fleeing iraqi forces in the wake of the gulf war.
Peacekeeping
Peacekeeping operations are an integral but often overlooked part of Australia's history. Since 1947, Australia has made more than 40,000 deployments to more than 30 countries and disputed zones around the world. Australian peacekeepers have served in the name of peace in a diverse range of roles in often dangerous environments: from securing humanitarian relief efforts in Somalia to helping restore law and order in Solomon Islands.
Our current peacekeeping gallery details only four of the more than 60 peacekeeping operations that Australia has contributed to. The efforts of so many Australians to help prevent war and to assist in the aftermath of conflict deserves greater recognition.
Image: Rick Amor, P03184.101
Description: Dili, East Timor. 13 November 1999. An M113A1 Armoured Personnel Carrier (APC) (registration number 134146) of 5th/7th Battalion (Mechanised), The Royal Australian Regiment (5/7RAR) driving along a road in the International Force for East Timor (Interfet) compound. The APC is just near a sandbagged position on the side of the road at Interfet Headquarters, just visible to the left, which is shown in P03184.100. The APC is equipped with a T50 turret fitted with a .50 calibre M2HB machine gun to the right and a L3A4 .30 calibre Browning machine gun to the left.
East Timor
Australia's peacekeeping role in East Timor was one of our nation's largest and most significant military commitments. The Australian Defence Force led the international security effort following East Timor's overwhelming vote for independence from Indonesia in 1999, and assisted in providing a safe and secure path to new nationhood in numerous operations for more than a decade.
The integral role Australia played in assisting one of its closest neighbours is told in only 40m2 of the our current 10,000m2 permanent exhibition space.
Image: Roger John Henderson Noble, P02000.073
Description: Muthanna, Iraq. 1992-09-16. United Nations Special Commission (UNSCOM) members wearing various chemical protective suits. Left to Right: British Pattern (desert camouflage), Czech POO suit, British Pattern (AUSCAM) and French suit. Most UNSCOM members preferred the combination of the French suit coupled with the British S10 respirator and Canadian overboots. UNSCOM, operating under a UN mandate, was destroying everything related to chemical and conventional warfare.
The Middle East region
Australia's long-standing involvement in a series of conflicts in the Middle East Region over the past 30 years includes the Gulf War, the Iraq War, and Australian Defence Force operations against ISIS in Iraq and over Syria.
Australia has been involved in these conflicts as part of a much larger multinational effort to bring long-term peace and stability to one of the world's most hostile areas, where fundamentalist religious movements and global terrorist organisations have planned and coordinated some of the most violent attacks on the international community.
Image: Gary Ramage P09971.002
Description: Uruzgan Province, Afghanistan.  The 6th Battalion, The Royal Australian Regiment (6RAR) was deployed to Afghanistan in January 2010 as part of the wider ADF 1st Mentoring Task Force (MTF-1). At an operational level, this deployment was particularly significant as 6RAR's responsibilities were synchronised with the withdrawal of Dutch forces from Uruzgan Province. As part of this handover, additional Operational Mentor and Liaison Teams (OMLT) were formed and MTF-1 gradually assumed responsibility for all five Kandaks (Battalions) and the Headquarters of the Afghan National Army 4th Brigade in Uruzgan.
The War in Afghanistan
The war in Afghanistan is Australia's longest war and represents a vital period in Australian military history. Since 2001, approximately 26,000 Australian Defence Force personnel have served and 42 have lost their lives. Current gallery limitations restrict the types of objects which can be on display. This constrains our ability to share the lesser-known stories and the impacts of this conflict, which include the impact on civilians in the region, and the disruption and difficulties felt by serving members and their families. These are important stories to improve understanding of what has been endured by this small part of our Australian community over the past two decades.
Your Contribution
All Australians are encouraged to participate and contribute to our gallery and exhibition development.
Subscribe to Our Next Chapter e-newsletter for more information about public consultation opportunities and to receive regular project updates.
Members of the public are encouraged to share ideas and provide feedback by emailing gallerydevelopment@awm.gov.au.