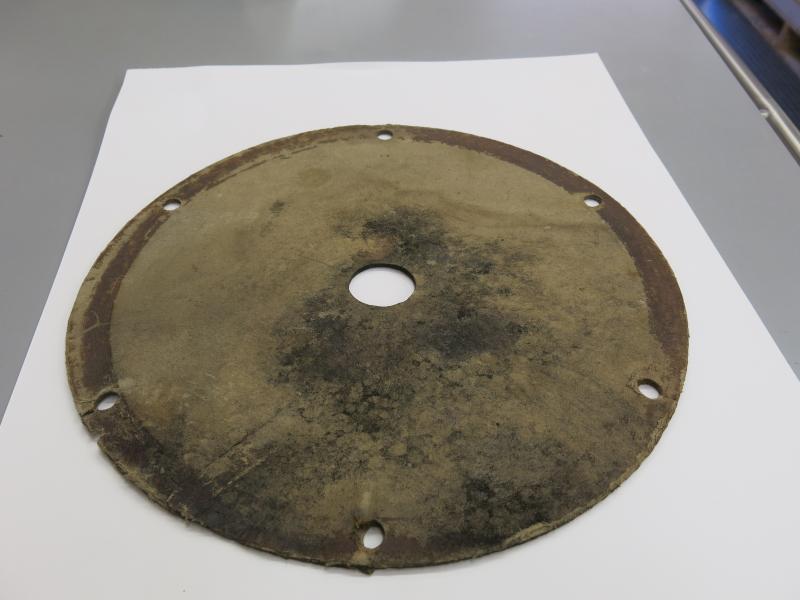 This thick cardboard disc from the V2 rocket was handed over to the paper lab by the Large Technology staff for flattening. According to the Senior Conservator of Large technology, Ainslie Greiner the disk is a gasket located at the aft end of the war head and would have been fitted over the central opening to the base fuse. The disc along with grease and dirt had mould present in some areas.
Initially it was dry cleaned with the Museum Vac to reduce dirt and mould spores. It was then humidified with an ultrasonic mist in an enclosed chamber to gently introduce water to relax the disc. This procedure is undertaken to ensure that that no staining or tide lines appear from the water.
As the disk was not relaxing after a few hours of humidification due to its thickness, it was decided to flatten the object in an industrial style. Moisture was introduced to the board by mist and spray of 50/50 alcohol/ de-ionised water. It was then pressed with light weights so that the board did not crack and then slowly the weights were increased to heavy bricks.
 After one week of application of moisture and weights and 2 weeks under heavy weights the disc came out as flat as it would have been new.
A great result was achieved applying an unconventional paper conservation technique.