Iroquois helicopter in the Conflicts 1945 to today galleries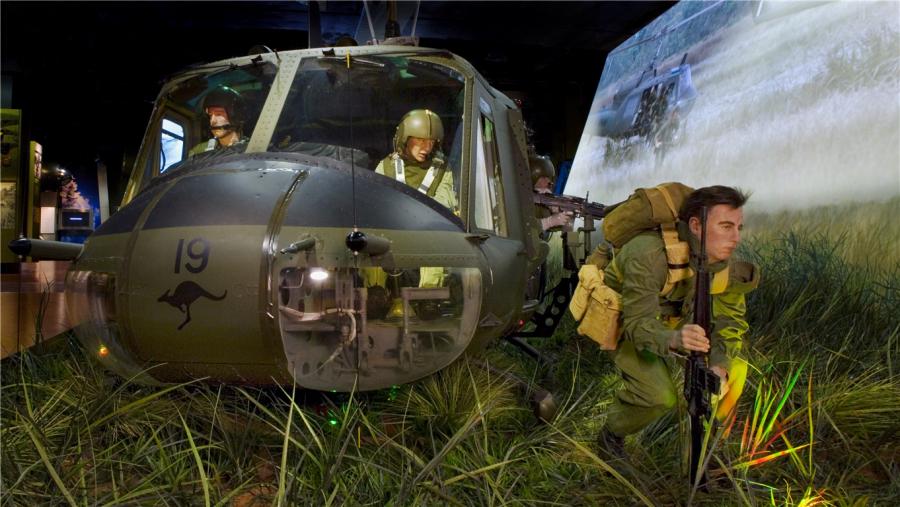 The Vietnam gallery has as its centrepiece an Iroquois helicopter, complete with a multimedia experience of a 'helibourne assault' – a landing with soldiers disembarking, and a 'dust-off' – a medical evacuation. Visitors can get a very close-up look at the helicopter.
The Bell UH-1B Iroquois A2-1019 was among the first such aircraft deployed to Vietnam, arriving in May 1966. Over the next two years it carried out 489 missions, including casualty evacuation, troop insertion/extraction, logistics supply and freight carriage, and reconnaissance. It was crewed by 9 Squadron RAAF.
Following the war, the Iroquois was used for training and operations while based at Williamtown (NSW), Butterworth (Malaysia) and later Pearce (WA). The Memorial acquired the Iroquois in May 1985, and the aircraft has been extensively conserved and refurbished by Memorial and volunteer staff to bring its back to its operational appearance in early 1967.
Iroquois sound-and-light show
'Helibourne assault' starts at 45 minutes past the hour