The Australian War Memorial's magnificent heritage building is situated beneath picturesque Mt Ainslie, only two minutes from Canberra's city centre and ten minutes from the airport. The Memorial is one of the world's great museums and renowned for its extensive collection of art, relics, photographs, film and sound commemorating the sacrifice of Australians at war.
Our unique function spaces are set among large rare, historic objects and authentic works of art created by some of Australia's leading artists. The Memorial is one of very few places where you can dine amid such amazing objects, making it one your delegates will remember.
To complement your functions the Memorial can arrange gallery tours, performances, audiovisual screenings and ceremonies for your guests.
Venues available for hire
Anzac Hall offers a truly unique dining experience where you can wine and dine among historic items, authentic objects and great works of art depicting Australia's military history.
Anzac Hall has three separate areas which you can use during your function, making the space suitable for large gala diners, presentations, cocktail functions, or smaller boutique functions. Each area is surrounded by large war relics including the massive Lancaster bomber, "G for George", a midget submarine, and rare First World War aircraft.
Give your delegates an experience they will never forget by scheduling any of our four audiovisual shows during your function. Watch Peter Jackson's amazing depiction of First World aerial combat in Over the front: the Great War in the air; see a daring Bomber Command raid involving "G for George" in Striking by night; experience Sydney in 1942 when the Japanese midget submarines raided the harbour in Sydney under attack; or see the famous Sydney–Emden fight in Our first naval victory. These multimedia shows can be scheduled during your function in Anzac Hall, ask our event coordinator for more information.
Available after hours
Mezzanine capacity: 100 pax cocktail or banquet
Lower level capacity: 350 pax cocktail or banquet
More information
The Memorial Theatre is a premium conference facility available to the corporate, Government and other user groups who have a need for general and high tech theatre conferencing. The Theatre is a fully functioning Dolby theatre and self contained presentation venue offering a one-stop conferencing facility. You can complement your function with guided tours or special presentations by the Memorial's curators and historians.

The audiovisual equipment available in the Theatre is part of a convenient single hire package and includes microphones, recording facilities, projectors, panel tables, and our Theatre Manager who is available to arrange all technical requirements, as well as to assist with testing and set up. Adjoining the Theatre is the Captain Reg Saunders Gallery and Courtyard, this space is also included in the cost of hiring the Theatre and is perfect for breakout, lunches and morning/afternoon teas. 
Capacity: 190 pax theatre style
More information
Captain Reg Saunders Gallery and Courtyard
The Captain Reg Saunders Gallery and Courtyard is the dedicated breakout space for the BAE Systems Theatre. However, it is also available separately as a function space, and is ideal for cocktail parties, book launches or similar. The Captain Reg Saunders Gallery and Courtyard has its own dedicated entry, or can be accessed from the Memorial's galleries. It contains a podium on which a lectern can be located, as well as a reception desk and cloaking facilities.

Business hours capacity: 190 pax cocktail
After hours capacity: 190 pax cocktail; 60 pax banquet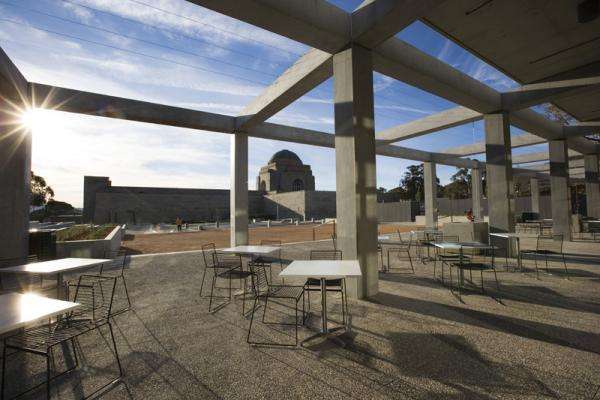 Poppy's café is a beautiful restaurant with full working kitchen that overlooks the Memorial and our beautiful grounds, and is available evenings for functions. With direct parking beneath and separate entry Poppy's is perfect for cocktail or banquet functions with a difference.
Available after hours
Capacity: 150 pax cocktail; 100 pax banquet  (120 with outdoor seating)
For enquiries and bookings please contact us on 02 6263 6600
More information
The Sculpture Garden is located on the western side of the main Memorial building, and provides a tranquil and picturesque setting for outdoor functions. The Garden is dotted with memorials to specific conflicts or services, including the BCOF Memorial, Womens' Services Memorial Merchant Navy Memorial. It has hard stand areas suitable for the erection of marquees, as well as extensive manicured lawns, and a variety of mainly cold-climate trees. Power is available at several points.

Capacity: by arrangement
More information
Premium services
Highlights tour for private functions
Accompany staff on a tour of the Memorial's galleries, and uncover the fascinating stories behind diaries, uniforms, medals, transport, or works of art for example. Hear about some of the men and women who have served Australia for over 100 years. These tours may include a viewing of the Commemorative Area, the First World War or Second World War galleries, Hall of Valour, or Aircraft Hall depending on the length of tour and interests of the group.
Length of tour: 30-45 minutes
Group size: up to 150 people.
For groups over 150 people, please contact awmfunctions@trippaswhitegroup.com.au or 02 6113 0635 to discuss options.
Contact
Enquires about function at the Memorial can be directed to our hospitality partner, Trippas White Group.
Phone our dedicated events team on 02 6113 0635 or email AWMFunctions@trippaswhitegroup.com.au.