Australian War Memorial leads Remembrance Day 2022 commemorations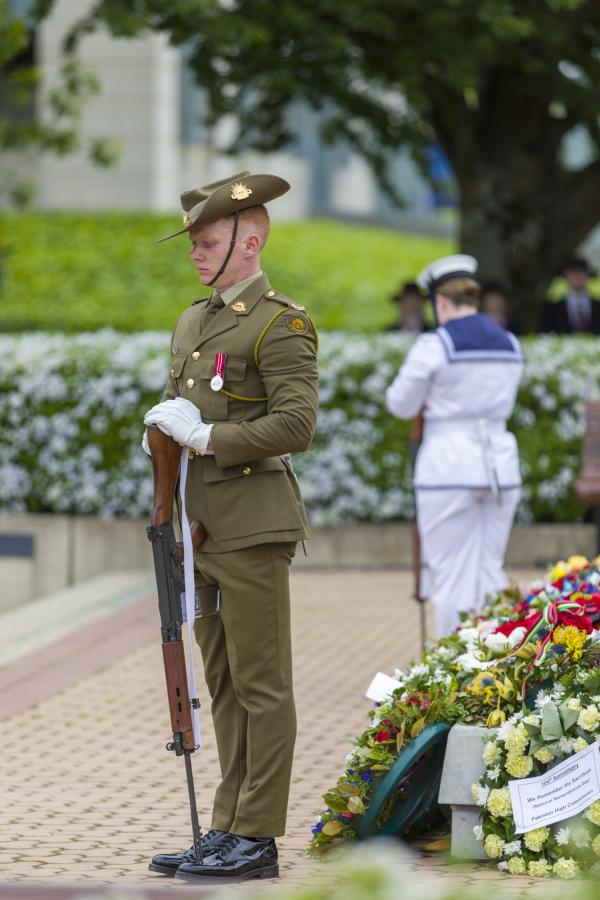 More than 1,500 people gathered at the Australian War Memorial this morning to commemorate Remembrance Day.

At 11 am today, the nation paused to mark the 104th anniversary of the Armistice that ended the First World War after more than four years of bloody fighting.

On this day each year, people around the world observe a minute's silence in commemoration of those who have died in war, a tradition continued by the Memorial at the National Ceremony in Canberra.

The National Ceremony was held in the Captain Reg Saunders Courtyard, the first such ceremony to be held without social restrictions since 2019.

The ceremony was attended by the Governor General of the Commonwealth of Australia, His Excellency General the Honourable David Hurley AC DSC (Retd) and his wife, Her Excellency Mrs Linda Hurley, and was broadcast live across Australia by the ABC, and streamed online.

The Commemorative Address was delivered by Memorial Fellow, Mr Kerry Stokes AC.
"We reflect on this day when the guns finally fell silent on the Western Front in 1918," Mr Stokes said.

"Immersed in the spirit of those who have given their all ... we pay tribute and ponder what we have been given.

"We remember those who have given us what we have and made us who we are." 

Director of the Australian War Memorial, Matt Anderson PSM, said: "It was lovely to welcome people back to the Memorial without COVID restrictions to commemorate and remember." 

Remembrance Day concludes with a moving Last Post Ceremony honouring the Unknown Australian Soldier, whose tomb rests in the Hall of Memory, and whose eulogy was first delivered by former Prime Minister Paul Keating in 1993. 

Remembrance Day Commemorative Address: https://www.awm.gov.au/commemoration/speeches/remembrance-day-2022
More information on Remembrance Day is available on the Memorial's website at: https://www.awm.gov.au/commemoration/remembrance-day
 
Photographs from the 2022 Remembrance Day service will be available on the Memorial's Flickr page: https://www.flickr.com/photos/australianwarmemorial
Contact Name
Rachel Curtis
Contact Email
Contact Phone Number
02 6263 6628
Contact Mobile Number
0458 842 616