The Memorial boasts a staff of subject specialists in all aspects of military history and museum practice.
Our articles and our Encyclopedia allow subject specialists to share their knowledge on Australian military history.
They also provide a way for us to take a closer look at the people and the stories behind the history and our museum collection. 
It's been 30 years since John Perryman sailed into Mogadishu harbour aboard HMAS Tobruk, but what he saw there will stay with him forever.
Jack Harry Norman was just 18 years old when he volunteered to serve during the First World War. But with no living relatives, "the whereabouts of [his] parents not known", Jack was forced to name the Chief Protector of Aboriginals in Queensland as his next of kin. 
William Yeo had to fight to serve during the First World War. He would enlist three times in four years, and be discharged twice. The reason: he was Aboriginal.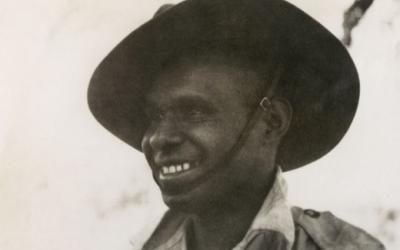 When Charles Mene returned to Australia at the end of the Second World War, he realised that, for him, the war wasn't really over.
John Burns was starting to worry. It was 18 August 1966, and the battle of Long Tan had broken out. John, a bombardier with the 103 Field Battery at Nui Dat, was providing covering fire for the Australian troops, when his ammunition started to run dangerously low.
Doctor Leonard Darby, Senior Surgeon of HMAS Sydney, was below deck when the German cruiser SMS Emden opened fire. The ensuing battle became renowned as the first triumph of the Royal Australian Navy.
In 1995, RAAF theatre nurse Robyn Green deployed to Rwanda. She was part of Operation Tamar,  Australia's contribution to UNAMIR II (the UN aid/mission to Rwanda.
On 14 May 1943 Centaur was en route from Sydney to Cairns when she was sunk by a Japanese submarine south of Moreton Island, off the Queensland coast.
Gilbert Toplis had seen his fair share of war. One of the first Australians to enlist during the First World War, he landed on Gallipoli on 25 April 1915 and was wounded at Lone Pine before serving on the Western Front in France and Belgium.