The Memorial boasts a staff of subject specialists in all aspects of military history and museum practice.
Our articles and our Encyclopedia allow subject specialists to share their knowledge on Australian military history.
They also provide a way for us to take a closer look at the people and the stories behind the history and our museum collection. 
George Wheatley will never forget the day his father died. It was 13 November 1965, and his father, Kevin "Dasher" Wheatley VC, was on a search and destroy mission with a platoon of South Vietnamese soldiers in Vietnam.
On 11 November 1991 a crowd gathered around the newly established United Nations compound in Phnom Penh, capital of Cambodia. 
Ada Rayner was nine years old when she watched her father, Percy Larkin, march at the opening of the Australian War Memorial 80 years ago.
Terry Colhoun was 14 years old when the Second World War broke out in September 1939.
The Battle of Amiens lasted only three days, but it was a turning point on the Western Front that helped end the First World War. Daniel Aarons, a captain in the 16th Battalion, wrote an account of the battle to his sister.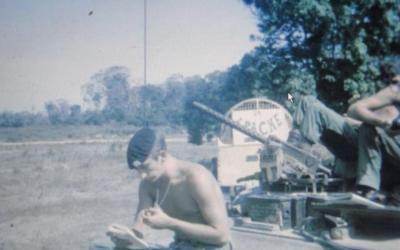 Bruce Cameron was 22 years old when he climbed out of his Centurion tank and risked his life to save a soldier who had been severely wounded and was in danger of being killed.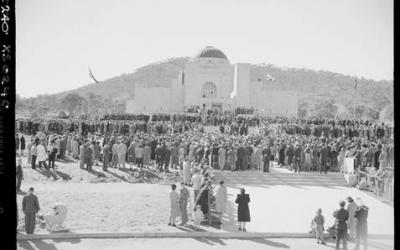 The Memorial is more than a monument. Inside the sandstone building, with its copper-clad dome, selections from a vast National Collection of war relics, official and private records, art, photographs, film and sound are employed to tell the story of the Australian nation's experience in two world wars, regional conflicts, and international peacekeeping.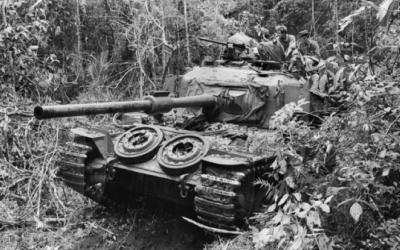 The Centurion tanks were smashing their way through the jungle as part of Operation Overlord when there was a small 'puff' of white smoke, just above ground level. For a split second, Bruce Cameron was reminded of what can happen when a tank crushes a rock. But then he heard the bang.