The Memorial boasts a staff of subject specialists in all aspects of military history and museum practice.
Our Articles and our Encyclopedia allow our historians, curators, librarians and exhibition team to share their knowledge and information on Australian military history, the Memorial's vast collection, recent acquisitions, exhibitions and events.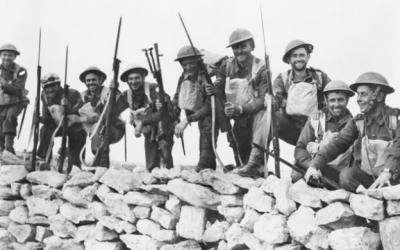 This year marks the 80th anniversary of the battle of Bardia, which took place from 3 to 5 January 1941. It was the first battle fought by Australian troops in the Second World War.
Christmas 1914 was a Christmas like no other. To help spread a little festive cheer during the dark days of war, 'every sailor afloat and every soldier at the front' was given a special gift tin for Christmas.
How a 16-year-old girl disguised herself as a soldier and twice stowed away on a troopship during the First World War.
On Christmas Day 1917, Meysey George Hammond narrowly escaped death near Ploegsteert when a sniper's bullet tore through his breast pocket, damaging a field notebook and cigarette case, but leaving him unscathed.
In late January 1951 local authorities in the northern district of Australian-administered Papua entered an alien landscape. The usual dense vegetation had been transformed into fields of burnt ash and destruction.
It was Christmas Day 1918, and the men of the Australian Flying Corps 4 Squadron had just sat down to enjoy a sumptuous Christmas lunch when a small French boy wandered in to the airmen's mess at Bickendorf Air Base in Germany.
It is 119 years old and is thought to be one of the oldest Christmas puddings in the world. But the story of how a plum pudding from the Boer War ended up in the National Collection at the Australian War Memorial is a remarkable one.
Frank Norman Evans, the son of Sarah and Edward Evans from Charters Towers, Queensland, was 19 years old when he enlisted in the Australian Imperial Force  on 19 April 1915.
"I'm the same age as Teddy was, and for Teddy to strap himself into that gun is incredible to say the least; I couldn't imagine having to do that.