The Memorial boasts a staff of subject specialists in all aspects of military history and museum practice.
Our articles and our Encyclopedia allow subject specialists to share their knowledge on Australian military history.
They also provide a way for us to take a closer look at the people and the stories behind the history and our museum collection. 
In their first duty, the Australians of 3RAR proved their mettle alongside their British comrades.
On the 28th of October 1918 the flag of the Arab Revolt – also known as the flag of the Hejaz – was raised for the first time over the village of Amman, the future capital of Jordan. Leading the honour guard were three officers and 50 men of the 1st Australian Light Horse Regiment.
28th of October marks New Zealand's fourth observance of the National Day of Commemoration for the New Zealand Wars (Te Pūtake o Te Riri, He Rā Maumahara).
Albert Ernest Manley had been on the Western Front just over a month when he died during the freezing winter of 1917, leaving behind his wife and infant daughter.
Monday 5 June 1967 began as a rather ordinary day for Major Keith Howard. Within a matter of hours, Howard would be wounded and in the middle of a war on the streets of Jerusalem.
Treatment of Vellum certificate appointing Benjamin Rhodes as First Lieutenant in the Reserve of Officers from 3 October 1896.
Most Australians have heard of the shocking stories of Australian prisoners of war of the Japanese during the Second World War. But few will be aware that some 7,000 Australian soldiers became prisoners of war of the Germans and Italians.
Artist Napier Waller lost his right arm after being wounded in the fighting at Bullecourt in 1917, but he never lost his love of art. Today, Napier Waller is also remembered at the Memorial through a $10,000 art prize named in his honour.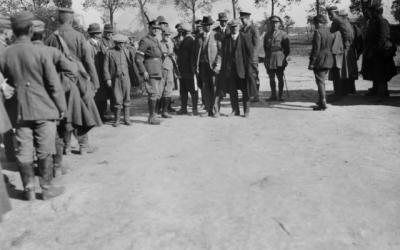 "Having seen the result of three years of well kept diaries by Lt Wilkinson of C Coy I was filled and fired by a desire to emulate his good example …"