The Memorial boasts a staff of subject specialists in all aspects of military history and museum practice.
Our Articles and our Encyclopedia allow our historians, curators, librarians and exhibition team to share their knowledge and information on Australian military history, the Memorial's vast collection, recent acquisitions, exhibitions and events.
This article highlights new information that has come to light about the Menin Gate Lions.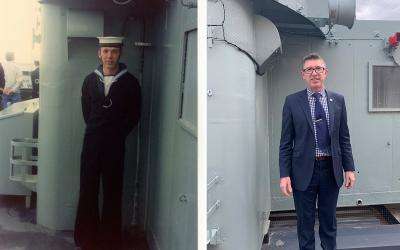 The Memorial's visitor services manager and retired Leading Seaman, Gerard Pratt, served on-board HMAS Brisbane (II) as a radio operator, joining the crew after its return from the First Gulf War.
On 22 October 1950, the men of the 3rd Battalion, Royal Australian Regiment (3RAR) fought their first battle in Korea in an apple orchard north of Pyongyang.
On 20 October 1992 two Australian officers landed in Mogadishu, the capital of Somalia and a city wracked by civil war.
Ethiopia is an often overlooked theatre of the Second World War. Fascist Italy invaded Ethiopia from Eritrea and Italian Somalia in October 1935. In May 1936, Italy proclaimed the annexation of Ethiopia and Victor Emmanuel III was proclaimed emperor.
David Nicolson has an image of a Bushmaster tattooed on his arm, a permanent reminder of his experiences in Afghanistan.
Matt Jones never dreamt that he would one day win a national art prize for veterans, but that's exactly what happened.
When Christine Hall's husband Stephen returned from Afghanistan in 2012, she felt compelled to capture the moment forever.
Due to Covid-19 our Objects curators had the opportunity to spend more time at our storage facility. On a pallet at the Memorial's Treloar Technology Centre is a very rare German First World War stretcher.