The Australian War Memorial is open to the public with a new temporary entrance.
Visitors will require timed tickets to enter the Memorial galleries, and also to attend the daily Last Post Ceremony at 4:45 pm in the Commemorative Area.
From 1 January 2024, the daily Last Post Ceremony will begin at 4.30 pm.
Ticket bookings open now. Access to the Memorial entrance and visitor carpark is via Fairbairn Avenue. 
Bookings are essential for all visiting school and school-aged groups.
Book your free ticket
School and school aged group bookings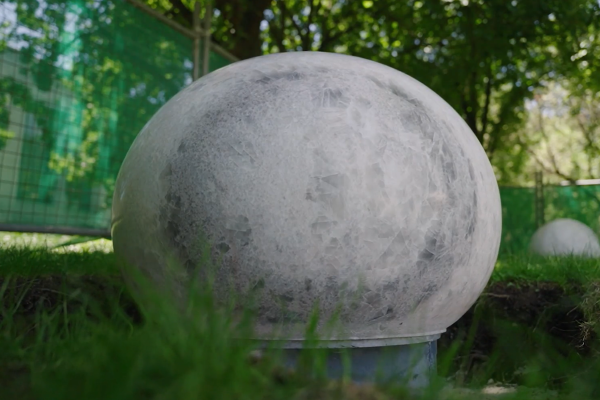 For Every Drop Shed in Anguish
A contemporary public artwork, crafted in marble by artist Alex Seton, has arrived at the Australian War Memorial to represent the "blood, sweat and tears" shed by those in service and their families.
For Every Drop Shed in Anguish is made up of 18 unique "droplets" of marble, some weighing up to 3000 kgs.
The sculpture has arrived for installation with landscaping to follow.  The dedication will be held on Thursday 22 February 2024 with the event open to the public.
Learn more
Applications for the 2024 Napier Waller Art Prize are open now, with veterans from across the country invited to apply.
Applications close 11.59 pm Sunday 28 January 2024.
The Napier Waller Art Prize is open to all current and former service personnel in the Australian Defence Force. The prize encourages artistic excellence, promotes the transformative power of creativity, and raises awareness of the experiences and talent of service personnel.
Find out more
Explore a selection of resources related to the wartime experience of Aboriginal and Torres Strait Islander peoples.
Please be advised that the following pages contain the names, images and objects of deceased people.
Explore
FEATURED ARTICLES
Ron Dennis never really knew his father. His father Bernard enlisted when Ron was too young to remember him and died in New Guinea on Armistice Day 1943, six days before Ron's sixth birthday.

It's a striking image of a fresh-faced young man taking a photograph of himself reflected in a dresser mirror more than 100 years ago. Less than a year later, 21-year-old Captain "Rich" Baker was dead, one of the last Australians to be killed in action during the First World War.

The Memorial is seeking permission from the copyright holders to publish the collections listed below on the Memorial's website.