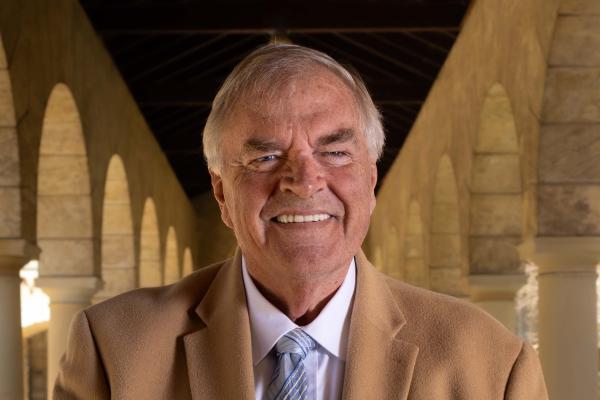 The Honourable Kim Beazley AC was the 33rd Governor of Western Australia.

Prior to being installed as Governor, Mr Beazley had dedicated almost three decades to a career in Federal Parliament, representing the WA seats of Brand and Swan.

In 2009, Mr Beazley was awarded the Companion of the Order of Australia for service to the Parliament of Australia through contributions to the development of government policies in relation to defence and international relations, and as an advocate for Indigenous people, and to the community.

Mr Beazley was born in Perth, Western Australia. He completed a Bachelor of Arts and Master of Arts at the University of Western Australia. In 1973, he was awarded the Rhodes Scholarship for Western Australia and completed a Masters of Philosophy at Oxford University.

Mr Beazley was a Minister in the Hawke and Keating Labor Governments (1983-1996) holding, at various times, the portfolios of Defence, Finance, Transport and Communications, Employment Education and Training, Aviation, and Special Minister of State.

From 1995 to 1996, Mr Beazley was Deputy Prime Minister and Leader of the Australian Labor Party and Leader of the Opposition from 1996 to 2001, and 2005 to 2006. Mr Beazley served on parliamentary committees, including the Joint Intelligence Committee and the Joint Foreign Affairs, Defence and Trade Committee.

After his retirement from politics in 2007, Mr Beazley was appointed Winthrop Professor in the Department of Politics and International Relations at The University of Western Australia.

In July 2008 he was appointed Chancellor of the Australian National University, a position he held until December 2009.  Mr Beazley has previously been a member of the Council of the Australian War Memorial from July 2009 to December 2009.

Mr Beazley took up an appointment as Ambassador to the United States of America in February 2010. He served as Ambassador until January 2016.

Upon returning to Australia from Washington in 2016, Mr Beazley was appointed as President of the Australian Institute for International Affairs (2016-17), Co-Chairman of the Australian American Leadership Dialogue (2016-18), Distinguished Fellow at the Australian Strategic Policy Institute, and a Director and Distinguished Fellow at the Perth USAsia Centre.
Corporal Daniel Keighran VC was appointed to Council in June 2016 for a three-year term. Corporal Keighran enlisted in the Australian Army at 17 and served his country as part of the 6th Battalion, Royal Australian Regiment (6RAR), discharging from full-time service in 2011. Corporal Keighran deployed to Rifle Company Butterworth, Malaysia, in 2001 and 2004; Timor-Leste (East Timor) in 2003–04; Iraq in 2006; and Afghanistan in 2007 and 2010. Corporal Keighran is the only Victoria Cross recipient from the Royal Australian Regiment in its proud 67-year history, with his citation reading 'For the most conspicuous acts of gallantry and extreme devotion to duty in action in circumstances of great peril at Derapet, Uruzgan province, Afghanistan, as part of the Mentoring Task Force One on Operation SLIPPER'. Since completing his full-time service Corporal Keighran has held various private sector roles including his current association with Australian Defence Apparel (ADA) as a Brand Ambassador, working on military and tactical apparel and load carriage with the Research, Development and Innovations Team. Dan continues to serve his country as an Active Reservist with the Australian Army and donates his time as an Ambassador to Mates4Mates.
The Hon Anthony (Tony) Abbott AC
Appointed by the Governor-General of Australia to the Council of the Australian War Memorial on 1 October 2019 for a three year term. Tony Abbott was elected prime minister by the Australian people on September 7, 2013, and served for two years. In his time as PM, the carbon tax and mining tax were repealed, free trade agreements were finalised with China, Japan and Korea; the people smuggling trade from Indonesia to Australia was halted and Australia became the second largest military contributor to the US-led campaign against Islamic State in Iraq. In 2014, and again in 2015, he spent a week running the government from a remote indigenous community. Tony Abbott served as the member for Warringah in the Australian parliament between 1994 and 2019. As the local MP, he was instrumental in the creation of the Sydney Harbour Federation Trust to preserve the natural and built heritage of his electorate. Prior to entering parliament, he was a journalist with The Australian, a senior adviser to opposition leader John Hewson, and director of Australians for Constitutional Monarchy. He has degrees in economics and law from Sydney University and in politics and philosophy from Oxford which he attended as a Rhodes Scholar. Since 1998, he has convened the Pollie Pedal annual charity bike ride which has raised nearly $7 million for organisations such as Soldier On and Carers Australia. He still does surf patrols with the Queenscliff Surf Life Saving Club and serves as a Deputy Captain with the Davidson Rural Fire Brigade. He is married to Margaret and they are the parents of three daughters – Louise, Frances and Bridget. Mr Abbott is a recipient of Australia's highest honour, the Companion in the General Division in the Order of Australia (AC) in 2020 for "eminent service to the people and Parliament of Australia".
Wing Commander Sharon Bown (Ret'd)
Ms Bown was reappointed to the Council of the Australian War Memorial on 1 April 2019 for a three-year term.  She is a member of the Roll of Honour Committee of Council as an advisory member to research, establish policy and provide recommendations for additions to the Roll of Honour, or to seek alternatives for recognition.  She was previously a Council member for a three-year term from June 2016.
She is a champion for recognising the work of women and highlighting their service and contribution to Australia's Defence Force. She regularly MC's the Last Post Ceremony, volunteers as a guide in the galleries sharing her knowledge and experience with visitors and attends many events and ceremonies as a representative of the Council.
She served as a Nursing Officer in the Royal Australian Air Force for 16 years and discharged in 2015.  Deployments include Timor-Leste in 2000 and 2004; Afghanistan in 2008 as Officer-in-Charge of the Australian Medical Task Force in Tarin Kowt, Afghanistan; and on various aeromedical evacuation tasks, including Papua New Guinea in 2001, Solomon Islands in 2003 and Bali, following the terrorist bombings in 2005.
Having cared for Australian Defence Force personnel and their families in Australia and overseas, Ms Bown is a passionate advocate within the field of Military and Veterans' Health, and demonstrates a unique insight into the welfare and healthcare needs of those adversely affected by their service.  She was appointed National Vice President of the Air Force Association in 2020.
Ms Bown has a Bachelor of Nursing and a Bachelor of Psychological Science, and she is currently undertaking a Masters of Psychology as she continues to pursue her interest in exploring the effects of service.  She is the author of One Woman's War and Peace: a nurse's journey in the Royal Australian Air Force; an Ambassador for Phoenix Australia, Centre for Posttraumatic Mental Health and a Fellow of the Australian College of Nursing.
Mr Glenn Keys AO is the Founder, Executive Chairman and Director of Aspen Medical, one of the world's leading providers of outsourced healthcare solutions.
In 2010, Mr Keys founded the Aspen Foundation, which funded the Australia wide study into Ex-Service Support Organisations (ESO) Mapping Project to assist in understanding the range and distribution of ESO's and how they can better support veterans.  He was also a Founding Director in the organisation that led the campaign to inaugurate the Invictus Games in Australia.  He became Director of the Australian Invictus Games in 2018 and is now a board member of Veterans Sport Australia.  Mr Keys sits on a number of boards including the National Disability Insurance Agency.
Prior to building and leading businesses in the private sector, Mr Keys had a distinguished career in the Australian Defence Force spanning 15 years.  He completed Officer Training at RMC Duntroon and studied Mechanical Engineering. He also studied Aeronautical Engineering with UK MoD in the United Kingdom and was the first Army Flight Test engineer at the RAAF Aircraft Research and Development Unit.  He was Chief Engineer, Army Aircraft Logistics Management Squadron, from 1992 to 1993. 
Mr James McMahon DSC AM DSM
James is currently the Chief Operating Officer at Australian Capital Equity. Prior to this he was the Commissioner for the Department of Corrective Services in Western Australia and Chief Operating Officer at Azure Capital, a corporate advisory firm. James' corporate and public sector experience followed a career in the Australian Defence Force, 22 years full time and subsequently 11 years allocated as a reservist.
As an SAS Squadron Commander, the Squadron was awarded the Meritorious Unit Citation for exemplary performance in Timor-Leste. As Commanding Officer, the SAS Regiment was awarded the Meritorious Unit Citation for sustained outstanding service in warlike operations in Afghanistan. James was awarded the Distinguished Service Cross (DSC) and the Distinguished Service Medal (DSM) for leadership and command in action in Timor-Leste, Afghanistan and Iraq.
James was named Western Australian of the Year 2019 for his service to the Community.
Board memberships include the West Coast Eagles Football Club 2007–2015, where he also served as Deputy Chairman and remains a current member of the Leadership Subcommittee, the SAS Resources Trust Board, the St John of God Health Care Board, Australian War Memorial Council and the Investment Advisory Group Committee for RSL WA. He is also an ambassador for 'The Fathering Project'. Education qualifications include a Masters in Management and a Masters in Business Administration.
James was appointed as a Member of the Order of Australia in 2022 for significant service to veterans and their families, and to the community.
Major General Greg Melick AO RFD FANZCN SC (Ret'd)
Major General Greg Melick AO RFD FANZCN SC was appointed to Council in March 2015. He is a Hobart based Senior Counsel who has been a member of the ADF Reserves since 1966. He has commanded at all levels from section to brigade before becoming Australia's most senior Reserve officer in 2007, and later becoming the ADF's Head of the Centenary of Anzac Planning Team in 2011. Units in which he served included 2nd Battalion, Royal New South Wales Regiment and One Commando Company and units/ formations he commanded included 12th/40th Battalion, Royal Tasmania Regiment and 8 Brigade. He is also the Colonel Commandant of 1st Commando Regiment. He has been a Principal Crown Counsel in the Tasmanian Crown Law Office, a Statutory Member of the National Crime Authority and the NSW Casino Control Authority. He was appointed a part time Deputy President of the AAT in September 2014 and the part time Chief Commissioner of the Tasmanian Integrity Commission in 2015. He was elected National President of the Returned & Services Leagues of Australia on 30 May 2019. He has conducted several investigations including the one into the Beaconsfield mine collapse, and is Cricket Australia's anti-corruption special investigator. He is a member and former chairman of the board of St John Ambulance (Tasmania).
Dr Susan Neuhaus AM CSC was appointed to Council in April 2018. Susan is a Fellow of the Royal Australasian College of Surgeons, holds an adjunct appointment as Clinical Associate Professor of Surgery at the University of Adelaide and is a practicing surgeon and surgical oncologist. Susan has completed a career spanning 20 years in both the Regular Army and Army Reserve. She is a graduate of Australian Command and Staff College (Res). Her operational service includes deployments to Cambodia, Bougainville and Afghanistan. She was the Commanding Officer, 3rd Health Support Battalion, promoted to Colonel in 2008 and awarded the Conspicuous Service Cross in 2009 for military service.
Susan has held significant board appointments, predominantly in the not-for-profit sector and is a Fellow and current Chair and President of the South Australian-Northern Territory Division of the Australian Institute of Company Directors (AICD). Her former roles include Chair of The Repat Foundation -The Road Home, member of the South Australian Veterans Health Advisory Council and Co-Chair of the South Australian PTSD Centre of Excellence Ministerial Advisory Panel (now established as the Jamie Larcombe Centre).
Susan is the current Chair of the Veterans' Advisory Council, South Australia and Patron of the Virtual War Memorial, Australia. Developing national research collaborative. Susan is widely published in areas of operational health care, has undertaken national research investigating the gender specific effects of military service and deployment and is co-author of Not for Glory: A century of service by medical women to the Australian Army and its Allies. Susan was made a Member of the Order of Australia in 2020 for services to medicine and veterans and their families.
Mrs Josephine Stone AM was appointed to Council on 26 February 2015. Mrs Stone is a graduate of the Melbourne Law School and has worked in a number of legal institutions, both public and private, in Victoria and the Northern Territory of Australia. Previous professional involvements include being a statutory member of the Regional Telecommunications Independent Review Committee (CWTH), Professional Standards Manager at the Northern Territory Law Society, Assignments Director at the Northern Territory Legal Aid Commission, solicitor with the Australian Government Solicitor and with private firms in Melbourne, Alice Springs and Darwin. Currently, Mrs Stone is a director of a private family company. Community engagements include Zonta Alice Springs, Darwin Private Hospital Advisory Board, NT Women's Advisory Board, Chairman of the Red Cross (Katherine) Flood Appeal, together with a number of roles in school Parents and Friends committees and boards in Darwin and Brisbane. Additional personal interests have included instigating the 100 year history of St Marys Primary School in Darwin and the political advancement of women, which has involved a number of appearances at international conferences as moderator and speaker. Mrs Stone was made a Member of the Order of Australia in 2006 for services to the Law and the community.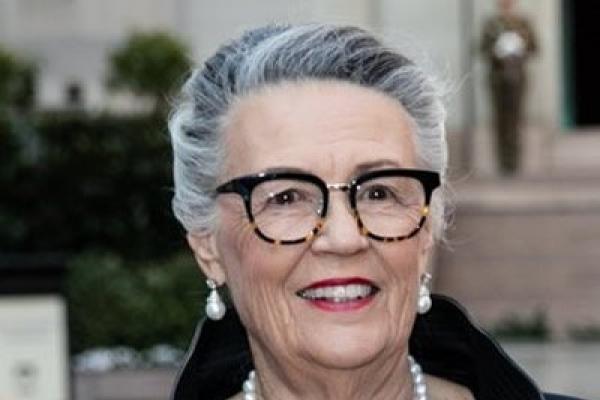 Ms Rhondda Vanzella OAM was appointed the National President of Australian War Widows Incorporated in October 2020.  She has been a member of Australian War Widows NSW since 2014 and has served as its State President and Chair since 2016.
She has dedicated her career to mentoring and working with communities at a local, rural regional and national level on a range of issues and successful community projects.  Some of her projects have included walking the Kokoda track to assist with building and opening of track memorials; helping lead the re-enactment of the Kangaroo March from Wagga Wagga to Sydney in 2015 and leading a fundraiser to build low cost retirement units on RSL land in Batlow.
Rhondda is Co-founder and President of the Ozy Youth Choir Honouring Defence Service (Ozy) which brings civilians, veterans and current serving Defence families together in regional and rural areas across Australia through the arts.  Bringing music and history together, Ozy inspires and develops young leaders with a focus on commemoration, education and welfare.
Rhondda is a member of a number of boards including the National Council for Woman and Families United by Defence Service; the Ex-Service Organisations Round Table;  the Remembrance Driveway Committee and an Affiliate Member of the Bundanoon RSL sub-branch.  She also served as a committee member on the Centenary of ANZAC Advisory Council.
As both a war widow and woman united by defence service, Rhondda is passionate about finding and creating ways to bring organisations together to collaborate to better honour and support women, veterans and their families and believes that The Australian War Memorial plays a vital role in this as Australia's national place to honour, learn and heal for all generations.
Air Marshal Robert Chipman AM CSC
Air Marshal Robert Chipman joined the Royal Australian Air Force in 1989, graduating from Sydney University with an Honours degree in Aeronautical Engineering in 1992. He completed Pilot's Course in 1994, F/A-18 Operational Conversion in 1995 and Fighter Combat Instructor Course in 1999. Following various operational and instructor assignments, he commanded No 75 Squadron from 2006-2009 and No 81 Wing from 2013-2014. In 2008, No 75 Squadron was awarded the Duke of Gloucester Cup for the most proficient flying squadron and the Kittyhawk Trophy in 2009 for the most proficient fighter squadron.

Air Marshal Chipman has staff experience in capability development roles within Capability Development Group and Air Force Headquarters.
He has completed a tour as Director of the Australian Air and Space Operations Centre within Headquarters Joint Operations Command. He was an inaugural Director of Plan Jericho in 2015, an Air Force transformation program intended to deliver joint, integrated air and space capability for the Australian Defence Force. On promotion to Air Vice-Marshal in 2019 Air Marshal Chipman served as Australia's Military Representative to NATO and the European Union. He was the Head of Military Strategic Commitments, responsible for the strategic level management and situational awareness of current and potential  Australian Defence Force commitments from January 2021, until his selection as Chief of Air Force and promotion to Air Marshal in July 2022. Air Marshal Chipman deployed on Operation SLIPPER in 2012 as a Battlecab Director in the United States Air Force 609th Air and Space Operations Centre.

He deployed on Operation OKRA in 2014 as inaugural Commander Air Task Unit 630.1, for which he was awarded a Conspicuous Service Cross in 2015. He was appointed a Member of the Order of Australia in 2019 for his exceptional service to the Australian Defence Force in coalition air operations, air combat capability preparedness, and strategic capability development and sustainment. 

Air Marshal Chipman has completed a Masters in Business Administration and graduated as a fellow of the Defence and Strategic Studies Course in 2016. He is a Graduate of the Australian Institute of Company Directors and Oxford Advanced Management and Leadership Programme. He is also an alumni of the Cranlana Institute and has completed the United Nations Senior Mission Leaders Course. Air Marshal Chipman is married to Alyce and has four sons, Thomas, Oliver, Darcy and Charlie. He enjoys keeping fit and reading.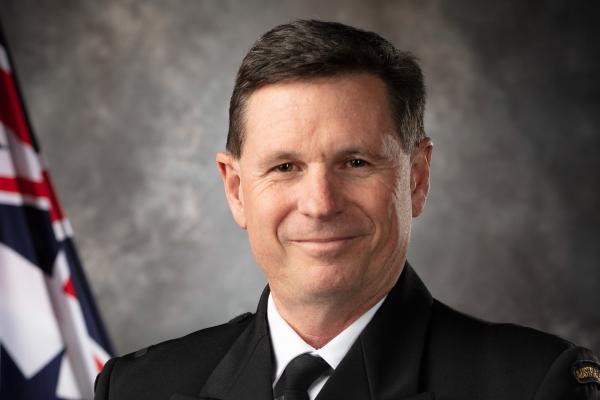 Vice Admiral Mark Hammond AM RAN
Vice Admiral Mark Hammond joined the Royal Australian Navy in 1986 as an Electronics Technician at HMAS Cerberus. He commissioned as a Naval Officer in 1988 and subsequently attended the Australian Defence Force Academy graduating in 1990. Having volunteered for submarine service after initial Officer of the Watch training, Hammond qualified in Oberon class submarines in 1994, before joining HMAS Collins as Navigating Officer in 1996 during First of  Class Trials for the Collins Class submarine.

Completing numerous postings at sea in Collins Class submarines, and spending time ashore as a student and instructor, his junior officer postings culminated as Executive Officer in HMAS Sheean. In 2003 Hammond completed both the Netherlands Submarine Command Course (Perisher) and the US Navy's Prospective Commanding Officer Course, before graduating from Australian Command and Staff Course in 2004. By the time he was selected as Commanding Officer HMAS Farncomb, Hammond had experience at sea operating in French, British and US nuclear attack submarines, as well as Dutch conventional submarines. Over his two years in Command of Farncomb, he was exposed to the full gamut of submarine operations across the Indo-Pacific. 

Subsequent shore postings included representing Australia as the Assistant Naval Attaché in Washington DC, the Director Future Submarines – Operational Requirements, Joint Exercise Director, Director Submarine Sub-Program (Collins and Future Submarines) and a period as the Chief of Staff to the Chief of the Defence Force. In 2014 he was promoted to Commodore and appointed as Director General Maritime Operations, where he executed Operational Control of the Navy's ships, submarines and detachments, and was the principal Naval advisor to the Chief of Joint Operations.

This demanding role followed with a posting to the United States in 2017 for duties in the Pentagon as the Chief of Defence Force Liaison Officer to the Chairman of the US Joint Chiefs of Staff. His distinguished performance in this strategic role was recognised with the award of the United States Legion of Merit (Officer). For exceptional service to the Australian Defence Force in senior command and staff roles he was appointed a Member of the Order of Australia (AM) in January 2018. Returning to Australia in March 2018 he was promoted to Rear Admiral and assumed duties as the Deputy Chief of Navy.
Seeking to improve the resilience of the Navy workforce system while in this role, he refreshed retention efforts and sought to modernise Navy's approaches to training and leadership. Vice Admiral Hammond assumed the role of Commander Australian Fleet in November 2020 where he was responsible for
the operations, and force generation of all ships, submarines, aircraft squadrons, diving teams, and shore establishments. Against the continual drumbeat of directed operations across the Indo-Pacific, he focused the Fleet on optimising warfighting capability, while ensuring seaworthiness and sustainability across all current units. In June 2022 he was announced as the 33rd Professional Head of the Royal Australian Navy, assuming Command as Chief of Navy on 7th July 2022. Vice Admiral Hammond's holds a Bachelor of Science (UNSW, ADFA); Masters in Management (Defence Studies, UC), and Masters in Maritime Studies (UoW). Away from the Navy his interests include cricket, rugby, AFL (Port Adelaide), chess and submarine warfare in World War II. He is the proud restorer of a 1958 American Chris-Craft mahogany speedboat.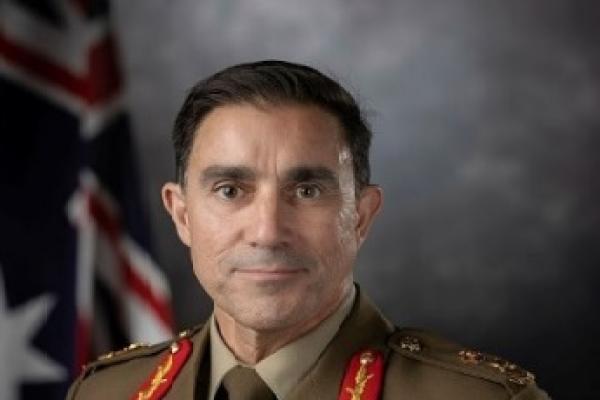 Lieutenant General Simon Stuart AO DSC
Lieutenant General Stuart assumed command of the Australian Army on 02 July 2022. Enlisting as a soldier in 1987, Lieutenant General Stuart was commissioned into the Royal Australian Infantry Corps in 1990. He has over thirty five years' experience across a range of leadership, operations, training and program management appointments in Australia and overseas. Lieutenant General Stuart's regimental experience was in the 2nd/4th and 2nd Battalions, Royal Australian Regiment, culminating in command of the 8th/9th Battalion from 2008-10.

He has commanded on operations on five occasions at the company, Joint Task Force, brigade and force levels in East Timor, Afghanistan and Egypt/Israel respectively. His early career included significant training experience, while his staff appointments have largely been in capability development. He has worked in joint, whole of government, international and multi-national environments for most of the past 20 years. Most recently, Lieutenant General Stuart has fulfilled the role of Head of Land Capability in Army Headquarters after a three year deployment in command of the Multinational Force & Observers from 2017-19.

Lieutenant General Stuart is a graduate of the Royal Military College – Duntroon (1990), the United Kingdom's Joint Services Command and Staff College (2003), the United States Army War College (2015) and the Harvard Business School Advanced Management Program (2022). He holds a Bachelor's Degree from the University of New England and Masters' degrees in Project Management (UNSW), Arts - Defence Studies (Kings College, London) and Strategy (US Army War College).

Lieutenant General Stuart's honours and awards include his appointment as Member of the Order of Australia (2011), the Distinguished Service Cross (2014) and advancement to Officer of the Order of Australia (2020). He has also received a number of foreign awards, including those from the United States, Timor Leste, Columbia, Uruguay, Czech Republic and Japan. Lieutenant General Stuart and his wife Katy are from Perth, Western Australia. They have two teenage children and a labrador retriever. He is also the patron for the Army Drone Racing Team.