Karl James
Head Military History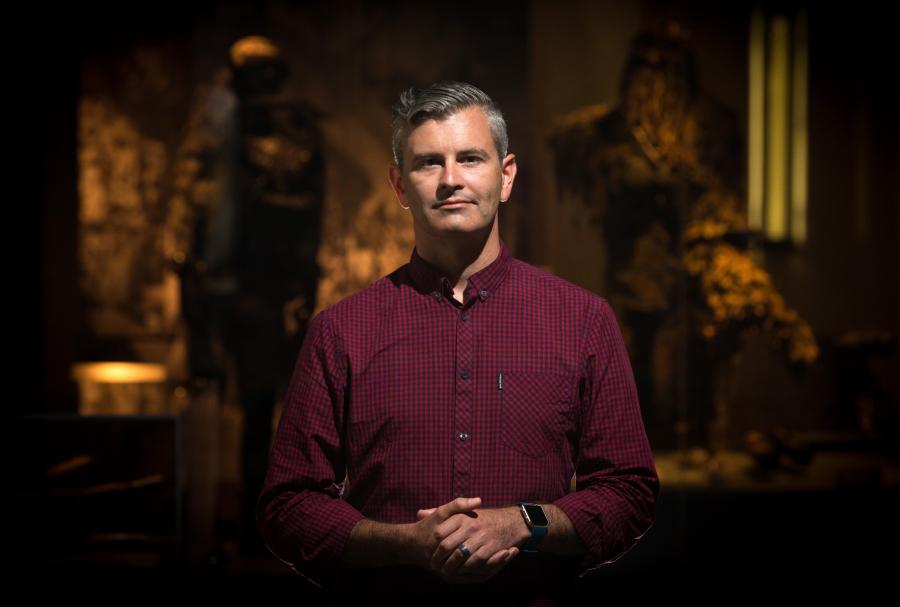 Dr Karl James is the Head of the Military History Section at the Australian War Memorial, Canberra. He has worked as a historian at the Memorial since 2006. A graduate of the University of Wollongong, his research focuses on Australia's involvement in the Second World War. His publications include Kokoda: Beyond the Legend (as editor, Cambridge University Press, 2017), Double Diamonds: Australian Commandos in the Pacific War, 1941–45 (NewSouth Books, 2016) and The Hard Slog: Australians in the Bougainville Campaign, 1944–45 (Cambridge University Press, 2012). He is a member of the editorial staff for the Memorial's magazine Wartime. He has worked on major exhibitions at the Memorial, including as lead curator for From the Shadows: Australia's Special Forces (2017–18), the special anniversary exhibition The Rats of Tobruk, 1941 (2011), and the refurbishment of the permanent Second World War Galleries (2010).

Dr James is currently working with Professor Peter J. Dean on the edited volume Australia in the Second World War: On campaign and the Home Front (to be published by Brécourt Academic and the University Press of Kentucky). He is researching a new history of the 1941 siege of Tobruk during the Second World War.
In 2021 Dr James became co-chair of the Armed Services working group for the Australian Dictionary of Biography. He was previously a Departmental Visitor with the Strategic and Defence Studies Centre at the Australian National University, Canberra.
Key publications
Books
(ed.), Kokoda: Beyond the Legend, Cambridge University Press, Port Melbourne, 2017
Double Diamonds: Australian Commandos in the Pacific War, 1941–45, NewSouth Publishing, Sydney, 2016
The Hard Slog: Australians in the Bougainville Campaign, 1944–45, Cambridge University Press, Port Melbourne, 2012
Book contributions
"Bierwirth, Rudolph (1899–1993)", Australian Dictionary of Biography, Australian National Centre of Biography, The Australian National University, Canberra, 2020. Available at: https://adb.anu.edu.au/biography/bierwirth-rudolph-30520
"Rise and fall: Lieutenant General Sir Sydney Rowell", in Craig Stockings and John Connor, (eds), The Shadow Men: The Forgotten Legacies that Shaped the Australian Army from the Veldt to Vietnam, NewSouth Publishing, Sydney, 2017
"Kokoda: The Immortal trail", in Karl James, (ed.), Kokoda: Beyond the Legend, Cambridge University Press, Port Melbourne, 2017
"More than Mopping Up: Bougainville", in Peter J. Dean (ed.), Australia 1944–45: Victory in the Pacific, Cambridge University Press, Port Melbourne, 2015
"Galleghan: Hero of Changi", in Lachlan Grant (ed.), The Changi Book, NewSouth Publishing, Sydney, 2015
"'I hope you are not too ashamed of me': Prisoners in the Siege of Tobruk, 1941", in Joan Beaumont, Lachlan Grant and Aaron Pegram (eds), Beyond Surrender: Australian Prisoners of War in the Twentieth Century, Melbourne University Press, Melbourne, 2015
"The Salamaua Magnet", in Peter J. Dean (ed.), Australia 1943: The Liberation of New Guinea, Cambridge University Press, Port Melbourne, 2013
"On Australia's Doorstep: Kokoda and Milne Bay", in Peter J. Dean (ed.), Australia 1942: In the Shadow of War, Cambridge University Press, Port Melbourne, 2013
"Winnie the War Winner", in Nola Anderson (ed.) Australian War Memorial: Treasures from a Century of Collecting, Murdoch Books, 2012
"The Unnecessary Waste: Australians in the Late Pacific Campaigns", in Craig Stockings (ed.), Anzacs Dirty Dozen: Twelve Myths of Australian Military History, NewSouth Publishing, Sydney, 2012