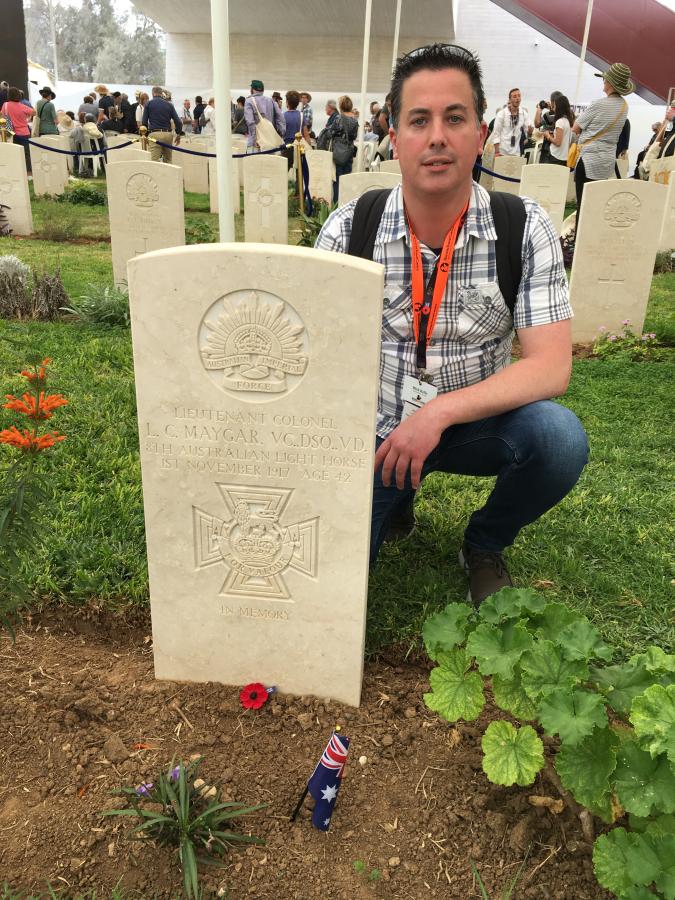 Michael Kelly is a historian in the Military History Section. He joined the Australian War Memorial in 2004, having served as a rifleman with 8th/9th Battalion, the Royal Australian Regiment.
He has worked as an assistant curator, with involvement in the redevelopment of the Second World War and First World War galleries. Michael has curated exhibitions for Korean War and Vietnam War anniversaries and is an experienced battlefield guide, having led tours to Gallipoli, Israel, the Western Front and Vietnam.
Michael is a post-1945 conflicts historian, specialising in Australia's involvement in the Korean War. His other areas of primary interest are the Malayan Emergency, Indonesian Confrontation, and the Vietnam War. He has research interests in the Gallipoli campaign, the Sinai–Palestine campaign, and Allied airborne operations during the Second World War.
He is a member of the editorial staff of and regular contributor to the Memorial's Wartime magazine.
Key publications
Edited books
In From the Cold: Reflections on Australia's Korean War, ANU Press, Canberra, 2020
Book chapters
With Dr Lachlan Grant, "Australia's Confrontation with Indonesia and military commitment to Borneo 1964–65", in Peter Dean and Tristan Moss (eds), Fighting Australia's Cold War, 1945-1965, ANU Press, 2022 
"The Samichon: A final barb in the Hook, 24–27 July 1953", in John Blaxland, Michael Kelly and Liam Brewin Higgins (eds), In From the Cold: Reflections on Australia's Korean War, ANU Press, Canberra, 2020.
Articles
"Secret agents across the Samichon", Wartime 101, January 2023
"The Battle of Long Khanh: In the last weeks of Australia's involvement in Vietnam, a large effort was launched to protect the coming withdrawal. However, one platoon became trapped in a withering firefight", Britain at War 189, January 2023
"Fire Eater of the 48th: Lieutenant Charles Stoerkel survived all that war could throw at him, but struggled in its aftermath", Wartime 100, October 2022
"That Winning Feeling: Captain Norman Winning: How Scotland's jungle warrior transformed Allied fortunes in the fight for New Guinea", Britain at War 187, October 2022
"Battle of Kapyong: Victory against all odds", Britain at War 168, April 2021
"That Crazy Australian", Wartime 92, October 2020
"Valour in Warzone D", Britain at War 160, August 2020
"Crossing the Rhine: The Allies' Operation Varsity used immense air power to make the final push into Nazi Germany", Wartime 87, July 2019
"Saving a Domino: Australia's fight against communism in the Malayan Emergency was part of a wider pattern in the region", Wartime April 2019
"Armageddon to Aleppo: General Sir Harry Chauvel called it 'the sort of operation every calvalryman dreams about'", Wartime84, October 2018.
"Kapyong: an epic battle in a forgotten war", The Age/ Canberra Times/ Sydney Morning Herald, 21 April 2016
"Hard Road to Pakchon: In their first duty, the Australians of 3RAR proved their mettle alongside their British comrades", Wartime 72, October 2015
"First to Fight; at the Battle of Bitapaka, the AN&MEF were the first Australians in combat", Wartime 67, July 2014
"Keeping Faith with the Devils: Australians with No. 196 Squadron, RAF, ferried British Paratroops on D-Day", Wartime 66, April 2014
"Raid on the Twin Trenches: Meticulous planning led to a brilliant success", Wartime 60, October 2012
"The Apple Orchard: 3RAR's first major action in Korea was a brilliant success", Wartime, October 2011
"The Raid on Celtic Wood: The 10th Battalion's action was tragic, but it's no longer a mystery", Wartime 52, October 2010.
Conferences, seminars, and talks
"The battle which ended the war: Samichon River and the Hook: A Hot Cold War: Korea 1950-53", Military History and Heritage Victoria Inc, Pompey Elliott Memorial Hall, Camberwell, Victoria, 21 November 2015
"Not even a fool's chance: Why the Gallipoli campaign was doomed to fail even before the landings", Australia Day Luncheon, Fellowship of First Fleeters, The Pullman Hotel, Sydney, 24 January 2015
"The First to Fight, The AN&MEF and the battle of Bitapaka", Centenary of the embarkation of the Australian Naval and Military Expeditionary Force to Rabaul dinner and lecture, Naval, Military and Air Force Club of South Australia, 21 August 2014
"Samichon River: 'The Hook', 24–27 July 1953: The battle that ended the Korean War", Military History Section Seminar, BAE Systems Theatre, Australian War Memorial, 10 October 2013
"The Korean War: Australia's Involvement 1950–1953", Chief of Army "I'm an Australian Soldier" Scholarship 2013, Badcoe Theatre, Royal Military College Duntroon, 18 April 2013.