This new museum theatre piece captures the emotional struggle for Australian families at the end of the First World War as they faced the task of writing an epitaph for their loved ones buried in foreign lands.
Written by Ross Mueller, 'Epitaph' is a collaboration between the Australian War Memorial and The Street Theatre. Actor Kristian Jenkins will be performing the piece regularly in the Memorial's galleries beginning on 12 October 2018. 
The production is 14 minutes in length and free to attend.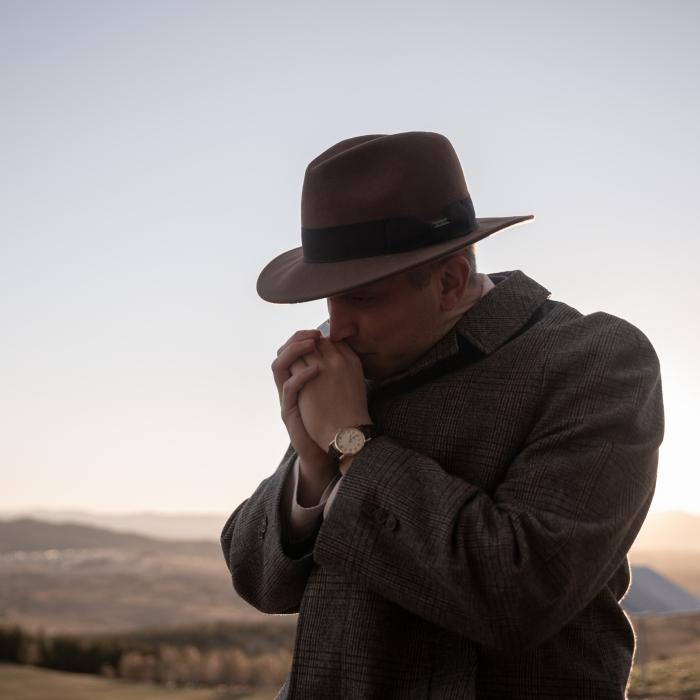 Epitaph will be performed in the lower level of Anzac Hall.
Schedule
Friday 12 October - 11:40am, 12:40pm and 1:40pm
Saturday - 13 October 2:40pm and 3:40 pm
Sunday - 14 October 2:40pm and 3:40 pm
Saturday - 3 November  11:40am, 12:40pm and 1:40pm
Sunday - 4 November 11:40am, 12:40pm and 1:40pm
Saturday - 10 November 11:40am, 12:40pm and 1:40pm
Saturday - 17 November 11:40am, 12:40pm and 1:40pm
Sunday - 18 November 11:40am, 12:40pm and 1:40pm
Saturday - 24 November 11:40am, 12:40pm and 1:40pm
Sunday - 25 November 11:40am, 12:40pm and 1:40pm
Saturday - 1 December  11:40am, 12:40pm and 1:40pm
Sunday - 2 December 11:40am, 12:40pm and 1:40pm
Saturday - 8 December  11:40am, 12:40pm and 1:40pm
Sunday - 9 December 11:40am, 12:40pm and 1:40pm
Monday - 28 January 11:40am, 12:40pm and 1:40pm
Tuesday - 29 January 11:40am, 12:40pm and 1:40pm
Wednesday - 30 January 11:40am, 12:40pm and 1:40pm
Thursday - 31 January 11:40am, 12:40pm and 1:40pm
Friday - 1 February 11:40am, 12:40pm and 1:40pm
Saturday - 2 February 11:40am, 12:40pm and 1:40pm
Sunday - 3 February 11:40am, 12:40pm and 1:40pm
Friday - 15 February 11:40am, 12:40pm and 1:40pm
Saturday - 16 February 11:40am, 12:40pm and 1:40pm
Sunday - 17 February 11:40am, 12:40pm and 1:40pm
Saturday - 9 March 11:40am, 12:40pm and 1:40pm
Sunday - 10 March 11:40am, 12:40pm and 1:40pm
Monday - 11 March PH 11:40am, 12:40pm and 1:40pm
Friday - 22 March 11:40am, 12:40pm and 1:40pm
Saturday - 23 March 11:40am, 12:40pm and 1:40pm
Sunday - 24 March 11:40am, 12:40pm and 1:40pm
Saturday - 13 April  11:40am, 12:40pm and 1:40pm
Sunday - 14 April  11:40am, 12:40pm and 1:40pm
Monday - 15 April  11:40am, 12:40pm and 1:40pm
Tuesday - 16 April 11:40am, 12:40pm and 1:40pm
Wednesday - 17 April 11:40am, 12:40pm and 1:40pm
Thursday - 18 April 11:40am, 12:40pm and 1:40pm
Friday - 3 May 11:40am, 12:40pm and 1:40pm
Saturday - 4 May 11:40am, 12:40pm and 1:40pm
Sunday - 5 May 11:40am, 12:40pm and 1:40pm
Friday - 24 May 11:40am, 12:40pm and 1:40pm
Saturday - 25 May 11:40am, 12:40pm and 1:40pm
Sunday - 26 May 11:40am, 12:40pm and 1:40pm
Monday - 27 May PH 11:40am, 12:40pm and 1:40pm
Saturday - 8 June 11:40am, 12:40pm and 1:40pm
Sunday - 9 June 11:40am, 12:40pm and 1:40pm
Monday - 10 June PH 11:40am, 12:40pm and 1:40pm
Friday - 21 June 11:40am, 12:40pm and 1:40pm
Saturday - 22 June 11:40am, 12:40pm and 1:40pm
Sunday - 23 June 11:40am, 12:40pm and 1:40pm