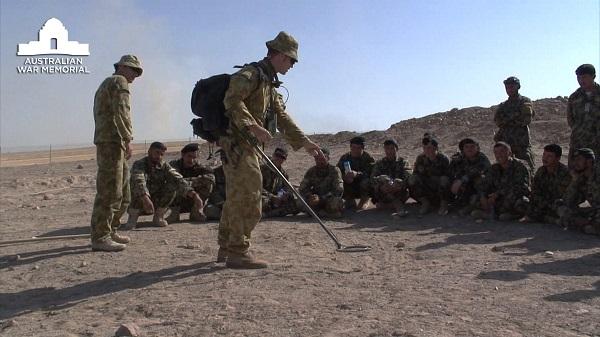 Since the First World War, the Memorial has collected substantial holdings of documentary film, which includes work by well-known cinematographers such as Hubert Wilkins, Frank Hurley, Damien Parer and Neil Davis.  Cinematography allows a different viewpoint from that of photography or art, capturing nuanced detail over real time – fleeting expressions, body language, the essential flavour of the Aussie accent, the power and impact of silences.
The Memorial has also, since the First World War, commissioned official artists and photographers to record the activities of the Australian Defence Force on overseas operations. This program has been actively pursued in recent years, and receives critical support from the ADF, particularly for logistical support in country. The material becomes part of the National Collection for use in Memorial programs and exhibitions.   The Memorial's practice of commissioning cinematographers, photographers and artists ensures the high quality and veracious documentation of Australian participation in theatres of war.   The Memorial ensures that as far as possible, events are captured from a different perspective each time a visit is made to a conflict zone. 
The Memorial's commissioned cinematographers need to have a blend of qualities and experience -  a proven record of  technical and aesthetic competence, and ability to work as an individual;  the ability to communicate with people from all walks of life; a high degree of personal flexibility, such as being able to travel fast, sleep little, work long hours and undertake military training and ultimately, to produce  work which is compatible with the aims of the Memorial's  national collections program.
In 2006, the Memorial commissioned its first official cinematographer, Robert Nugent, to objectively record Operation Catalyst, the ADF contribution to the multinational force in Iraq, and in 2011, John Martinkus was commissioned to record operational activity in Afghanistan.
Official Commission - Operation Catalyst, Iraq
Operation Catalyst was the Australian Defence Force's contribution to the multinational force in Iraq. A US-led coalition, which included unites from all three services of the ADF, had invaded Iraq in 2003, in what became known as the Second Gulf War.  This campaign toppled the regime of Saddam Hussein, but insurgency broke out soon afterwards. By 2006 it has brought the country to the brink of civil war. Between 2003 and 2009, when a semblance of order was restored to Iraq and Operation Catalyst ended, over 20,000 members of the ADF served in a variety of roles on land and sea and in the air.
Experienced documentary maker Robert Nugent was commissioned to document the daily life of Australian defence force members operating in Iraq.  His brief was to shoot "observational" film, capturing the daily routine of life in and outside the wire; dawn patrols, briefings, training, meals, communication with home, living and working conditions of all kinds.  He filmed at Force Level Logistics base at Ali al Salem in Kuwait, the Joint Task Force headquarters in Baghdad and the Task Group based at Camp Smitty in Al Muthanna province.   Using a Sony High Definition Z1P camera, he took 75 hours of material. At the same time he identified and described each tape and scene, an essential component of the commission. 
Throughout the commission his living and working conditions were those of the soldiers around him; he slept where the soldiers slept. If they waited, he waited. If a missile hit the base, he scrambled for his camera and body armour and rushed to the nearest safe area, where the names of those present were telephoned through to the base headquarters.  He got to know well many of the people he lived and travelled with, engendering a sense of trust which is demonstrated in many interviews with individual personnel, who speak of many things: their reasons for enlisting, their jobs on deployment, feelings about Iraq, how to deal with homesickness, how to eat dinner in a dust storm.  One of Nugent's most striking interviews was with Captain Garth Callender, 2nd Cavalry Regiment, who was the commander of an ASLAV troop caught by a car bomb while on patrol. Callender recalls being knocked unconscious by the blast, coming to and seeing his crew coming around as well. Their training kicked in and they set about keeping the rapidly gathering crowd away from their mangled vehicle and the wounded crew members:
There's a tendency for crowds like that to turn bad.. While everyone knew that the explosions around us weren't caused by us, there was a lot of feeling that these wouldn't happen if we weren't there. And there was people in the street that had been killed.. they had their loved ones coming crowding around the vehicles. But luckily.. the two blokes in the car with me, sorted it out.. Chappie jumped in the turrent and pulled out his rifle and kept the crowd away.. We knew it was a bad place, we knew bad things were going on but we just didn't expect it to happen to us.

Rob Nugent
Nugent was further commissioned to create a documentary from his body of work. This documentary, entitled No Dramas, a phrase often used by Nugent's interviewees, represented an exciting direction for the Australian War Memorial and a fascinating look into life for Australian defence personnel on deployment. Nugent's eye for the landscape of Iraq, both geographical and emotional, resulted in a unique piece of filmmaking. Throughout the film, Nugent's  subjects are allowed their own voices – they are the narrators of their own stories, which in turn comprises the strong sense of authenticity underpinning the film. Literally at ease before the camera,  comfortable and content to share their experiences, Australian troops relate tales of  humour, hard work, trauma and boredom.  In combining his sensitivity to human response with an eye for the stark and striking landscape of Iraq, , Nugent's  commission  resulted in a film as revealing as it is beautiful; it is at once a testament  to Nugent's talent as a filmmaker, and a revelation of the Australian military experience. The film premiered at the Memorial in 2008 and was screened at the Canberra International Film Festival in 2009.
Robert Nugent
A highly qualified film maker with a wide range of experience internationally in dynamic and varied situations, Nugent worked for the United Nations in Afghanistan and Cambodia as a project manager and Chief Technical Advisor from 1990 to 2001, following which he returned to Australia and completed a Masters Degree in Documentary Film at the Australian Film Television and Radio School in Sydney (2002/3). His film "The Road Home" won Best Film at the International Student Film Festival in Chicago in 2003 and was screened on the ABC.  In 2003 Nugent worked as an interviewer for the Department of Veterans Affairs "Australians At War Film Archive". He was approached by the Memorial in 2005 to be its first official cinematographer.
Nugent is a Canberra-based film maker who was born 21 July 1958 and grew up in Albury, New South Wales.
Official Commission - Operation Slipper, Middle East Area of Operations
The Memorial asked John Martinkus to accompany an Official Commission to Australia's Middle East Area of Operations, incorporating Australia's bases at Al Minhad and in Afghanistan. He travelled with official artist Ben Quilty and the Senior Curator of the Research Centre.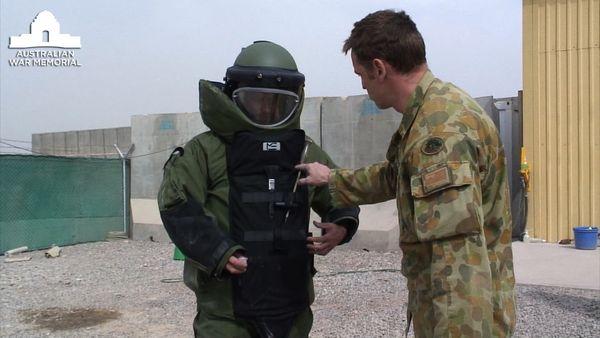 John's brief was not prescriptive. A commission allows the cinematographer to bring his personal style to the work.  He was asked to record as sincerely and authentically as possible the life and times of ADF members in an active theatre of war, to document the experiences, whether personal or procedural, for benefit of contemporary and future generations.  In this way he helped build the Memorial's factual record of the ADF working environment with particular reference to people, events,  operational briefings if permitted, training scenarios, a working day, dynamics  between Australian and ISAF personnel as well as between Australians. In the course of this work he would also record one to one interviews with ADF members.  Historical researchers, documentary makers, students and many others will in the years to come access their material, which will also be displayed online and in the Memorial's galleries. 
An essential part of the Commission was John's production, upon returning home, of three separate pieces or "stories" which would provide concise insight into different aspects of ADF life "in-country".
1. Afghanistan – The Australian Experience. Tarin Kot, 2011.
A thirty minute piece based partially on the pre deployment training at Al Minhad, mandatory for all who travel with Defence into a conflict zone, but mainly drawing on the work and experiences of the ADF based at Tarin Kot, including those of the EOD team whose job it is to locate and deal with IEDs.   At Al Minhad, soldiers are trained to identify Improvised Explosive Devices (IEDs), which are identified as the biggest single threat to Australian troops in Afghanistan.  John goes on to establish the environment and purpose of Australia's Tarin Kot base, including training Afghan National Army and,  the work of Special Operations Task Group, seen and interviewed through green night vision lens as they prepare to go on a night raid. With their faces obscured for security reasons, they also discuss the  targeting of Taliban commanders, the conduct of their operations, and the increase in Afghan National Army (ANA) participation in operations. 
John's revealing one- to- one interviews with ADF personnel tell of the changes to the operational environment over the last ten years, and go on to detail some of the harder realities facing Australian frontline soldiers:
..we had a second round land ..to our flank ... fortunately all the  fragmentation and blast passed above our heads - tore through our car that  we were laying under, busted out all the windows and put a few holes through the car - but fortunately no one was injured, so that was a good day.

Captain Andy Cullen, OED Troop Commander
2. Australian Patrol Bases, Uruzgan Province, Afghanistan: Samad and Mirwais.
A twenty minute piece featuring the inhabitants  and surrounds of Patrol Base Samad, one of the newer base in the Baluchi Valley of Uruzgan, and insight into Australian operations at Patrol Base Mirwais.
It is a short flight on a Chinook resupply helicopter from the main Australian base in Tarin Kot to Patrol Base Samad.  But when you arrive in the arid expanse around the base, you quickly get a sense of the isolation and remoteness of this small outpost.
John's story commences with the arrival of new Australian troops to the remote Patrol Base Samad. With colourful assistance from the Sergeant assigned to act as his contact officer, John clearly outlines the difficult living conditions, including physical hardships and threat of Taliban attacks, under which Australian troops work whilst mentoring Afghan National Army troops in this remote Afghanistan base.  This presents a contrast with Patrol Base Mirwais, which overlooks a green zone. John interviews several Australian personnel stationed there who provide frank insight into their experiences including close contacts patrolling in the green zone. He also interviews  David Savage, a well-known  Ausaid worker, who six months after filming was severely injured in a child suicide bomber attack .
See Chris Masters' interview with David Savage on our YouTube channel.  This interview can also be seen on our Afghanistan: the Australian story video interviews page.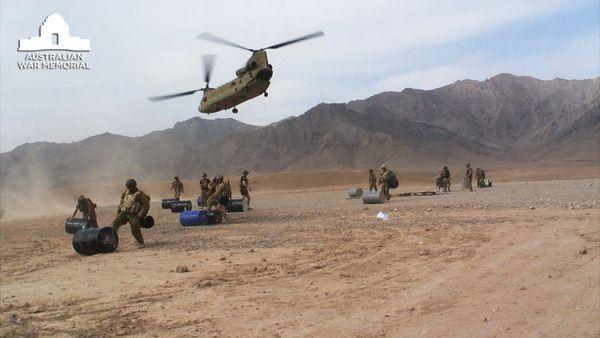 3. Kandahar Airfield: Australian Rotary Wing Group
This fifteen-minute piece is on the work of the Rotary Wing Group, who are based in the Kandahar Air Base, and incorporates a complete flying mission. John interviews members of the Chinook air and maintenance crew, who describe challenges and routine of flying in Afghanistan.  With unobtrusive supporting narration, and John's bird's eye view from the cockpit of the Chinook, he follows a complete mission, comprising touch downs at Tarin Kot and various forward patrol bases, and so provides a representative insight into the daily working life of Australian rotary crews and of the important role they play in supporting Australia's presence in Afghanistan.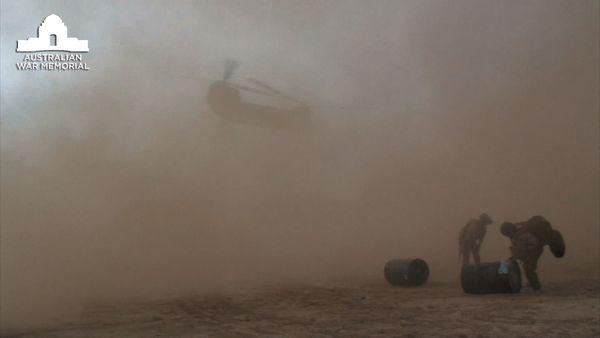 The 2011 appointment of the AWM Official Cinematographer followed in the Memorial's tradition of official commissions since the First World War.  The Memorial selected John Martinkus, the first journalist to be commissioned by the Memorial. Although the previous work of some of our commissioned photographers might end up in the media  - like Stephen DuPont – it is fair to say John is the first bona fide journalist to act for the Memorial since Charles Bean.
John is a highly respected author and television journalist who has reported from conflict zones around the world.  He was born in Australia in 1969, grew  up in Melbourne, and studied international relations at Melbourne's La Trobe University. Following a period studying Russian Language in Moscow he visited East Timor and in late 1994 began writing freelance stories about the conflict.  He went on to write A Dirty Little War (2001),  his account of the conditions in Timor in the years up to and of the 1999 elections. He reported extensively from Papua and Aceh in Indonesia, two provinces which have also had long running wars for separation from Indonesia.
John is a seasoned reporter from the Middle East, and filed several stories for SBS Dateline from Afghanistan. He  currently lectures in Journalism at the University of Tasmania.