Commemorative tapestry commission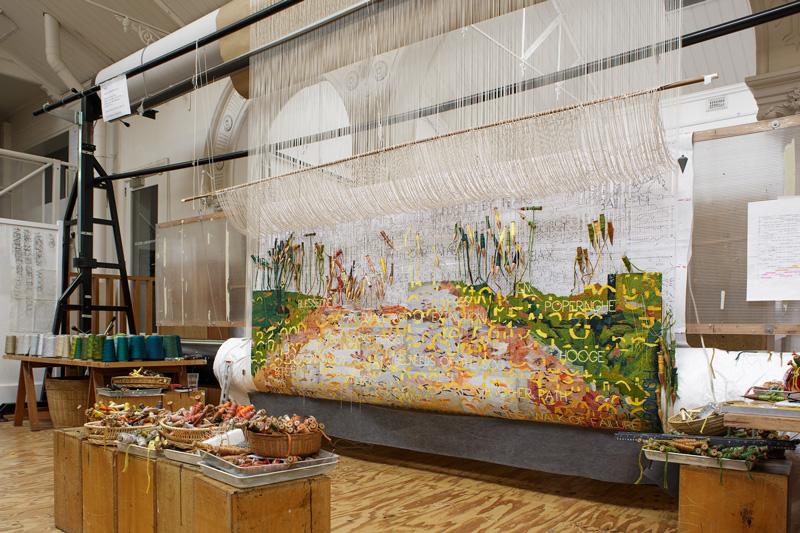 In November 2014 the Australian Tapestry Workshop Director, Antonia Syme and Australian War Memorial Director, Dr Brendan Nelson announced the commencement of a significant new First World War commemorative tapestry commission based on a painting by Australian artist, Imants Tillers (b.1950) for the Australian War Memorial.
The tapestry, titled Avenue of Remembrance, has been commissioned by the Memorial and made possible through a generous donation from the Geoff and Helen Handbury Foundation.
Tillers was asked to provide a painting for the tapestry, a commemorative response to the First World War centenary which also makes reference to the Gallipoli letter. The Gallipoli letter is an 8000 word document, written by Keith Murdoch to Prime Minister Andrew Fisher in 1915, and is one of the National Library of Australia's treasures.  It is widely thought to have helped bring the Gallipoli campaign to an end. View the Gallipoli letter.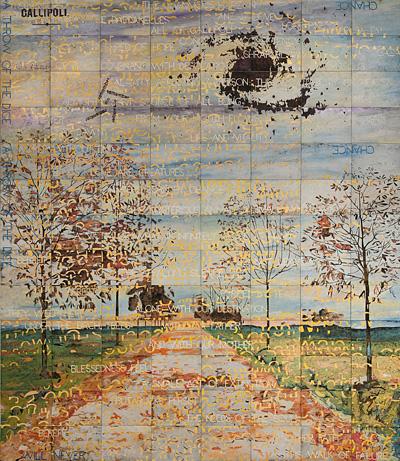 Tillers' poetic landscape painting is reminiscent of the wartime roads on the Western Front and the many 'avenues of remembrance' planted in memorial to the First World War around Australia.  Layered over the top are words from the Gallipoli letter and a selection of names of the many places where Australians fought and were buried during the war.
'We all know that an 'avenue' is not only a regular planting of trees along a road, it is also more abstractly 'a way to access or approach' something – to an idea or even a memory. My 'Avenue of Remembrance' is, I hope, a way or means to remember not only those young men who died but also the profound loss and grief experienced by their mothers, their fathers, their brothers and sisters. By their friends, by their communities. By our nation.'

Imants Tillers speaking about his work, Avenue of Remembrance
The tapestry took over 2380 hours to complete and was woven by Master Weavers Sue Batten, Chris Cochius, Pamela Joyce, Milena Paplinska and Cheryl Thornton. The completed tapestry is 3.3m by 2.8m. It was unveiled at the Memorial on 30 April 2015.
The new tapestry Avenue of Remembrance was available for public viewing during its production at the Australian Tapestry Workshop in South Melbourne from late October 2014 onwards.