How one man dedicated years of his life to the Memorial
A collection of architectural plans and drawings documenting the design and construction of the Australian War Memorial in Canberra has been rediscovered at a family home in Sydney more than 70 years after it opened on Armistice Day 1941.
The vast collection of work belonged to Sydney architect John Crust, one of the architects who designed the original Memorial building in the 1920s and 1930s, and was found at the home he designed and built in Mosman during the First World War.
The Memorial's Senior Curator of Official and Private Records Margaret Farmer said the rediscovery of Crust's collection of drawings and personal papers was a significant find of national importance.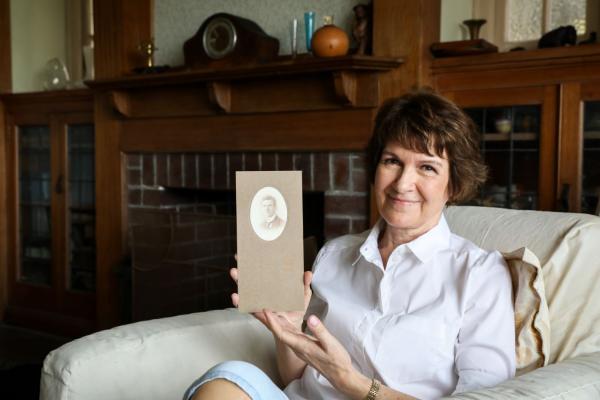 "He put his blood, sweat, and heart into it."
- Lucy King
John Crust's granddaughter
"John Crust made a singular contribution to the Memorial, and therefore to the nation," Farmer said.  "It's quite remarkable that the material has survived all this time.
"It was put away in disused parts of the house, perhaps as long ago as the 1940s, only to be found some 70 years later.
"It is an extensive and diverse collection of considerable historical significance."
The collection includes drawings, photographs, letters, magazine articles and sketches, as well as rolls and rolls of architectural drawings and plans.
"It is exactly as you would expect of an architect documenting his life and practice," Farmer said.  "And then there are his diaries."
Crust kept two sets of diaries – his personal diaries, and a second set, started in the early 1930s, that documents his role and work on the Memorial.
"It's all tremendously important as a record of his process, thinking and experience," Farmer said.
When Crust entered the international competition to design the Memorial in the 1920s, his entry was the only one out of 69 to come in under budget. When no winner could be found, Crust was asked to submit a joint design with another entrant, the flamboyant Sydney architect, Emil Sodersteen.
The two architects were very different and the relationship was a difficult one; Sodersteen resigning from the project in 1938, three years before the Memorial opened on Armistice Day 1941.
"Crust's diaries document it all from his perspective, as he experienced it," Farmer said.
"His personal papers record the events and work that shaped him and made him the architect who could suggest the elegant solution of placing the Roll of Honour within cloisters, solving the problem of meeting the Memorial competition specifications within budget.
"It is this Commemorative Area that is the most beloved part of the Memorial, and where so many Australians have participated in the Last Post Ceremony.
"Crust, being a quieter man, did not seek attention, and his story is not well understood outside of the Memorial.
"This collection provides the means to tell it in his own words."
Read about John Crust's remarkable story here.