Background
The Dutch and Portuguese fought for control of the island of Timor until it was divided by treaty in 1859, with the Dutch asserting ownership of West Timor as part of the Dutch East Indies (which included Indonesia), and the Portuguese controlling East Timor.
Find East and West Timor on Google Maps. What are these countries known as today?
Despite Dutch attempts to reclaim West Timor after Japanese occupation during the Second World War, it became part of Indonesia in 1949. Portugal regained control of East Timor after the Second World War. In 1974, the Portuguese Government decided that their colonies should be able to determine their own futures. In East Timor, three political parties formed with different views about the way forward.
1. The left-wing Fretilin (Frente Revolucionária de Timor-Leste Independente) wanted independence.
2. The Apodeti (Associação Popular Democratica Timorense) wanted integration with Indonesia, and were anti-Fretilin.
3. The conservative UDT (União Democrática Timorense) wanted to remain aligned with Portugal but eventually supported Indonesian integration, and were anti-Fretilin. (1)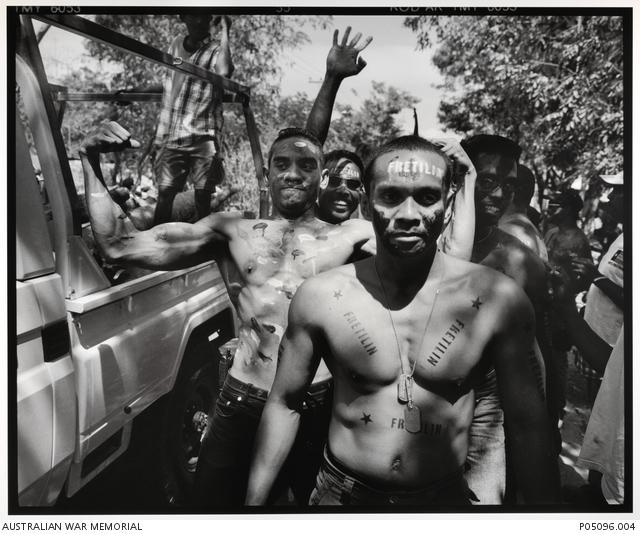 The Indonesian Government expressed concern at growing uncertainty within the region, and was opposed to Fretilin, citing concerns that party members may support communism. (2)
The Portuguese departed East Timor in August 1975, and on November 28 the democratically elected government of East Timor declared independence. Nine days later, on 7 December 1975, Indonesia invaded East Timor. Throughout its occupation of East Timor, the Indonesian Government contributed to East Timorese roads, healthcare and education, but this good work was overshadowed by the destruction of property and crops, and the displacement and deaths of civilians.(3) It is estimated that more than 100,000 East Timorese died as a result of the conflict, occupation, and famine in the first few years alone. (4)
The United Nations condemned the invasion, and called for Indonesia to withdraw so that the East Timorese could determine their own future. But the Western world chose not to intervene, and the East Timorese were left to face Indonesian aggression alone.
The conflict lasted for more than 20 years, during which time the Australian Government did not become involved due to the risk of damaging relations with Indonesia, and maintained a policy of supporting Indonesia's claim to East Timor.
Following the resignation of Indonesian President Suharto, a UN-sponsored agreement between Indonesia and Portugal allowed for a UN-supervised popular referendum in August 1999. After centuries of colonisation, occupation, and invasion, the East Timorese people finally voted on their own future. The United Nations Mission in East Timor (UNAMET) was created to oversee the ballot. Despite intimidation and violence, 98.6% of registered voters turned up to cast their vote.(5) Australian civilian police and military liaison officers assisted with the voting process.
After the majority voted for independence, pro-Indonesian militias burnt houses, looted, threatened and killed civilians. By mid-September of 1999, it was estimated that only one quarter of the population remained in their homes. (6) 
Under international pressure, Indonesia agreed to a UN-authorised multinational peacekeeping force which became known as the International Force East Timor (INTERFET). INTERFET was tasked with providing humanitarian relief, protecting UNAMET staff, and establishing peace and security in the region. Led by Australia and commanded by Major General Peter Cosgrove, INTERFET consisted of around 11,000 members from 22 countries, with just over half of the personnel being Australian.(7) The Australian Army, Royal Australian Airforce, and Royal Australian Navy contributed to operations, including substantial logistics and supply support.
INTERFET members arrived to a devastating scene of waste, destruction, and human suffering. They worked quickly to secure the regions town by town and undertook patrols, rescued local civilians, collected intelligence, identified and disarmed militias, investigated murder, and protected food and aid supplies. INTERFET worked hard to build trust with the locals, and to calm situations without using force. In February 2000 INTERFET handed command of military operations to the United Nations Transitional Administration in East Timor (UNTAET), who was responsible for overseeing East Timor's transition to independence.
Now known as Timor-Leste, the nation gained independence in 2002. The UN supported peacekeeping in Timor-Leste by establishing five missions over more than a decade. (8)
[1] Peter Londey, Other people's wars: a history of Australian peacekeeping, Allen & Unwin, Sydney, 2004, p. 232
[2] Londey, Other people's wars, p. 232
[3] Londey, Other people's wars, p. 233
[4] The History Channel, "Indonesia invades East Timor", https://www.history.com/this-day-in-history/indonesia-invades-east-timor <accessed 17 January 2020>
[5] Londey, Other people's wars, p. 240
[6] Londey, Other people's wars, p. 240.
[7] Londey, Other people's wars, p. 244.
[8]  United Nations, "United Nations Integrated Mission in Timor-Leste completes its mandate", https://peacekeeping.un.org/sites/default/files/past/unmit/documents/unmit_fact_sheet_11dec2012_2.pdf <accessed 18 June 2019>.