National Day for War Animals
Each year, on 24 February, is National Day for War Animals in Australia, where we commemorate the deeds and sacrifices of animals in war.
Animals have been put to many uses in war, serving as transport, beasts of burden, messengers, protectors, mascots, and pets. They have played an important part in all wars in which Australians have been involved.
Famously, of 136,000 Australian horses sent to the First World War, only one returned. After General Bridges died in May 1915 from a wound sustained at Gallipoli, his favourite horse, Sandy, returned to Australia, eventually finding a home at the Australian War Memorial.
While the donkey made famous by Simpson is perhaps the best known example of a beast of burden, mules were in constant demand to carry supplies to the frontline.
The Camel Corps was formed in the early years of the First World War. By late 1917 the Desert Mounted Corps had some 6,000 camels.
The homing ability and navigational skills of carrier pigeons saw them used during the First and Second World Wars. Some were even awarded medals for gallantry.
Working dogs were used by the Royal Australian Engineers in 1918, with sappers handling messenger dogs in the trenches of France. Search dogs were used from 1944 after the raising of the First Australian Dog Platoon. Mine detection and scout dogs were used in Korea and Vietnam and Explosive Detection Dogs were used to counter the threat of improvised explosive devices in Afghanistan.
During the First World War many Australians brought animals from home to the training camps in Egypt. When the war ended they were donated to the Cairo Zoo. As late as the 1950s, it was said to have had the largest collection of Australian native animals outside of Australia. Since then a selection of dogs, cats, goats, possums, rams, eagles, monkeys, turtles, and many more have acted as formal (or informal) mascots for Australian units.
Animals have played an important part in the conflicts and operations in which Australia has been involved. This page links to you a variety of resources relating to animals in war including art, objects, activities and more.
Find out more
Articles and photographs
A is for Animals offers an A to Z of animals in war, from mascots and messengers to creepy-crawlies. The exhibition has been developed with a young audience in mind, but visitors of all ages will enjoy its fascinating and moving stories.
Explore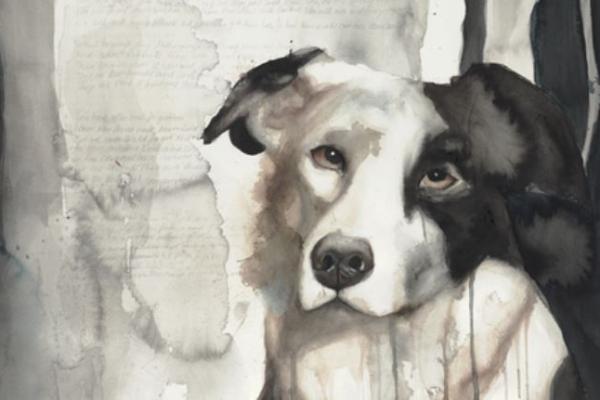 Unsung Heroes- Afghanistan
One of 10 watercolours by HSC student and artist, Rachael Michelle Potter, in a series entitled 'Unsung Heroes- Afghanistan', of which nine are in the Memorial's collection.
See the collection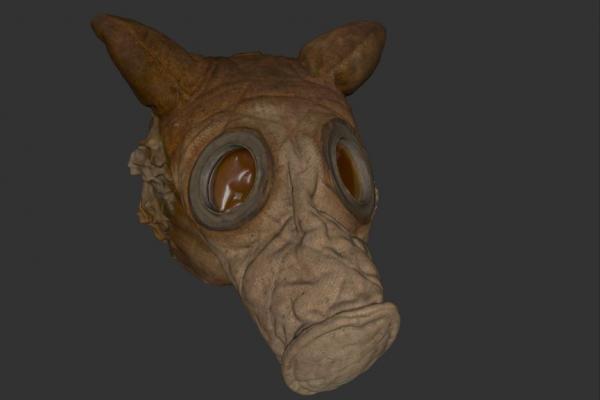 3D Treasures
GERMAN MESSENGER DOG GAS MASK
During the First World War thousands of dogs were trained to perform duties such as delivering messages to the front, carrying equipment, and assisting with the wounded. They were exposed to many of the same dangers as the men on the front line. With the introduction of gas warfare, both sides of the conflict developed masks to protect dogs.
Explore in 3D
Dogs have been used by the Australian military to perform a variety of tasks, from running messages in the First World War, to mine detection in the Korean War, and tracking enemy forces in the Vietnam War. Today, Australian Defence Force military working dogs perform a number of roles, including explosive detection, tracking, and apprehension.
Kuga was a Belgian Malinois serving with the Special Air Service Regiment (SASR). On 26 August 2011, during his second tour of Afghanistan, Kuga was injured during a counter-leadership mission targeting a senior Taliban commander near Khas Uruzgan. 
Explore in 3D
Podcast 
Dogs have always accompanied Australians to war, as mascots, messengers, scouts, guards - and comforting companions in tough times. These days, dogs in the Australian Defence Force are highly trained and serve in specific and vital roles. In Episode 14 of Collected, Louise Maher learns about the long and varied history of military working dogs and visits a memorial that honours their courage, skill and devotion.
To mark this day, the Memorial Shop presents a commemorative range of products and images from our collection – available for purchase now in store and online.
Shop items