This year marks the twentieth anniversary of the 11 September 2001 terrorist attacks on the United States of America, a moment that galvanised many countries around the world to take action. What became known as the "War on Terror" began that day.
In a show of solidarity, Australian Prime Minister John Howard – who was in Washington at the time of the attacks – invoked the ANZUS Treaty: an agreement committing Australia and the US to support one another if attacked.
The attacks were carried out by the terrorist organisation Al-Qaeda, based in Afghanistan, with the support of that country's ruling Taliban regime. The US-led military response sent troops into Afghanistan to defeat Al-Qaeda and remove the Taliban from power.
Australia sent special forces to Afghanistan in October 2001 to support US-led-coalition as Al-Qaeda were driven from much of the country.
Little more than a year after the attacks on the US, the threat of terrorism was felt closer to home. The Bali bombings on the 12th of October 2002 carried out by Jemaah Islamiyah killed 202 people, including 88 Australians. Some of those who planned the bombings had trained in Afghanistan.
Australia's efforts in Afghanistan focused on helping stabilise Uruzgan province in southern Afghanistan, and supporting the new Afghan government. This commitment became part of the NATO-led International Security Assistance Force.
In 2006, the Australian Defence Force deployed its first Reconstruction Task Force to Uruzgan Province. In 2008 a Mentoring and Reconstruction Task Force began work. Roads, hospitals and schools were built, training continued, and in 2009 Operational Mentoring and Liaison Teams were embedded with Afghan National Army.
Over 39,000 Australians were involved in supporting operations in Afghanistan. While most were from the Australian Army, they were supported by RAAF aircraft and personnel, while the Royal Australian Navy patrolled the Persian Gulf conducting supporting operations.  
After the Dutch withdrew in 2010 the United States took lead of a multi-national "Combined Team – Uruzgan". Operations continued against the Taliban and insurgent groups, and Australia suffered its worst years of casualties. Special Operations raids and battles; insider attacks; and patrolling with the ever present threat of IEDs.
Australia's last combat troops were withdrawn in December 2013, but around 400 stayed behind in training and advisory roles. The Australian embassy was closed on 28 May this year; the last troops and diplomats departed three weeks later. After the fall of Kabul in August 2021, ADF personnel were deployed to evacuate Australians and Afghans who had assisted the Australian forces from Afghanistan.
During the 20-year involvement in the War in Afghanistan, 41 Australians were killed, and over 260 were wounded. Others returned suffering post-traumatic stress disorder, some later took their own lives.
Last Post Ceremony
Join us online for a special Last Post Ceremony, Saturday 11 September at 4.45 pm via our Facebook or YouTube channel, to commemorate those listed on the Roll of Honour and those who returned home.
Twenty years on: 11 September 2001
Read a personal story by Assistant Curator, Eleni Holloway.
Read more
Post 9/11, Afghanistan and Iraq
Australia's military commitment to the war on terror and radical extremism began on 11 October 2001 with Operation Slipper.
Read more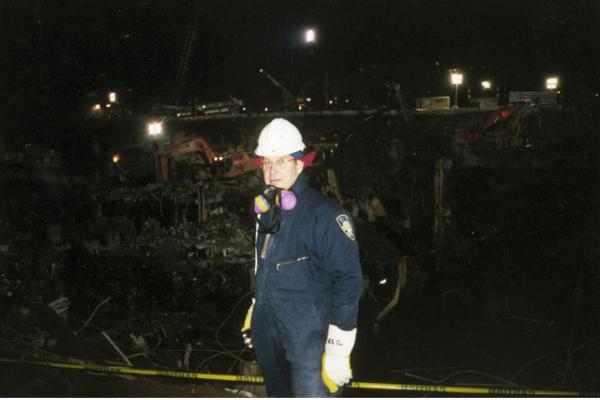 Captain David Bergman's Collection
After the 11 September 2001 attacks on the World Trade Centre, Captain David Bergman worked with the Port Authority Police Department as part of the recovery team at Ground Zero and Staten Island to help identify remains. Bergman's significant collection of photographs and artefacts are now held by the Australian War Memorial. The collection allows us to share his unique personal experience of 9/11 and its aftermath. It includes 19 photographs, a NYPD mourning armband, a piece of glass and marble from the World Trade Center, his protective uniform and equipment, and a scorched banknote, collected from a bank safe on the 28th floor of the north tower.
View the collection