Post 9/11, Afghanistan and Iraq
The attacks on New York and Washington on 11 September 2001 were audacious, cruel, and hideously successful acts of calculated terrorism.
- Prime Minister John Howard
Following the terrorist attacks in New York and Washington on 11 September 2001, US President George W. Bush declared a "war on terror". Australia invoked the ANZUS treaty to support the US effort, and Australian military personnel joined the forces of "the coalition of the willing". Australia was among the first nations to pledge its support for the US-led multi-national coalition against terrorism. Coalition forces began military operations in Afghanistan against al Qaeda and the ruling Taliban regime. For years the latter had been providing a safe haven for al Qaeda and other terrorist networks.
Australia's military commitment to the war on terror and radical extremism began on 11 October 2001 with Operation Slipper. From then until April 2002, Australian SAS squadrons participated in operations in the mountainous regions south of Kabul, Afghanistan, conducting reconnaissance and surveillance and searching for Taliban and al Qaeda fighters and their bases. Their capabilities and professionalism earned them high praise from American commanders. The war paused inconclusively in mid-2002, as the United States became focused on Saddam Hussein's regime in Iraq.
Hussein had long flouted the United Nations Security Council resolutions, imposed following the Gulf War in 1991, that required him to abandon his regime's stockpile of biological and chemical weapons. As the dictator became increasingly belligerent, the United States grew more concerned that he continued to possess weapons of mass destruction and posed a threat to regional and global security in the post–9/11 world. Australia joined the US-led coalition that invaded Iraq on 19 March 2003. Members of 1 SAS Squadron fired some of the first shots of the war. Air force and navy elements also participated in the invasion. Within three weeks coalition forces had seized Baghdad and Hussein's brutal dictatorship was overthrown. However, no weapons of mass destruction were found. The Australian government's decision to join the "coalition of the willing" divided opinion in Australia. Australian forces remained in Iraq until 2009.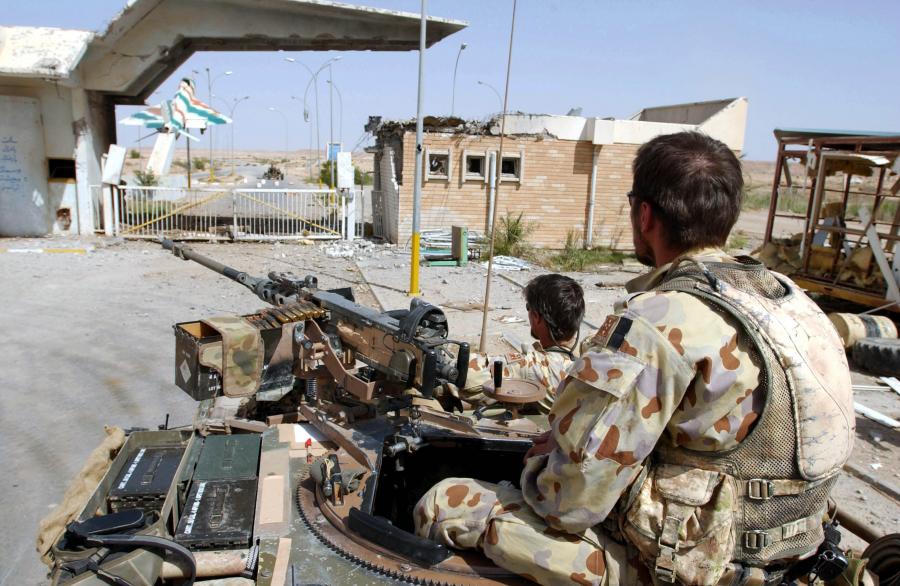 Post-invasion, the coalition conducted a difficult nation-building and counter-insurgency campaign to prevent Iraq from sliding into civil war. In addition to security detachments in Baghdad for Australian diplomats at the national headquarters, from July 2003 an Australian army training team began to train Iraqi soldiers and in April 2005 a task group was deployed to southern Iraq to protect a Japanese engineer construction unit.
Australian forces returned to Afghanistan in September 2005. For the next eight years their efforts were focused on helping to secure and stabilise Uruzgan Province in southern Afghanistan against Taliban and militant insurgencies, and supporting the Afghan government. Australia's commitment became part of the NATO-led International Security Assistance Force. Australia's Special Operation Forces in Uruzgan maintained pressure on insurgent and terrorist networks by identifying and targeting leaders and key individuals, as well as supporting anti-narcotic operations. They also helped to develop the Afghan National Security Forces.
In addition to special operation forces, between 2006 and 2008 Australia committed a Reconstruction Task Force to Uruzgan to help construct schools, medical facilities, bridges, and patrol bases, while training Afghan youths in carpentry and other trades. From late 2008 Australia's military focus shifted to mentoring Afghan forces through the Mentoring and Reconstruction Task Force and, from 2010, through the Mentoring Task Force.
Operation Slipper ended in 2014. However, Australian Defence Force personnel remain there until earlier this year and in the Middle East region. These include Australian personnel deployed as part of Operation Okra, training Iraqi forces to combat radical extremism in Iraq and Syria.
Regardless of who you are or where you were, September 11 2001 is date no doubt etched into memory.  It was a day that changed the world; and its effects, varied and diverse, was felt by all Australians.
As the Australian War Memorial expands its galleries to tell contemporary stories of war and conflict, we want to hear from you.  Share your memories and personal stories of 9/11 with us, and help us tell Australia's story.