Rick Meehan
Digger's lament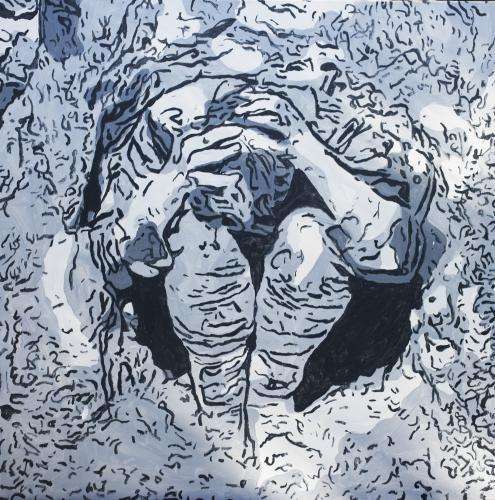 Highly commended
2020
acrylic on canvas
90 x 90 cm
Artist statement
In 2009 I attended St John of God PTSD ward for treatment. This was a difficult time, away from family, but I knew I needed to go. I wanted things to return to how they were, with such a loving family supporting me. I was hurting them emotionally and it had to stop. My psychiatrist encouraged art therapy.
I did not take it up initially, then in 2010 I produced several pieces and found a happy medium. Unfortunately, after 12 months I gave it all away, finding other activities to stimulate me; but I was returning to the person I was years ago, cranky and extremely moody. A clouded mind with memories, anxiety and depression. I was in a hole, unable to get out.
Social isolation has been my saviour. I grabbed a paintbrush again, and produced several pieces rather quickly. Relief was on hand, pressure easing, once again able to get out of the hole I was in. My painting actually portrays deeply how I was feeling, stuck in a muddy hole and unable to get up again. My head was clouded. My art has saved me once more. I won't let it happen again.