Kathryn Rae
Coming home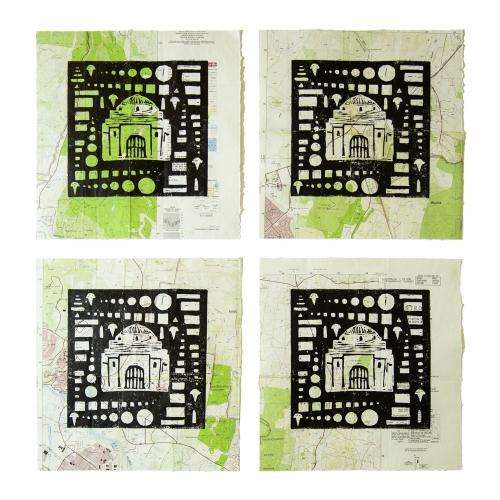 Highly commended
2020
lino prints on found map
unique state
29 x 30 cm each
Artist statement
Each time I returned from service in Afghanistan I experienced a period of re-settling. Re-mapping my sense of home, finding my place among shapes.
In the military we use map-marking stencils to plan operations and battles. The stencilled shapes represent an entity, capability or action. I carved my late husband Andrew's old military stencils into this linocut.
Most shapes in the linocut represent positive action, supporting the journey home – stairs that ascend or descend, and arrows showing the right direction. But there are negative shapes too, weapons and ammunition that can frighten or confuse. Andrew returned from Afghanistan a completely different man, lost among negative shapes and unable to resettle.
The Australian War Memorial, where we can reflect on many journeys, is central to each linocut. It appears to have a face with worried eyes and its cage-like, gritted grimace expresses anxiety.
Sitting behind the solid dark shapes are four military maps. Greens, pinks, and blues peek through, representing the natural world and our old home of Canberra.
The four maps represent journeys: One was Andrew's. One mine. One our five-year-old daughter, Imogen. The last one might be yours.