The Battle of Amiens: 8 August 1918
On the night of 7 August 1918, Gunner J.R. Armitage lay in readiness for the attack the next day. In his diary, he wrote:
It was utterly still. Vehicles made no sound on the marshy ground ... The silence played on our nerves a bit. As we got our guns into position you could hear drivers whispering to their horses and men muttering curses under their breath, and still the silence persisted, broken only by the whine of a stray rifle bullet or a long range shell passing high overhead ... we could feel that hundreds of groups of men were doing the same thing - preparing for the heaviest barrage ever launched.
The Attack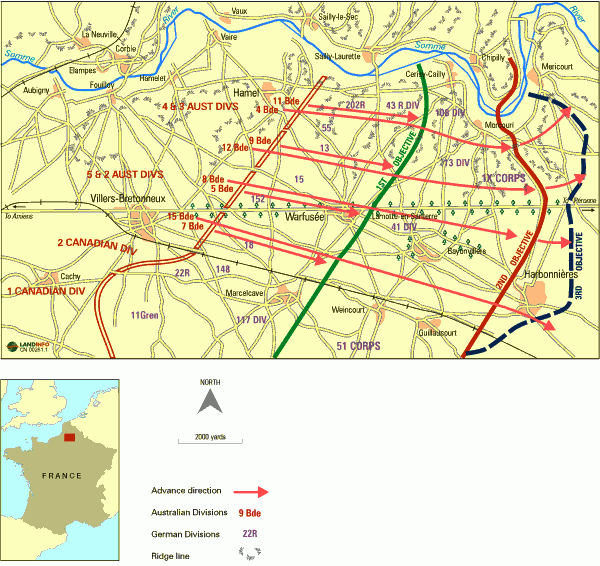 Map showing the course taken by Australian, Canadian and French corps in the 8 August offensive, from Wartime, No. 3, Spring 1998 - the official magazine of the Australian War Memorial.
At 4.20 am the next day:
all hell broke loose and we heard nothing more. The world was enveloped in sound and flame, and our ears just couldn't cope. The ground shook.
A mass of assembled Allied forces, including Australians, launched an offensive to push through the German front lines to victory. It was to involve the 1st French and 4th British armies, but was led by combined Australian and Canadian forces.
There was a mist, which helped the element of surprise, and through it moved the joint forces of a line of tanks and infantry. The crucial work of the heavy artillery held off fire from German guns, so that troops could get across the land.
Setting out from the positions of Villers-Bretonneux and Hamel, the Australian troops in two hours had accomplished all their objectives, and the Canadian troops that had begun the attack alongside them had advanced several kilometres. In just over 3 hours, the enemy's front line had been overrun. In total, the Allied forces captured 29,144 prisoners, 338 guns, and liberated 116 towns and villages. Ludendorff called 8 August "the black day of the German army".
When Sapper Harold Grant heard of the advance he wrote:
Great news ... Australians caught Fritz napping.
Many German weapons were captured in the advance. A particular trophy was the capture of the Amiens gun by the Australian 31st Battalion, 5th Division. However, the advance was achieved at a high cost, with 21,243 Allied casualties, one-quarter of who were killed.
Private Edward W. Wylie, 59th Battalion was killed in action at Harbonnieres in the 8 August advance of 1918, aged 28.
I saw Wylie instantly alongside of me by a machine-gun bullet in front of Harbonnieres at about 5 or 6 o'clock in the evening. We had gone over that day and had reached our objective and were lying and crawling about in a shallow sunken road and Wylie lifted his head to look at a machine-gun position opposite when he was hit right in the throat. Within a few minutes Wylie, a man named O'Mara (shot through spine and killed instantly), Davies (through back) and Curly Hendry (through head instantly) were killed and Male was also mortally wounded ... they were buried at Harbonnieres.

Wylie was a short chap, slightly bow-legged. I think he came from Scotland. He had his leave there a short while before. He was a good soldier and a decent little chap.

Sergeant G. H. Robertson, 59th Battalion
The importance of this offensive in tactical terms was that it was much like Hamel in that it provided a further example of the effectiveness of shifting from stagnant trench warfare to mobile multi-faceted warfare. Not surprisingly, it was said that the Australian troops much preferred and felt they were better suited to this more mobile, above-ground form of fighting.
The Continuing Struggle
A panorama, showing Biaches, Mont St Quentin, and the high ground north of Peronne, photographed from near La Maisonette, 29th August 1918. On this date the Australian line, established that morning, ran through Biaches and along the near side of the canal. A great deal of enemy movement could be observed.
Despite the achievements made in this campaign, in the following days it proved a struggle to consolidate this success. From 9 - 11 August, although the Allies continued to advance with Australians maintaining the lead, there were heavier losses for fewer gains in ground, there were fewer tanks to use as protection, and German forces regrouped and began to advance into other areas. Even then, it was expected by many of the Allied commanders that war would push on into 1919. On 23 August, Private Albert Golding wrote:
The French are pushing Jerry back down south, and we tell each other that the war is just about over, but each one knows that it won't end for three or four years yet.
Fighting continued throughout August, as Lieutenant General Sir John Monash kept pushing Australian troops forwards. By the 29th, the front line was brought up to within 3 miles of Péronne, which was to set the scene for the next decisive confrontation with the Australians.