Captured in Colour - Rare photographs from the First World War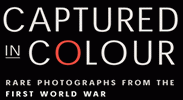 Captured in Colour features over 80 rare colour photographs taken during the First World War. The photographs in the exhibition come from the Memorial's own collection of official First World War colour photographs and from the collections of the Archives Photographiques, Ministère de la Culture, Cinémathèque Robert Lynen, Établissement Cinématographique et Photographique des Armées and the Société Française de Photographie.
The Memorial's photographs were taken, using the Paget Colour Plate system, in France, Belgium and Palestine by the well-known photographer Captain Frank Hurley, with a number taken in France and Gallipoli by Captain Hubert Wilkins. Among the photographs is a stunning two-metre long panorama of the old walled city of Jerusalem, the first time this panorama has ever been seen in colour.
The French photographs were all taken on autochromes, a colour system developed in France in 1907. A number of prominent French photographers are represented, including Jules Gervais-Courtellemont and Léon Gimpel. The French photographs, although not a complete record of the entire war, commence in 1914 and end with the victory celebrations in Paris in July 1919. Gimpel's photographs of the Grenata Street Army, a series of ten photographs featuring a group of children playing at war, will captivate visitors.
Online Exhibition
An online version of the exhibition is available.
Captured in Colour - Rare photographs from the First World War

| Gallery | City | State | Start | Finish |
| --- | --- | --- | --- | --- |
| Australian War Memorial | Canberra | ACT | 12 September 2003 | 29 February 2004 |
| Museum of Brisbane | Brisbane | QLD | 23 April 2004 | 04 July 2004 |
| Tweed Regional Art Gallery | Murwillumbah | NSW | 16 July 2004 | 22 August 2004 |
| Artspace Mackay | Mackay | QLD | 06 November 2004 | 12 December 2004 |
| Geelong Art Gallery | Geelong | VIC | 02 April 2005 | 29 May 2005 |
| State Library of South Australia | Adelaide | SA | 29 October 2005 | 27 November 2005 |
| Albury Regional Art Gallery | Albury | NSW | 10 December 2005 | 22 January 2006 |
| Geraldton Museum | Geraldton | WA | 24 March 2006 | 07 May 2006 |
| Western Australian Museum Maritime | Fremantle | WA | 12 May 2006 | 02 July 2006 |
| Tasmanian Museum and Art Gallery | Hobart | TAS | 21 July 2006 | 03 September 2006 |
Captured In Colour: Education Material