Gallipoli: a Turkish view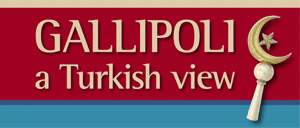 Australians call the campaign "Gallipoli"; to Turks, it is "Çanakkale Savasi". As part of the First World War, soldiers of the Ottoman Empire, on one side, and soldiers of the British Empire and France, on the other, fought a long and bloody battle on the Gallipoli peninsula.
The Turkish defenders were victorious. After an eight-month-long campaign British Empire and French forces withdrew, having suffered 44,000 deaths. At least 85,000 Turkish soldiers died in the campaign.
Consequently, Gallipoli is of profound importance to the national identity of both Australia and Turkey. The events of 1915 created the Anzac legend, arguably the central national founding myth for Australia. For Turkey the defeat of foreign invasion under the charismatic command of Mustafa Kemal (later Ataturk, the founder of the modern Turkish republic) gave Gallipoli mythic status within Turkey's national identity. The conjunction of these powerful national stories reflects the main cultural bond between Australia and Turkey. This explains the enduring attachment of both nations to the story of the campaign, and the strong mutual interest in the other's experience and memory.
How the Turks experienced Gallipoli and how their experiences were both similar to and very different from those of their enemies, including Australians, is the subject of the Australian War Memorial's travelling exhibition Gallipoli: a Turkish view.
Through interpretation of the Memorial's photograph collection and a selection of Turkish relics, Gallipoli: a Turkish view enables visitors of both cultures to ponder their own and their former enemy's experience of the campaign and its continuing importance. The images selected are remarkable in that they are among the very few still in existence which document the Turkish experience of Gallipoli. They depict both the heroism and the horror of Turkey's part in the campaign, coinciding with and contrasting with familiar Australian images.
This exhibition is supported by Visions of Australia, an Australian Government Program supporting touring exhibitions by providing funding assistance for the development and touring of cultural material across Australia.
Touring schedule

| Gallery | City | State | Start | Finish |
| --- | --- | --- | --- | --- |
| Embassy of Australia | Ankara | TURKEY | 25 April 2004 |   |
| The Shrine of Remembrance | Melbourne | VIC | 29 October 2004 | 12 December 2004 |
| Broken Hill Regional Art Gallery | Broken Hill | NSW | 17 December 2004 | 23 February 2005 |
| Walter Nicholls Memorial Gallery | Pt Lincoln | SA | 2 March 2005 | 10 April 2005 |
| Migration Museum | Adelaide | SA | 18 April 2005 | 12 June 2005 |
| The Millicent Gallery | Millicent | SA | 17 June 2005 | 31 July 2005 |
| Castlemaine Historical Society | Castlemaine | VIC | 13 August 2005 | 25 September 2005 |
| Bundoora Homestead Arts Centre | Bundoora | VIC | 7 October 2005 | 20 November 2005 |
| Eden Killer Whale Museum | Eden | NSW | 30 November 2005 | 29 January 2006 |
| Goulburn Regional Art Gallery | Goulburn | NSW | 3 February 2006 | 18 March 2006 |
| Benalla Regional Art Gallery | Benalla | VIC | 24 March 2006 | 7 May 2006 |
| Manning Regional Art Gallery | Taree | NSW | 28 May 2006 | 25 June 2006 |
| Grafton Regional Gallery | Grafton | NSW | 7 July 2006 | 13 August 2006 |
| Redland Art Gallery | Capalaba | QLD | 16 August 2006 | 14 September 2006 |
| Bundaberg Arts Centre | Bundaberg | QLD | 20 October 2006 | 10 December 2006 |
| Pine Rivers Heritage Museum | Kurwongbah | QLD | 20 December 2006 | 28 January 2007 |
| Tweed River Art Gallery | Murwillumbah | NSW | 8 March 2007 | 29 April 2007 |
| Macquarie University | Sydney | NSW | 1 August 2007 | 29 August 2007 |
| Barossa Regional Gallery | Tanunda | SA | 28 March 2008 | 4 May 2008 |
| Western Australian Museum - Geraldton | Geraldton | WA | 24 July 2008 | 07 September 2008 |
| Western Australian Museum - Kalgoorlie | Kalgoorlie | WA | 30 October 2008 | 8 March 2009 |
| Western Australian Museum - Albany | Albany | WA | 26 March 2009 | 19 July 2009 |
| Camden Library | Camden | NSW | 8 October 2009 | 29 November 2009 |
| Lithgow Small Arms Factory Museum | Lithgow | NSW | 12 December 2009 | 25 April 2010 |