Out in the Cold: Australia's involvement in the Korean War - Mustangs, Meteors and MiGs
Mustangs, Meteors and MiGs
Weaponry and communications
[You're] up there in a three dimensional atmosphere, in complete comfort ... My immediate reaction when this Chinese or Korean started firing at me was, hell, I've got to get away from this or I'll either be dead, or a POW. And then, when he presented himself as a target, my immediate reaction was, hey, here's a target, I'll have a crack at shooting him down. You don't have time to think about anything else.
Pilot Officer (later Air Vice Marshal) Bill Simmonds, on shooting down a MiG-15, North Korea, 8 May 1952
Pilots of 77 Squadron started out in the Korean War flying P-51 Mustang aircraft. Originally designed as a fighter during the Second World War, the piston-engine Mustang had lost its technical edge by the time of the Korean War, and was more suited to ground-support roles.
When Soviet-built, MiG-15 jet fighters appeared in Korean skies after China entered the war, they soon demonstrated their superior performance. While American squadrons had jet fighters of their own - F-80 Shooting Stars, and later Sabres - only the Sabres could match the MiGs for performance and versatility.
In April 1951, 77 Squadron replaced its Mustangs with the British-built twin-jet Meteor Mark 8. The RAAF pilots were trained on the Meteors by four experienced British RAF pilots, at the Iwakuni base in Japan.
Although the Meteor had also been developed during the Second World War, it was thought to be more capable of surviving encounters with the Soviet MiG-15 jet. In Korea, air-to-air combat entered the jet age, but when in August 1951 the jet adversaries met, the Meteors did not fare well. The speed (1084 km/hour, 122 km/hour faster than Meteors), rate of climb, and performance at high altitudes MiGs a far superior aircraft. In subsequent months, the role of the Meteor as a fighter was reconsidered, and it was withdrawn from "MiG Alley" for use as a ground-attack aircraft in areas where MiGs were rarely encountered.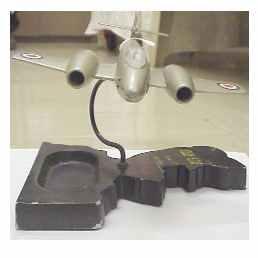 "MiG Alley" was the nickname given the area between Chongchon Valley and Yalu River, on the Manchuria/Korea frontier. The area was a focus to intercept Chinese MiG fighters, who were based at a Chinese airfield over the border in Antung. While UN airpower remained generally superior over the rest of Korea, MiG Alley remained the most dangerous area to RAAF pilots. It was also frustrating because UN pilots were forbidden to cross the Yalu River, so MiGs could fight them, and then return to base over the border without any fear of pursuit.