General Sir John Monash commemorative sculpture
In 2016 the Australian War Memorial commissioned a new public sculpture to commemorate the contribution of General Sir John Monash (1865–1931) to Australian military history and society.
The successful design was submitted by Brisbane artists Charles Robb and Sarah Holland-Batt. The resulting sculpture emphasises Monash as an outstanding commander and leader of the First World War, while also highlighting his distinct character and personal attributes.
The sculpture was dedicated by Lieutenant General Angus Campbell AO DSC, Chief of Army, in a public ceremony on 4 July 2018, on the 100th anniversary of the Australian victory at the battle of Hamel.
"This work – a collaboration between a sculptor and poet – combines the language of figurative statuary with text drawn from General Sir John Monash's writings to honour one of Australia's greatest military and civic leaders. The sculpture depicts Monash as the stable axis of a world in flux, a pivotal driver of Australia's war efforts, and a powerful witness to the tremendous events of the early twentieth century."
Charles Robb (b. 1971) is a Brisbane-based sculptor and an associate lecturer in art and design at the Queensland University of Technology (QUT), where he co-ordinates the second-year visual art studio program. He is a leading portrait artist who explores the history and conventions of figurative sculpture and their roles in honouring human achievement.
Robb's work has featured in a number of solo exhibitions and in group exhibitions at leading public galleries, including the National Gallery of Australia in Canberra and the Museum of Old and New Art (MONA) in Hobart. He was a finalist in the McClelland Sculpture Survey and Award, the Deakin University Contemporary Small Sculpture Prize, the National Gallery of Australia Sculpture Prize, and the Helen Lempriere National Sculpture Award. His works are held in the National Gallery of Victoria, the Art Gallery of South Australia, MONA, the McClelland Gallery, Artbank, Deakin University, Latrobe University, the QUT Art Museum, and various private collections.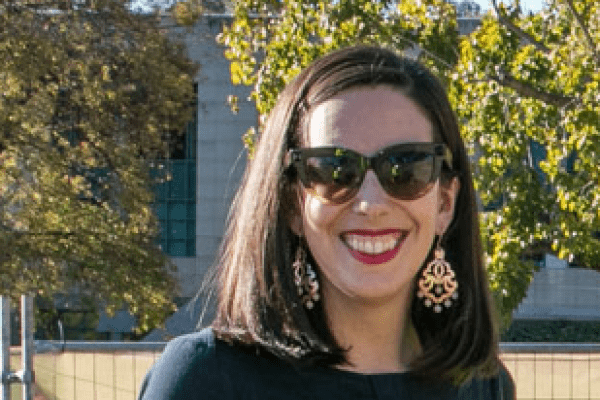 Sarah Holland-Batt (b. 1982) is an award-winning poet, editor, critic, and academic. She holds a first-class Honours degree in literature and a Masters in English from the University of Queensland, and an MFA in poetry from New York University, where she was the W.G. Walker Memorial Fulbright Scholar from 2010 to 2011. She has received fellowships from the Yaddo and MacDowell colonies, and has won the Marten Bequest Travelling Scholarship, an Asialink Literature Residency, a Chateau de Lavigny Fellowship, a Hawthornden Fellowship, and the Australia Council Literature Residency at the B.R. Whiting Studio in Rome. In 2016 she was awarded a prestigious Sidney Myer Creative Fellowship.
Sarah also writes short fiction, and has worked as an editorial consultant for New York publishing houses New Directions and Atria Books. Sarah lives in Brisbane, where she is a senior lecturer at the Queensland University of Technology and the poetry editor of Island magazine.