Adam Lo
The young veteran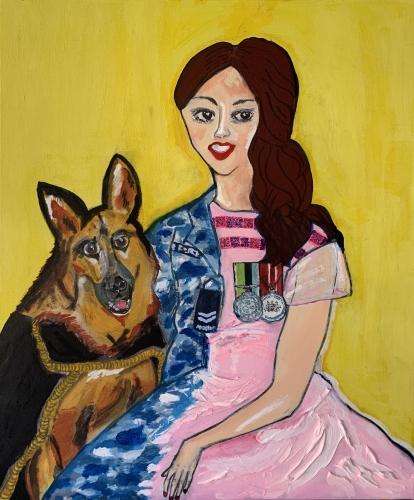 2020
acrylic, ink, paper, graphite pencil and texture paste on canvas
60 x 50 cm 
Artist statement
This is a young veteran of contemporary Australia. She is recovering from post-traumatic stress disorder (PTSD), which started after her return from deployment.
This is a story of hope and resilience, as she transitions from service life into civilian life, accompanied by her canine best friend.
This is a reminder of the range of support services available. There are four working QR Codes embedded in the artwork, which are the webpage links to a sample of support services for veterans.
This is a snapshot and depiction of the experiences of some of the people I know and care about.
This is for you, if you are suffering or if you are feeling hopeless. There is hope and there is help available to you. No matter what age, gender or cultural and linguistic background you have. We care.