Reflections: honouring our Second World War veterans
Ninety-three-year-old Ian Prior stands proudly in his suit and medals looking straight at the camera.
He was an 18-year-old mechanic from Victoria when he enlisted in 1943, and went on to serve in New Guinea, Morotai, the Philippines, and Borneo.
"You had two choices really," he said of that time. "You either joined up, or you got called up, take your pick. So I joined the Air Force. I wanted to join the Navy, but they said I was too small. The Air Force didn't object, so I became a flight mechanic."
Prior is one of 6,500 Second World War veterans who were photographed by more than 450 professional photographers from around the country as part of the Reflections: honouring our WWII veterans project by the Australian Institute of Professional Photographers (AIPP).
The largest photographic project ever undertaken in Australia, Reflections started in 2015 and took two years to complete. The portraits have been donated to the Australian War Memorial to be displayed as part of a special photography installation in the Second World War galleries.
Memorial Director Brendan Nelson said that looking into the faces of this remarkable generation of Australians was an emotional experience.
"This is the best generation this country has ever produced," he said.
"These men and women were born in the aftermath of the war that was. They came to their adult lives through the Great Depression under the shadows of the war that was coming and they mobilised … to defend our vital interests.
"Six years later we emerged from the Second World War with 40,000 dead and an indeterminate number bearing deep and psychological wounds for their service and then they set about the economic reconstruction of our country.
"It's actually very powerful and extremely moving to hear the descriptions of the photographers and their own experiences of photographing these men and women; the stories of veterans well into their nineties wanting to have their photograph taken with a mate they hadn't seen for 50 years; of families wanting to be very much a part of the photograph; and the lengths the photographers went to.
"One of the Torres Strait Islander veterans … his son simply saying I broke down and cried seeing my father's photograph being taken, it meant so much to him."
Ninety-six-year-old William Toone, of Queanbeyan, was photographed for the project wearing his own medals and those of his father who served in the Light Horse during the First World War. Toone was a 20-year-old working in a sugar mill on the north coast of New South Wales when he enlisted on 18 April 1941. He went on to work in an Army workshop and serve in the Middle East, the Napier Islands, and the Island of Morotai.
"I was allocated the regimental number of NX1650," he said, as memories flooded back. "I said, 'This number's not right, I've got a mate overseas and his number's NX6128.' He said, 'You're in the army now, soldier. On your way.'"
Toone trained in Liverpool, before embarking for Egypt and Palestine for infantry training in September 1941. "One night the company was on guard and they were looking for volunteers for a special job the next night and I thought to myself, this couldn't be any worse than the bull ring, so I volunteered," Toone said. "There was a party going into Jerusalem the next day and they wanted 10 men for picket duty … I got into Jerusalem and the sergeant said, 'Righto boys, throw your side-arms into the back of the truck here and be back here at five o'clock and don't get into any trouble.' It was as good as a day's leave and it was my 21st birthday."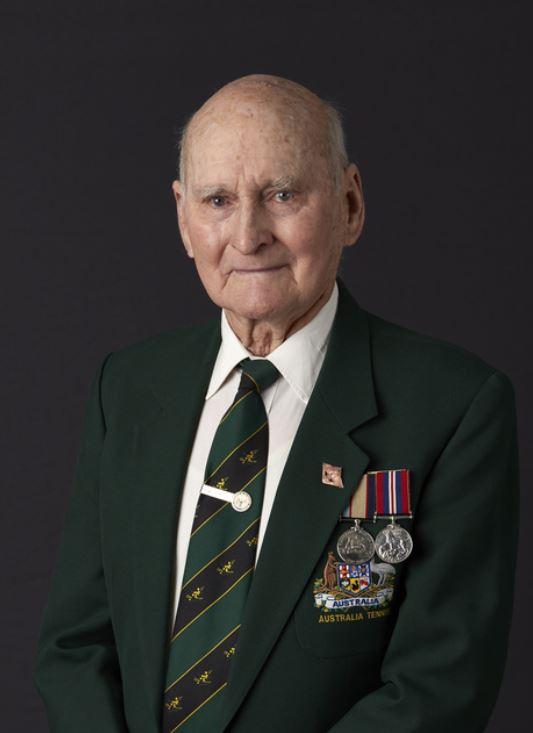 Ninety-two-year-old Brian Hurley, of Canberra, was also involved in the project. He was studying economics at university in Sydney, but joined the Air Force as soon as he turned 18.
"I was in the training camp within two weeks of turning 18," said Hurley, who had grown up on a farm near Henty in New South Wales. "In fact, I'd done all the preliminary work before that. I was so keen to go. I don't know why, it just seemed to be the thing to do. Being colour blind I couldn't be in the flying section of the Air Force, so I became a signaller. I knew a bit of Morse and got to 30 words a minute. I became an air traffic controller amongst my signalling work, which I enjoyed very much."
Raymond Scales, of Canberra, said he was "tickled pink" to be photographed as part of the project which had brought back a lot of memories. "It was an exceptional experience really," he said.
Scales was just 18 and working at his parents' grocery store when he enlisted in Melbourne in January 1942. He went on to serve in New Guinea and Bougainville and remembers being out on a job when he found out the war was over. "We were doing a job for a unit and they said the war's over and nobody would believe it for a while," he said.
Reflections National Project Manager John de Rooy is one of the 450 photographers from around the country who volunteered their time to take part in the mammoth project to capture images of the veterans.
"One veteran was photographed in Canada and another photographer drove from Darwin to photograph a veteran in the Kimberley," he said. "We knew the clock was ticking. And to me, to actually talk to them, to hear their stories, to see how proud they are, to see them in their medals, it's a real honour. There were veterans who threw away walking sticks and walking frames and stood proud, and some of them told stories their relatives had never heard before."
For photographer Louise Bagger, who spent 15 years in the Navy, the project was particularly close to home.
"When I first heard about the project, it was a no-brainer for me," she said. "There were many cups of tea and chockie bickies along the way. They gave so much of their time for the war effort, so the time I gave was the least I could do."
During one five-day road-trip to photograph 25 veterans in country Victoria, she remembers assuring a veteran that his walking frame wouldn't be in the picture before using her best Navy voice to call him to attention. "He stood up so straight," she said. "It was like I took him back 70 years, and I had that with a lot of veterans … It's just been such an honour."
View all photographs from Reflections: honouring our Second World War veterans