Air Force Sailors: The Wet Section of the Royal Australian Air Force
The origins of the RAAF Marine Section can be traced to the beginning of the air force, when the first pulling boats (row boats) were approved for purchase on 1 March 1921 – a month before the formation of the Royal Australian Air Force – to support six Fairey IIID seaplanes. Originally ordered by the Royal Australian Navy, the seaplanes were instead transferred to the newly formed RAAF. Two boats were based at Point Cook to support the water-borne aircraft, while a small boat was used to rescue officers undergoing flying training who might ditch in the bay.
Marine Section coxswains and motorboat crews, trained at Jervis Bay, were posted across Australia to support seaplane and flying boat operations. The Marine Section supported Supermarine Seagull IIIs on a mapping survey of the Great Barrier Reef, and was involved in Australian aviation industry pioneer Lawrence Wackett's development and trials of the Widgeon seaplane.
The expansion of the RAAF Marine Section began in earnest in 1934. With war again imminent in 1939, Marine Section bases were located at Point Cook, Neutral Bay and Rose Bay. New bases were built at Rathmines on Lake Macquarie, and at Darwin. Operational Base Squadrons, each with a Marine Section component, were established at Horn Island, Cairns, Townsville, Bowen, Milne Bay, Port Moresby and Morotai.
Located on the western shores of Lake Macquarie north of Sydney, Rathmines was the main RAAF seaplane and flying boat base. It became the hub of the RAAF Marine Section, conducting training of marine craft crews and tradesmen.
With the beginnings of war in the Pacific, the RAAF Marine Section needed rapid expansion. Vessels were bought from the British Royal Air Force and the Ministry for Munitions, while others were made in Sydney and Brisbane. Some were made as part of RAAF Marine Section training at Rathmines. These were initially painted a standard grey, featuring the RAAF ensign and roundels. As air–sea rescue became more important, superstructures were painted yellow and black to allow aircrew to see them from the air.
During the Second World War members of the Maritime Section were engaged in retrieving aircrew who had ditched or bailed out into the sea, transporting stores and personnel, providing a platform from which to repair and maintain seaplanes and flying boats, refuelling, and maintenance of and building their own vessels.
Some duties were dangerous. Locating, capturing and towing sea-mines out to sea for detonation, or delivering bombs and mines to arm aircraft, posed inevitable risks. On one occasion, while a Catalina was being armed in Darwin Harbour, a depth charge fell through the wooden hull of a bomb scow and detonated, killing two airmen and sinking the bomb scow and the Catalina.
A numerical system was instituted to divide vessels into about 30 classes: crash boats were 8 Class,  2,600-gallon refuelling launces were 4 Class. The stores ship Wanaka, however, was an unclassed vessel.
From January 1941, Wanaka supplied RAAF units with equipment, food and personnel. She was well armed, with a 4-inch gun, a 12-pounder anti-aircraft gun, and 20-mm Oerlikon anti-aircraft guns.  Wanaka suffered minor damage during the Japanese air raid on Darwin on 19 February 1942. While returning to Australia in December 1943, Wanaka was caught in a storm. Driven onto the Great Barrier Reef, Wanaka capsized, resulting in the death of nine men. RAAF volunteers were dispatched to recover Wanaka. After making temporary repairs, she was towed to Sydney.
The RAAF Museum at Point Cook, Victoria, has Wanaka's bell, model marine section boats and other artefacts for a planned interpretive display when the museum reopens in late October 2021.
After the withdrawal of the US 5th Army Air Force from the Pacific in late 1944, air–sea rescue became the sole responsibility of RAAF Marine Section. The section was said to be so good that on one occasion a crash boat was positioned underneath a parachuting pilot before he hit the water. Around New Guinea, Marine Section was the only means of transport. RAAF vessels brought building supplies for new camps, wharves, remote radar sites and transferred personnel.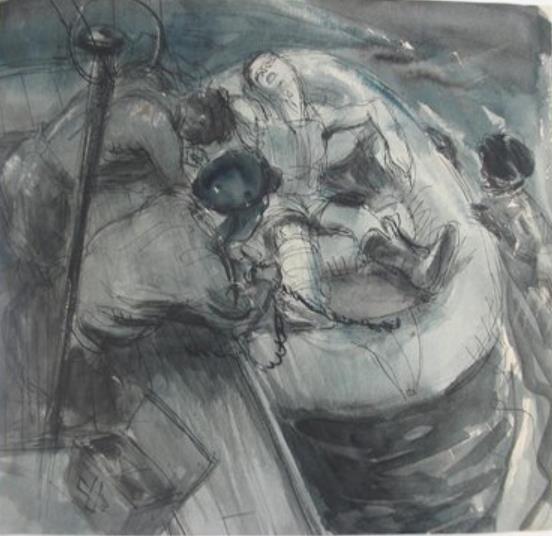 The Marine Section was not immune to suffering casualties during the war in the Pacific. A crash boat was sunk by a Japanese destroyer at Milne bay in 1942 resulting in the loss of three of the five hands. Towards the end of the war, the Marine Section's Fauro Chief sank in the same location after a wharf collapsed. In January 1945, four Marine Section crew were killed when the Beaufort in which they were travelling crashed en route from Milne Bay to Madang.
Once the Pacific War drew to a close, RAAF Marine Section was part of the push to bring home Australian prisoners of war, many of whom came home in Catalinas which required Marine Section support at the beginning and end of their journeys. Released men from the 8th Division were brought ashore by RAAF barges from a Catalina at Rose Bay, Sydney in September 1945. The crew of a vessel bringing stores to Sandakan in November 1945 reported starving civilians, deaths and suffering.
After the war, the need for air–sea rescue greatly diminished and RAAF Marine Section Rathmines, East Arm (Darwin) and East Sale were disbanded. After a disposal operation, only 140 vessels were retained. By 1960 the Marine Section had 45 craft and 99 personnel.
In 1954, RAAF Marine Section was responsible for providing patrolling and search-and-rescue standby for the Queen's visit to Australia. RAAF launches were dispersed to the various waterways over which the Royal aircraft would fly, and would patrol the inner waterways close to the airports where it would land and take-off.
At this time the RAAF fleet received an upgrade with thirteen 63-foot launches delivered from the United States. These were refurbished in Sydney and Brisbane before being commissioned into RAAF service to replace aging 48-foot vessels.
In the mid-1950s, RAAF launches were stationed at Momote, Admiralty Islands, Townsville, Darwin, Sydney, Point Cook and East Sale. Under an agreement with the International Civil Aviation Organisation, these RAAF launches were responsible for providing search-and-rescue capability in Australian waters.
By 1989 Marine Sections were retained only at Point Cook, Townsville and Newcastle, providing search and rescue for single-engine RAAF aircraft. Owing to the rapidly changeable weather conditions at Point Cook, Marine Section kept their vessels at Williamstown overnight. Crews took the opportunity to conduct training on most of these short trips and were highly skilled. In February 1984 a single-engine CT4 Airtrainer of No. 1 Flying Training School crashed into the water after take-off; the trainee pilot and instructor were back on dry land nine minutes after they ditched.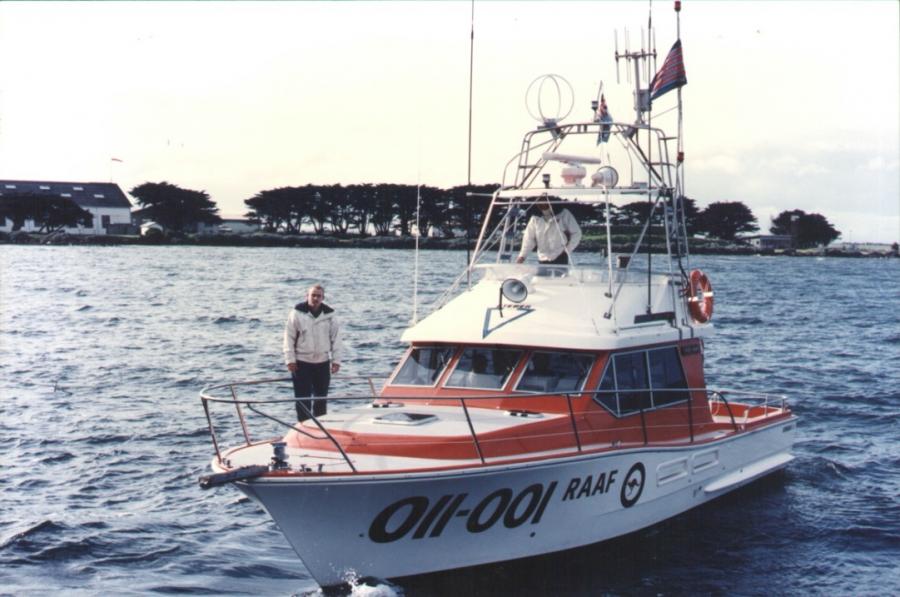 In the early 1990s, search and rescue capability was contracted to civilian suppliers. With no need for RAAF vessels, the final RAAF Marine Section was disbanded in 1993 at the cessation of military flying training at Point Cook, ending the existence of a lesser known section of the RAAF.
Author: Wing Commander Michael Garside, AWM Air Force Fellow.