'It felt like you were moving through a ghost town'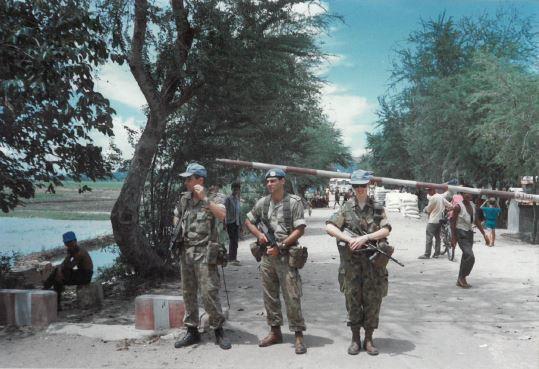 When Alison Creagh arrived in East Timor as a peacekeeper in 1999, the drive from the airport to Dili was eerily silent. There was no wildlife, and no people, but the signs of devastation were everywhere.
"There was lots of smoke around and everything smelt burnt or like it was being burnt," Creagh said.
"It felt like you were moving through a ghost town with tumble weeds almost: no people; burnt out buildings everywhere; a lot of destruction; and mounds of dirt in many places along the roadside, which people told me were graves of people who had been killed … The population had moved into the hills to get out of harm's way, so it was very, very haunting."
Creagh was a major in the Australian Regular Army when she was deployed to East Timor from 1999–2000, initially as second-in-command of the 1st Joint Support Unit and then commanding the 145th Signal Squadron as part of the International Force East Timor (INTERFET).
"We were warned the security situation was very dicey, very uncertain, and to expect to go into a conflict," Creagh said.
Her experiences with the locals left a lasting impression.
"We spent a bit of time with the orphanages and one of my stark memories from there was looking at a wall of paintings that the kids had drawn," she said. "The graphic depiction of machetes, blood and fire told their story, and that really brings home to you what it was all about and why you're there."
Creagh first experienced peacekeeping in Cambodia in 1993, when she was Quartermaster of the Force Communications Unit as part of the United Nations Transitional Authority Cambodia (UNTAC).
"I remember quite starkly being briefed about the people and the terrible Pol Pot regime and everything the Khmer Rouge had done and I recognised how important our role was in trying to set up the conditions to try and provide free and fair elections so the Cambodians would actually have a chance of some degree of peace," Creagh said.
She will never forget the sight of mine victims, many of whom were children, begging on the streets. "I remember walking through the markets and we saw a fellow who was playing music with no face, no legs and some fingers, so clearly a mine victim, but he was making money for his family," she said. "That's quite confronting, and I guess it's a flavour of peacekeeping, where you actually see the highs and the lows, and the good and the bad."
Creagh was awarded the Conspicuous Service Cross in 1994 for her work in Cambodia and is passionate about remembering those who have served as peacekeepers. She was instrumental in establishing the Australian Peacekeeping Memorial on Anzac Parade in Canberra, which has been a focal point for commemorations of the 70th anniversary of Australian involvement in peacekeeping.
"It started a thought bubble that Australia should have its own peacekeeping memorial that remembers Australians, past, present and future, who have served on peacekeeping missions," Creagh said.
"For me the dedication of the Australian Peacekeeping Memorial and the anniversary of 70 years of Australian peacekeeping is pretty important to recognise because it means a lot to so many people. Australian peacekeepers have touched the hearts and souls of people around the world, and they've made a difference around the world, and while every mission has not been a success, a number have, and it's important to remember."
Creagh retired from the army in 2015 as a brigadier, but will always remember her time peacekeeping and the sacrifices that Australian peacekeepers have made to help change people's lives. For Creagh, one moment in East Timor stands out in particular.
"Early in the New Year there was a massive rainstorm and I remember suddenly hearing birds," she said. "Up until that point, I'd not seen any birdlife. And then you see the population grow and emerge and you realise that the security situation is starting to improve. In both peacekeeping deployments our physical presence brought a feeling of security and safety to the local population, sufficient that over time they started to resume a new normal life. And that's an amazing feeling."