Loyal friend, trusted comrade
When Australian servicemen and servicewomen have gone to war they have often been accompanied by man's best friend.
Military Working Dog 426 – known lovingly to his handlers as "Aussie" – was once such dog.
An Explosive Detection Dog in the Australian Army, Aussie deployed to Afghanistan multiple times, one of hundreds of dogs that have served alongside Australian troops during times of war.
Aussie's ashes were interred at the Australian War Memorial in Canberra earlier this month as part of the installation of a memorial sculpture for military working dogs which will be dedicated at an official ceremony in February 2020.
"Aussie was an extremely energetic, dedicated dog," said his handler, Sergeant Alistair Le Lievre.
"I haven't seen a dog like him in army; his drive to work was uncharacteristic because it was that high, and for me, he was a very unique dog."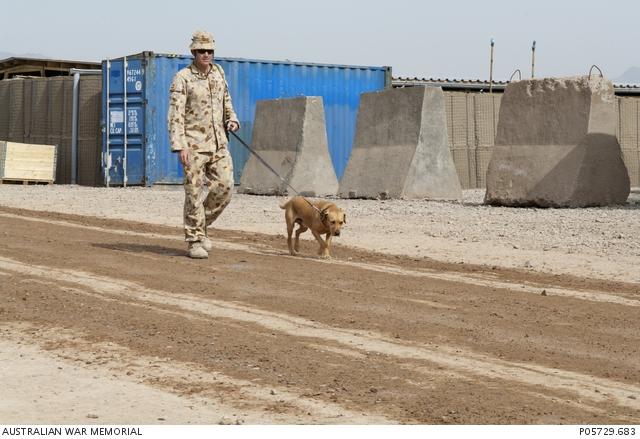 Aussie served alongside Le Lievre during the Regional Assistance Mission to the Solomon Islands, helped provide domestic security for the Melbourne Commonwealth Games, and worked with the Explosives Detection Dog Team in Afghanistan.
"Almost immediately after we came back from Melbourne, we deployed to Afghanistan for eight months," Le Lievre said.  
"When I became an instructor, Aussie deployed back to Afghanistan with Sapper Shaun Ward, and then immediately after that he had another deployment to Afghanistan, with Sapper Brendan Keemink.
"But it didn't end there; after he'd been on numerous operations, he was able to pass on all of the skills that he'd been taught to two other dog handlers on dog handler courses.
"He retired at 12 years of age, having actually served for over a decade as an explosive detection dog.
"In dog years, that's him almost working until he was in his 80s, but even then, he still had an amazing capability to work, and could still do the job.
"The best way to describe him is to say that he was probably like a puppy right up until his death, really.
"When he retired at 12, we thought that he'd just have a good life of sleeping and laying around, but what he did – rolling around in mud, playing around with a tennis ball, and jumping into pools of water, etcetera – was something you wouldn't expect from a 12-year-old dog who had deployed four times, and been in the army that long. He was a very unique dog."
A much loved member of the Le Lievre family, Aussie died in 2017 at the age of 16.
His life and service will be remembered as part of the military working dogs memorial, Circling into sleep, which was designed by renowned artist Steven Holland, and created with assistance from military working dogs and their handlers.
"I feel honoured and proud that of all the dogs that have deployed and served, Aussie was the one that was chosen to represent military working dogs over 100 years of service," Le Lievre said.
"This monument is not only for Explosive Detection Dogs; it's not only for military dogs; it's for all those dogs that were smuggled over from the lancers and bushmen's regiments in the Boer War; it's for all those dogs that were used as messenger dogs in the First World War, but also the dogs that were adopted by the diggers and that lived in the trenches with no job but to provide company for all those diggers who were going through a very hard and unique challenge that no one had ever seen before.
"It's for all those dogs that were adopted in France and Egypt, or wherever Australian forces were deployed, but also for the scout dogs that deployed in the Second World War, the mine dogs that deployed in Korea, the tracking dogs that deployed in Vietnam, and the protection dogs and the patrol dogs that have served in army, air force, and navy.
"So although Aussie is here, I like to think that it is for all the dogs that have served in defence over the past 100 years, but that it is also for the handlers and their families to reflect on what those dogs did for them, and what those dogs did for army, air force, and navy.
"What Aussie provided for me, and the army, and also for my family, was quite unique and special, and I don't think I'll ever see that in a dog again."
Circling into sleep will be dedicated at an official ceremony at the Memorial in February 2020.