Beryl Maddock 'Flying Sister'
While searching through the Memorial's Research Centre collection looking for stories relating to the upcoming exhibition on nurses I came across the collection of Sister Beryl Maddock (nee Chandler), containing a typed memoir, newspaper clippings, letters and a scattering of photographs. Beryl's story stood out to me as she was one of a small number of nurses selected to join the RAAF's newly formed Medical Air Evacuation Transport Unit in 1944. As a nurse in the air rather than on the ground, Beryl's wartime experience combined regular nursing duties with airsickness, altitudes of up to 18,000 feet, anoxia and medic pilots who wished they had been fighter pilots (and flew as such).
 As a nursing student in 1939 when war broke out, Chandler watched with some frustration as her colleagues left to join the Australian Army Nursing Service while she stayed behind to complete her training. Off marched her friends Sisters Florence Trotter, Joyce Tweddell, and Pearl Mittelheuser. These girls left for active service and for a wildly different wartime experience to Beryl, however their paths were to cross again at the end of the war. In 1941, after completing her training, it was suggested to Beryl that she apply to join the Royal Australian Air Force Nursing Service and after a series of applications and interviews she was, to her delight, accepted in May of 1942.
Northern Australia. Sister Beryl Chandler of Longreach, Qld, at the Medical Receiving Station RAAF with the mascot of the station, a wallaby named "Josie" and a patient, an officer of the RAN.
Beryl's memoirs record a lively introduction to defence nursing as she acclimatised to sleeping on a bed made of hay, cold showers and the camaraderie of life in the RAAF. It was while working as Sister in Charge at the Air Base in Narromine in 1944 that Beryl heard about a plan to train nurses for medical air evacuations. The idea of being a 'Flying Sister' appealed to her and so she applied, and was one of the 25 nurses accepted to No. 1 Medical Air Evacuation Transport Unit (MAETU)- the first of its kind in the RAAF.  After their establishment in 1944, RAAF Medical Air Evacuation Transport Units flew in and out of combat zones taking in supplies and returning with patients, proving vital in rescuing seriously ill and wounded servicemen. By September 1945 Beryl's initial unit, No. 1 MAETU, which was based at Nadzab in New Guinea, had carried 14, 209 patients since its formation in March of 1944. The use of MAETU were particularly important in relation to New Guinea where an enemy controlled sea coast and the rigours of land travel made medical evacuations time consuming and dangerous. For the nurses, this type of work brought them ever closer to the front line and introduced a new series of challenges. 
A rigorous training course for the 'Flying Sisters' had to be undertaken before deployment. This included everything from weapons handling, jungle and ocean survival as well as how to cope with psychotic patients and patients with brain injuries and lung damage at changing altitudes. 
Perhaps the most memorable deployment for Sister Chandler as a member of MAETU came in September of 1945. With the war with Japan ending in August of that year, there were roughly 14,000 Australian Prisoners of War awaiting repatriation in the South West Pacific and on the 13th of September Sister Chandler found her name listed among the MAETU crew whose primary mission was to locate and repatriate a group of missing Australian Army nurses- including many of the girls she had originally trained with. Seeing the names of her friends on lists of Prisoners of War, and reading reports of atrocities such as the Banka Island massacre and the sinking of the hospital ship Vyner Brooke in 1942 added a personal element to her involvement in the search. However upon landing at Palembang on the 15th September, Sister Chandler and her crew found that many of the remaining Japanese either could not or would not provide information as to the whereabouts of the missing nurses. Finally, working from the tip of a Mother Superior who had been in contact with some of the missing women, Chandler and her crew left for Lahat and on the 16th of September 1945 were reunited with the nurses, including Banka Island Massacre survivor Vivian Bullwinkel. On the flight out of Lahat Beryl writes that she remembers checking the list of missing nurses against her new charges and asked one what her name was. The woman replied 'Chan, you have to be kidding, I am Tweddell'. Due to the physical deterioration during her years as a POW- Beryl had been completely unable to recognise her friend Joyce Tweddell from their training days only a few years earlier. Similarly, Beryl's memoirs detail a bittersweet reunion with her friend Florence Trotter, and her feelings upon learning the news that Pearl Mittelheuser had died only a few weeks before. A joyful photograph from her collection shows Chandler, Trotter and Tweddell embracing upon their return to Brisbane, their arms full of flowers. Her flying log book for that day, however, reads simply: 'RESCUE OF NURSES – Palembang Lahat, Sumatra.'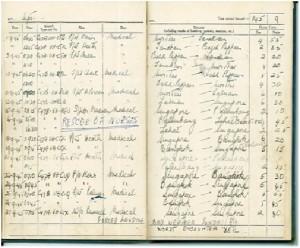 Beryl's memoirs record many other adventures with MAETU, including a patient who chewed through the electric wiring of the plane whilst in flight and the loss of a colleague, Flight Sister Marie Craig who died after her plane disappeared in September of 1945. (The wreckage of F/Sister Craig's plane was recovered 25 years later when the crash site was spotted on the side of a 14,100ft mountain in the Carstensz Ranges in Indonesian Papua.)  She braved nights stranded with her crew in thick jungle and slept in a (vacated) Sultan's bed while stopping over in Singapore- requiring a ladder to get into it. She nursed soldiers suffering burns, gunshot wounds and terrible shock. She assisted with the repatriation of a young soldier who, as a prisoner of war had had his back broken as punishment for trying to smuggle rice into his boots and another whose legs were amputated in a POW camp, using only a solid punch as means of anaesthetic.
  During her experience as a 'Flying Sister', Beryl Chandler/ Maddock felt the camaraderie, joys and sorrows of service and found herself facing the same challenges that seem to appear for many defence force nurses, treating patients returning from active service bearing the physical and mental wounds that only a war zone can seem to inflict. In a note toward the end of her memoirs Beryl writes 'we who have had the privilege of serving with the RAAF feel a great deal of pride... and congratulate all who have served and are serving today with the RAAF and wish it the great future we know lies ahead.'
Further information: