'The iconic Black Hawk has been the work horse of the Australian Defence Force for a generation'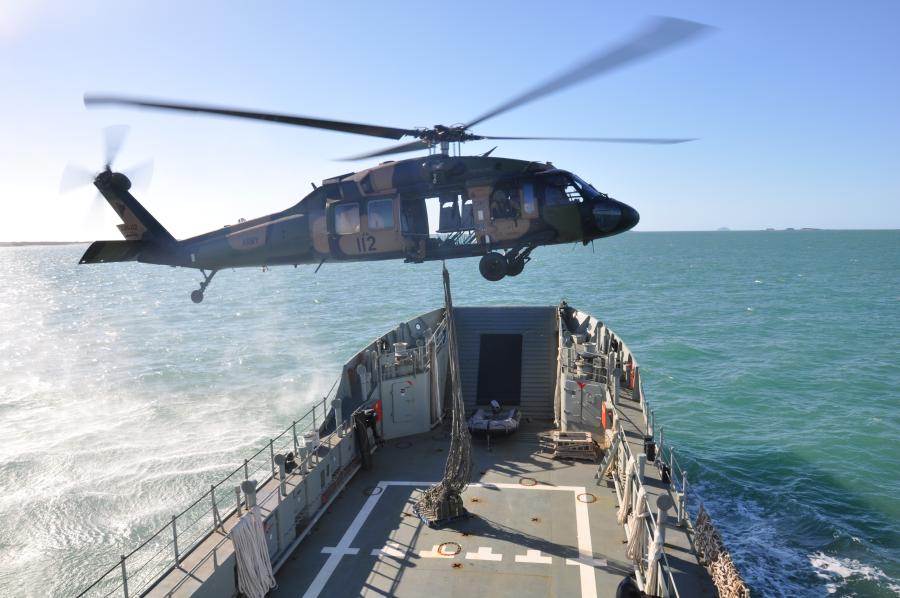 It's not every day you see a Black Hawk helicopter making its way through the streets of Canberra on the back of a truck.
But that's what happened when a Sikorsky S-70A-9 Black Hawk – A25-112 – made its final journey to the Australian War Memorial after more than three decades of service.
Named 'Saracen', the helicopter is the first Black Hawk to be added to the Memorial's collection.
It was gifted to the Memorial by the Department of Defence and is now housed at the Memorial's Treloar Technology Centre in Mitchell.
Memorial Director Matt Anderson said the helicopter was a significant addition to the national collection.
"The iconic Black Hawk has been the work horse of the Australian Defence Force for a generation," he said.
"It was introduced in 1987 to replace the much-loved, but ageing Iroquois, and was not without a little controversy surrounding who should 'own' battlefield utility helicopters; the RAAF or the Army.
"We will now embark on collecting the stories of Saracen and the broader Black Hawk community – both RAAF and Army – to ensure the service and sacrifice of a generation of Australians is told at the Memorial and, ultimately, be better understood and appreciated by all Australians."
Head curator Nick Fletcher said it was an important moment for the Memorial.
"It's a pretty big day for the Memorial any time a really big piece of technology like this comes into the collection," he said.
"It normally happens as a result of many, many years of work and liaison, so to see it all come to fruition is very exciting.
"And, of course, the knowledge that this aircraft will now be preserved here in perpetuity is pretty exciting too."
The Sikorsky S-70A-9 Black Hawk is a four-bladed, twin-engine, utility helicopter, typically providing air mobility for troops and equipment in a combat zone.
Introduced into service with the Australian Defence Force in the late 1980s, the Black Hawk can also carry out aerial reconnaissance, observation, direction of artillery fire, casualty evacuation and aerial fire support.
When required, it plays a vital role in community support tasks such as search and rescue and the provision of humanitarian and natural disaster relief.
"They've proven to be such a useable, versatile airframe," Fletcher said.
"Their role in Australian service is very much about transport, whether it's transport of people, transport of supplies, logistics, or whatever else it has to move …  
"It's all about getting what is needed, to the sometimes inaccessible location where it's needed, at the time when it's desperately needed."
Australian Black Hawks have had a diverse operational history with the Australian Army's 5th and 6th Aviation Regiments, deploying on peacekeeping and humanitarian operations, and with specialist domestic counter-terrorism response units.
Black Hawk A25-112 has a significant operational history, having served on peacekeeping operations and humanitarian aid missions in Australia and overseas.
"Saracen was one of the most heavily used aircraft," Fletcher said.
"It was involved in a lot of peacekeeping and humanitarian operations, both in Australia and overseas – in New Guinea, Bougainville, East Timor, Pakistan – so it's really covered the whole gamut.
"Its extensive deployment history is typical of the role Australian Black Hawks played."
Saracen was delivered to the 5th Aviation Regiment in 1989 and played a high-profile role in the aftermath of the 1999 East Timor referendum, participating in the subsequent deployment of the Australian-led peacekeeping task force, INTERFET.
It continued to support Australian operations in East Timor, deploying there again in 2004, 2008 and 2011, and provided humanitarian aid to Operations Pakistan Assist in 2006 and PNG Assist in 2007.
It also served in Bougainville as part of Operation Lagoon in 1994, and in Fiji as part of Operation Quickstep in 2006.
Its last operational flight was in 2019.
"From a curatorial point of view, the work's really just starting," Fletcher said.
"We've jumped through all the hoops we needed to jump through to get the actual object, now's the time to start talking to the veterans.
"I don't mean just the veterans who have flown the aircraft, but those who have supported it on the ground, and just as importantly, those who it was in service of, all those personnel who received supplies or assistance as a result of Black Hawk operations.
"These large objects often speak to veterans in a way that perhaps just uniform and other things like that don't. They are very much a touchstone for other stories…
"So there's lots and lots of work – lots and lots of interviewing and discussions – to be done to find out the amazing stories behind it … and build up a much more complete story of what this aircraft has been up to.
"We already know they are a much-loved asset, and that they've been highly regarded.
"But what were they like…
"And what sets this one apart from the others? What's different about it?
"How did the crew feel about it? Were there any nicknames for it?
"Does it have any little foibles?
"Those sorts of questions are the ones we'd like to get answers to by talking to the actual veterans.
"That's the sort of information we're really interested in."