Bombs Over Burma: The treatment of a book jacket cover in the AWM Collection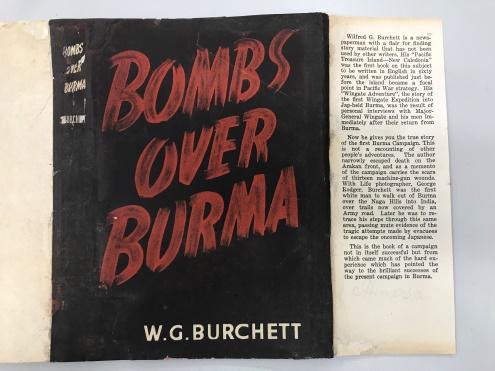 This hardback book by Australian journalist W. G. Burchett came into the Paper lab from the Research Centre with a dust jacket that had seen better days. Not only was there extensive loss but the three sections of the paper jacket, front, back and spine were being held together with a few pieces of old discoloured pressure sensitive tape. The paper was brittle, abraded and discoloured.
In order to stabilise this book jacket it needed to be washed, de-acidified and lined with a strong piece of Japanese paper to recreate the original shape, give it strength and allow a support for infilling missing pieces.
The first step in this treatment was the removal of the sticky tapes. This was undertaken mechanically with a heated spatula and a regular one. Solubility testing was then undertaken on the printed inks to make sure they would be stable in both de-ionised water and solvents.  Residual adhesives were then removed with solvents.
To remove the brittleness caused by acidity and the loss of hydrogen bonds in the paper structure, the cover had to be washed in deionised water and then was buffered to a pH of 8 in a de-acidification bath.
Following this the lining was carried out in a traditional Japanese way. The humidified work was laid face down on wet rayon paper; then Japanese paper slightly lighter in weight, was pasted to the cover with Jin Shofu – Japanese wheat starch.
Japanese paper being laid onto the back of the Jacket cover and pasted.
Japanese paper being laid onto the back of the Jacket cover and pasted down
The jacket cover was then left to air dry so as to create a strong bond with the paper fibres. The following morning the cover was lightly humidified and then placed on a traditional Japanese Karibari drying board. Over a period of a week the lined book jacket dried slowly and under tension was pulled taunt.  
After the lining was complete, areas of loss were infilled with hand painted and dyed wove paper to match both the black matt surfaced areas and the cream colour of the paper. On completion of the treatment, the jacket cover was untied with the book.  
The Australian War Memorial has a huge collection of items on paper encompassing Australia's wartime experience from the Boer War to the present day. Our collection includes artworks, photographs, and maps as well as official documents, personal diaries, and books.
This article was published by our Paper Conservation team. See more of their work here.