Charlie Burns: A soldier in two world wars
Over 20 Indigenous soldiers are known to have served in both the First and Second World Wars. Charles "Charlie" Burns is one of only a handful of those who saw active overseas service in both world wars.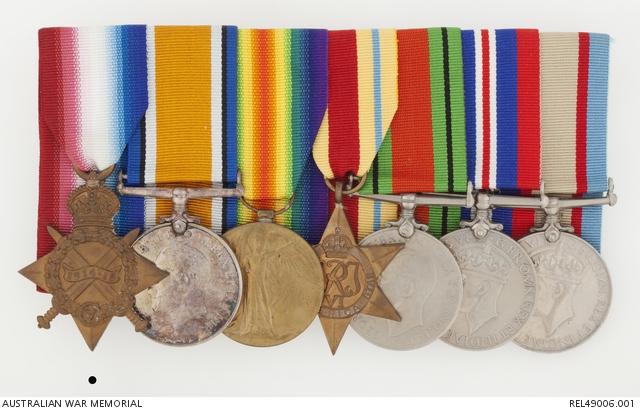 Charlie Burns was born on 21 September 1896. While his parent's names are unknown, he believed he was born on a cattle station near Wyndham in the north of Western Australia.  At the age of six, Charlie moved from Wyndham to live with his new guardians, Frederick and Grace Brockman, in Guildford, thousands of kilometres from where he was born and became the first indigenous student to attend Guilford Grammar School. Frederick was a surveyor (he became surveyor general in 1915) and had previously worked in the Wyndham area. Grace and an Indigenous stockman named Sam Yebbie Isaacs were well known for rescuing some of the survivors of SS Georgette, which was wrecked at Calgardup Bay in 1876.
In September 1917 while serving in Palestine, Charlie's own bravery held echoes of Sam and Grace's story when he rescued a New Zealand soldier, Trooper George Moffat of the Wellington Mounted Rifles, from drowning in the waters off the coast of Marakeb, south-west of Gaza, where George's unit was in reserve undertaking regimental training. The coast here was particularly dangerous and there had been several cases of soldiers drowning.
One evening while bathing, the strong current carried George out to sea. Charlie answered his call for help and managed to swim a life-line to him. Despite the life-line breaking, Charlie was a strong swimmer, and managed to rescue George. Another man who swam out to help had to be aided back to shore as the currents were too strong for him. Charlie's bravery was recorded in the routine orders of the Desert Mounted Corps. George Moffat survived the war.
Charlie had many different jobs: he worked with Frederick Brockman as a survey hand, and was working as a blacksmith's striker when he enlisted in the AIF in August 1915, just before his 19th birthday. Strikers helped blacksmiths working on large items, with the blacksmith striking a spot and the striker hitting the same spot, making it easier for the blacksmith to hammer out large items. Charlie later worked as the blacksmith for the Northcliffe Group Settlement. He also worked as a stockman on some of the Brockman properties, helped build kilometres of fences in the Pemberton area, and helped restore large areas of sand dunes on the Warren coast by planting marram grass.
Charlie was a well-known horseman, which may have contributed to his being allocated to reinforcements for the 10th Light Horse Regiment to Egypt in November 1915. When he arrived, he briefly served with the Australian Army Service Corps until being transferred to the 1st Signal Squadron two weeks after it was formed in March 1916.
Charlie served in Egypt, Sinai, and Palestine with the signallers until the middle of 1919 when he returned home. He enjoyed playing Australian Rules football and was well known in country areas for his abilities as a rover. In the 1920s and 1930s he played for the Pemberton Warriors and according to one account was offered a position with the Subiaco Football Club in 1921, but he was living at Manjimup at the time and decided to stay there.
In August 1940, now in his mid-40s, Charlie was working as a slaughterman when he enlisted for overseas service with the Second AIF. He was again sent to the Middle East, serving in some of the areas he had seen 20 years earlier. This time he served with the 3rd Railway Construction Company until January 1943, when he returned to Australia. There he served in Western Australia and Victoria until January 1945, including a period with the Catering Corps.
Charlie was a well-known and respected member of the community around Pemberton. He was sought after for his knowledge of the local environment, was well known for his hunting and cooking skills, and taught many local people about the bush. He passed away in 1990 and is buried at Manjimup Cemetery.