Christmas Dinner During War
When we think of Christmas we think of presents, decorations and most importantly Christmas dinner. What was Christmas dinner like for those at war?
Private Charles Bennett (PR04245) writes in his letters home about the Christmas dinner he had in an English camp in 1916. He had: Turkey, Ham, Roast Potato, Peas, Parsnips, Xmas pudding, Café au Lait, apples, orange, bananas, saffron cakes, mince pies
Lieutenant Donald Armstrong (1DRL/0057) in Abassieh in a letter to his mother writes about the Christmas dinner he had in 1915: Roast Beef, Roast Mutton, Pickles, Sauce, Asparagus, Bread, Rolls and fish or meat paste, seven plum puddings, tinned pineapple and apricots, chocolates lollies, almonds, peanuts, brazil nuts, oranges and a bucket of cocoa. After which he has commented "I don't want any more to eat for a week or so"
Even on a ship the Christmas meal was quite an event. Colonel Reginald Millard (1DRL/0499) writes in his diary while sailing through the Aegean Sea that dinner consisted of turbot, turkey, Grouse, Asparagus, Flaming plum pudding, mince pie and champagne complements of the captain.
However Christmas wasn't always an enjoyable time. Captain Charles Gatliff (1DRL/0309) writes to his parents in 1916 from somewhere in France that there was no real Christmas dinner just the usual rations as the parcels from home didn't arrive until the afternoon. He did receive some cheer at Christmas though in the form of some Christmas puddings brought by some of the officers returning from leave. He then goes on to mention that the Christmas was still better than the one he had in South Africa on the back of an open truck with only bully beef and biscuits for dinner.
This menu of bully beef and biscuits was also had by Lieutenant Lancelot Horniman (1DRL/0357) in 1915. He goes on to say in his diary that this is an awful treatment for Christmas time, while we are all rejoicing to be free from Gallipoli at last... its disgraceful treatment, meanwhile the officers live like princes.
In the Second World War Corporal Joseph Roxburgh (PR04665) had a different experience. For Christmas of 1941 he was at Skudai camp in Malaya and for dinner he got the normal ham, turkey, baked potatoes, plum pudding and a bottle of tiger beer. He became a prisoner of war  in February of 1942 and by 1944 Christmas dinner consisted of 1 ½ desserts spoons of fried whitebait, 1 dessert spoon of fried towgay, 2 pieces of fried tapioca, ½ baked bringle, 2 dessert spoon of Chinese cabbage, 1 vegetable pasty, 1 tempi cup (baked rice cup, sprouted towgay in a cream) ½ pint of browned rice gravy and one small Chester cake.
For these Prisoners of War used to eating very little every day, this meagre meal made many feel sick by about 10pm that day and this carried on into Boxing Day. It was noted that the trees around the camp were almost all stripped of leaves due to toilet paper shortage.
Back home in Australia Constance McEwen wrote about her Christmas dinner in a diary to her son who was unreachable in a prisoner of war camp. For Christmas dinner we had Roast fowl, potatoes, pudding, Christmas cake, fruit salad and cream.  
Organisations like the Red Cross and the Australian Comforts Funds helped add to the festivities in the form of care parcels. One of the most popular in the First World War was the Christmas billie. Australian soldiers were issued the billie in December of 1915 together with a plum pudding to be shared between two. The billies were mostly compiled by families back home in Australia. The items received in the billies is featured by many soldiers in their diaries and letters home. It added Christmas cheer to the day. Many of the contents were the same and some of the senders would add letters, messages or return addresses in the billie being sent.
Lieutenant George Allardyce (1DRL/0024) writes in a letter to his father: The can contained sweets, cigarettes, chocolates, tinned pastries, a pipe and tobacco, playing cards and other sundry little things useful and useless
Lieutenant Donald Armstrong ( 1DRL/0057) wrote in a letter to his mother: The Billie contained 1 plum pudding, 1 tin of salmon, 1 tin of meat paste, two tins of cigarettes, 1 cake chocolate, chewing gum, mints, safety pins, handkerchief, tooth brush and 1 tin of tooth powder.
The Red Cross and Australian Comforts Fund would send out parcels. Often it was these parcels which added that something special to Christmas dinner which would otherwise have been a meal like any other day. The parcel received by Lance Corporal David Wilson (PR03539) contained the items on the card below.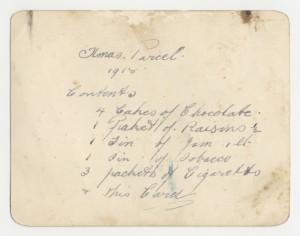 For Corporal Joseph Roxburgh (PR03539) , a prisoner of war during the Second World War, and his fellow prisoners it was the saving of items in their comforts parcel which enabled them to have Christmas feast the first year in the camp.
To the Australian soldier it did not really matter what they had to eat for Christmas dinner nor where they had to eat it. While it is true they preferred somewhere warm and dry to spend their Christmas day and to celebrate it together with their family and friends back home, it was the Christmas spirit and the act of celebration which was most important to them.