'How could I know he would become President of the United States?'
Lieutenant John F. Kennedy was commanding patrol torpedo boat, PT-109, in the Blackett Strait on a dark, moonless night in August 1943, when a shape loomed out of the darkness.
At first, the young lieutenant and his crew thought it was another patrol torpedo boat. When they realised it was a Japanese destroyer, they attempted to turn the boat and bring its torpedoes to bear, but it was too late.
The destroyer (later identified as the Amagiri) ploughed into their boat, ripping into its starboard side, and cutting it in two.
As the fuel on board exploded, a fireball lit up the night sky. Two of Kennedy's crew were killed instantly, while ten others were left clinging to the wreckage within sight of Japanese encampments.
After hours in the water, Kennedy led the survivors to Kasolo Island, saving one of the wounded men by biting on the strap of his life jacket and towing him to safety. Exhausted, Kennedy had to be helped up the beach by the man he had towed.
Fortunately for the stranded Americans, an Australian Coastwatcher had witnessed the aftermath of the collision from his hideaway on Kolombangara Island.
That Australian was Lieutenant Arthur "Reg" Evans, a former artillery warrant officer turned naval man, serving on the islands with the secretive Coast Watch Organisation intelligence unit.
Over the following days, Evans helped co-ordinate a rescue operation involving Solomon Islander scouts and the US military, which eventually took Kennedy and his crew to safety.
For years, Evans's identity remained a secret. Eventually, he shared his story in the men's adventure magazine, Cavalier, in January 1961.
"I shook hands with the 35th president of the United States on a Pacific island in 1943," he wrote.
"'Man,' he said, 'am I glad to see you!'
"It was no glory-and-haloes stunt. It was just a routine job.
"For 17 years, I've kept my trap shut."
An accountant from New South Wales, Evans was born in Sydney in May 1905. He had worked as assistant manager of a coconut plantation in Vanuatu, and with a shipping company in Solomon Islands.
When the Second World War broke out, Evans returned to Australia, intending to join the Royal Australian Navy.
"They were all braid and ho-hum then," he wrote.
"They knocked me back cold.
"What use did they have for an old beachcomber like me, they wanted to know.
"So I said, 'to hell with you', and joined the army."
Evans went on to serve with the 2/9th Field Regiment in the Middle East before returning to Australia in March 1942.
"After two years in the Middle East, our mob was recalled to meet the Jap menace to Australia," he wrote.
"As soon as interservice transfers were possible … I had another crack at the navy. They weren't so fussy this time.
"They sent me with a group to Flinders Naval Base, Melbourne, for a short course there – teaching rough army types how to be naval gents. You know the drill.
"Then Walter Brookshank, Naval Intelligence Division, sent for me.
"He knew more about my background than I knew myself. He told me they had made a thorough checkup on me and said I was the sort of man they were looking for. There was a job for me in the Coastwatchers. I had never heard the name before."
The Coastwatchers were Allied military intelligence operatives stationed on remote Pacific islands to observe enemy movements and rescue stranded Allied personnel. Hidden behind enemy lines, the Coastwatchers played a vital intelligence-gathering role: warning of Japanese air strikes, reporting on shipping and troop movements, and saving countless lives.
"A Coastwatcher's work was not to fight or destroy," Evans wrote.
"His job was to look and listen and gather information: to sit hiding like a spider, right in the web of the enemy, but unseen and unheard. His duty was to communicate intelligence to headquarters and leave the rest to them. We became the eyes and ears of the Pacific."
Evans landed at Guadalcanal in December 1942 and remained in the headquarters camp on the edge of Henderson Field until February 1943, when he made his way to Kolombangara Island, armed with radio equipment, a pair of binoculars, and a tommy gun.
"Think of an olive-green pyramid thrusting high out of the sea, 25 miles round, and covered with jungle," he wrote. "That was Kolombangara Island."
Working with locals, Evans set up and manned an observation post that afforded him a view of the island's airstrip and sea approaches to the town of Gizo. He also collected information from local guides who acted as scouts, sharing what they had seen and heard.
In June 1943, Evans came up with a plan to relocate to the small island of Gomu, which would provide a better view of activity in the Blackett Strait.
He was planning to leave when he saw something in the water in the early hours of 2 August 1943.
"I spotted four Jap destroyers," he wrote.
"One of them had put its searchlight on something floating in the water. I thought I saw the wreckage of a boat and figures moving on it.
"But in the darkness it was too far away to see properly, and I thought I was only imagining the figures. I sent my report to base immediately."
Later that morning, headquarters contacted Evans.
"PT boat 109 lost in action in Blackett Strait. Crew of 12. Request any information."
Evans waited for word from the scouts, reporting that there were "no survivors so far", but that three torpedoes had washed ashore near the coastal village of Vanga Vanga.
"Headquarters' next message came at 1.12pm," Evans wrote. "But there was nothing definite to report for days. I had passed the news around and … there was nothing more we could do."
After travelling to his new observation post at Gomu, Evans found one of his scouts awaiting him.
"I walked up to the old weatherboard house some trader had built and deserted," he wrote.
"I heard the snap of a twig and whirled about with the tommy gun at the ready.
"But it was one of my scouts. Knowing that I was on my way to Gomu at a set time, he had gone there to await me.
"He had news. [The] men were on an island between Gizo and Ferguson Passage."
Two men – Biuku Gasa and Eroni Kumana – had stumbled across the stranded Americans; Gasa showing Kennedy how to scratch a few words into the husk of a green coconut.
"Nauro Isl. Commander … Native knows pos'it … He can pilot … 11 alive … need small boat … Kennedy."
Back on Gomu, Evans checked his charts, and wrote a message for the scout to deliver to the group, advising Kennedy to come to his position.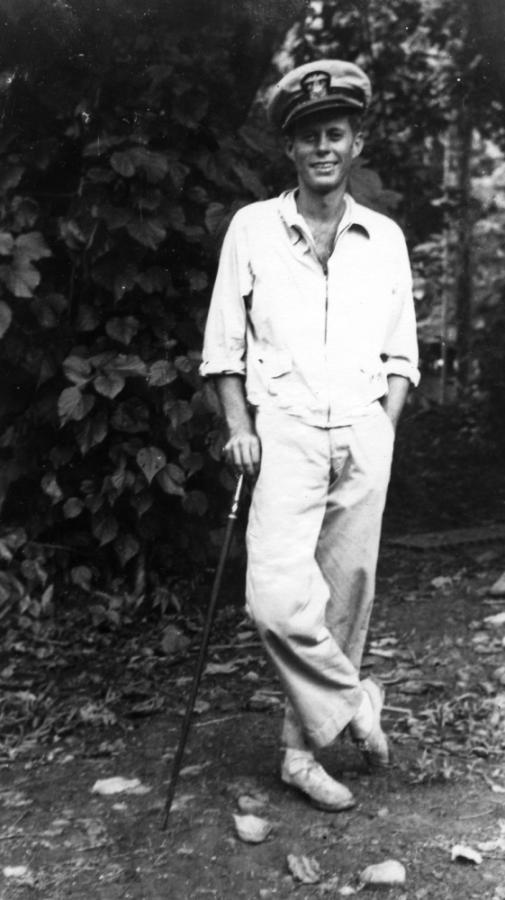 After waiting for most of the day, Evans spotted the canoe returning late in the afternoon on 7 August 1943.
"I thought they had come without the CO, that something had happened," he wrote.
"But, as the craft pulled in, the beaming faces of the boys told me our man was there.
"The next minute Lieutenant Kennedy thrust aside the blanket of coconut leaves and emerged from the bottom of the canoe …
He didn't have to say he was relieved. He looked it.
"It was only natural … he took a risk when he went with them. They could have been leading him to the enemy. My note, the whole lot, could have been a ruse.
"He didn't say much – not even about the Jap destroyer that, in the darkness, had sliced his PT boat in halves, leaving one half to sink and the other afloat, with men scrabbling on the deck and floundering in the water and the sea a yellow fire … "Kennedy's whole concern was for his crew.
"I showed him the messages I had sent and received. I told him it wouldn't be hard for me to get him back by canoe to his PT base at Rendova. [But] he wouldn't hear of it.
"For one thing, he said, his place was with his men, and for another it would make the rescue much easier if he were to lead and direct the rescue party."
Later that night, rescue boats met Kennedy at the rendezvous point, exchanging a prearranged signal of four shots. Kennedy's revolver was down to three rounds, so he borrowed a rifle from Evans for the fourth. Standing up in the canoe to give the signal, Kennedy did not anticipate the rifle's recoil, which threw him off balance and dumped him in the water.
"I sent him off in the canoe, and he kept his rendezvous with the PT boat, led the rescuers, and got the survivors back to Rendova," Evans wrote.
"And that, for me, was it. I never heard any more … How could I know he would become President of the United States? But I'm glad he made it. He was a nice bloke."
Evans was awarded the Distinguished Service Cross for his "bravery and enterprise in reconnaissance operations" in February 1945 and was discharged from the Royal Australian Navy in May 1946.
Although the note Evans had written to Kennedy was kept after the rescue, his identity remained a mystery for the next 17 years as his name from the signature was often misread, and other details had been obscured during the war to protect his identity.
When Kennedy was elected President of the United States, he kept the coconut on his desk in the Oval Office. In an interview in February 1961, he confirmed that Evans was his rescuer, saying that he had gone unthanked "because I couldn't read his handwriting".
Evans's identity was confirmed after a congratulatory card he sent for the 1961 presidential inauguration was matched by a handwriting expert to the letter.
Evans was invited to the United States, where he met with PT-boat veterans in New York, and then with Kennedy at the White House.
The following year, Evans returned to the islands and was reunited with the scouts who had helped him during the war.
He died on 31 January 1989, aged 84.
His private records collection was donated to the Australian War Memorial the following year. The collection includes a logbook with coded entries, newspaper cuttings and letters, as well as a script and plan for the filming of a television episode.
John F. Kennedy's daughter, Caroline Kennedy, recently visited the Memorial to view the collection and thank surviving Coastwatchers James Burrowes OAM and Ronald "Dixie" Lee.
The new US Ambassador to Australia, Kennedy attended a Last Post Ceremony and laid a wreath in memory of those who served.
"It was a great honour to meet two Australian Coastwatchers, who played an essential role in keeping the region secure during World War Two," she said.
"I owe personal gratitude to an Australian Coastwatcher and two Solomon Islander scouts who saved my father's life.
"These men represent the best of their generation."