'You survive; you've got no choice'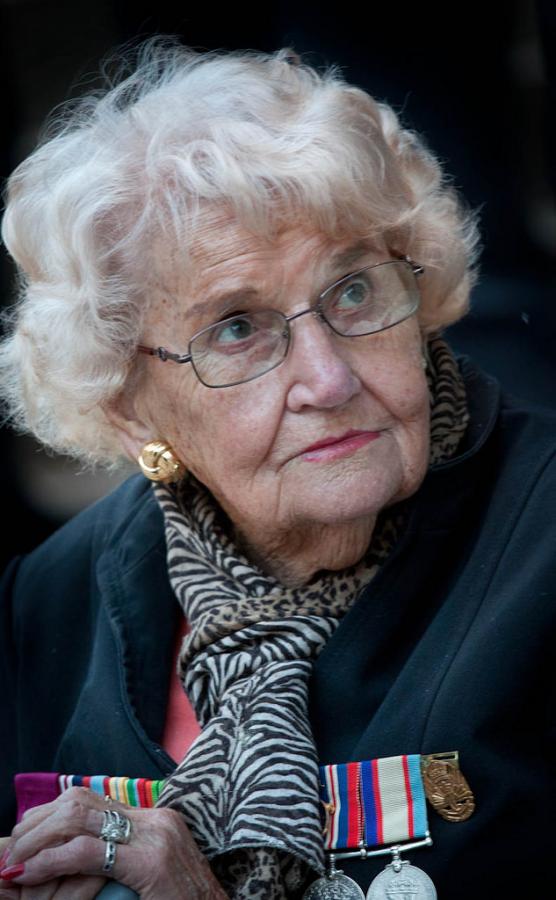 Daphne Dunne captured the hearts of millions when she met Prince Harry at the Sydney Opera House in 2015.
They greeted each other like old friends when they were reunited in 2017, and again in 2018 when Prince Harry introduced Daphne to his new wife, the Duchess of Sussex.
But behind the heart-warming pictures of the 98-year-old war widow and the 34-year-old prince is a story of love, loss, and courage dating back to the Second World War.
Daphne's first husband, Lieutenant Albert Chowne, was killed fighting the Japanese in New Guinea in March 1945, and was posthumously awarded the Victoria Cross for his "conspicuous bravery … and devotion to duty".
She was wearing a replica of his Victoria Cross when she met Prince Harry, and it was the medal which first captured the prince's attention.
The original is on display in the Hall of Valour at the Australian War Memorial in Canberra, and is a constant reminder of a much-loved husband and his sacrifice during the war.
 "Oh, he was lovely," Daphne said during a visit to the Memorial.
"He was a good looking man … and he was a real good mixer, but we didn't have very long ...
"We were only married for 12 months … but that's war…
"I still love him."
Daphne was at the Memorial to attend the launch of For Valour: Australians awarded the Victoria Cross by Memorial Curator Craig Blanch and Senior Historian Dr Aaron Pegram.
The book tells the story of the 100 Australians who have been awarded the Victoria Cross for exceptional acts of bravery and self-sacrifice in battle.
For Daphne, the book is particularly special, bringing back memories of her first husband and how they met at a Sydney department store more than 70 years ago.
"[He was] wonderful," Daphne said. "I met him at work at David Jones. I was a teller [in the finance department], and he was a shirt-cutter …"
Together, they would enjoy morning tea, or take a walk. Sometimes they would go out after work, walking across the Harbour Bridge to go to the North Sydney Pool to bathe with friends and colleagues.
But their idyllic life would soon be shattered by war.
When the Second World War broke out in 1939, Albert was determined to join up. He enlisted in May 1940, listing his occupation as salesman and giving his date of birth as July 1918 instead of July 1920.
"He wanted to go because he felt like he wanted to do his job," Daphne said. "If he'd applied straight away, his job would have stopped him, [and] he couldn't have gone, so he got them to lower [his date of birth] so that he could go, and that was it."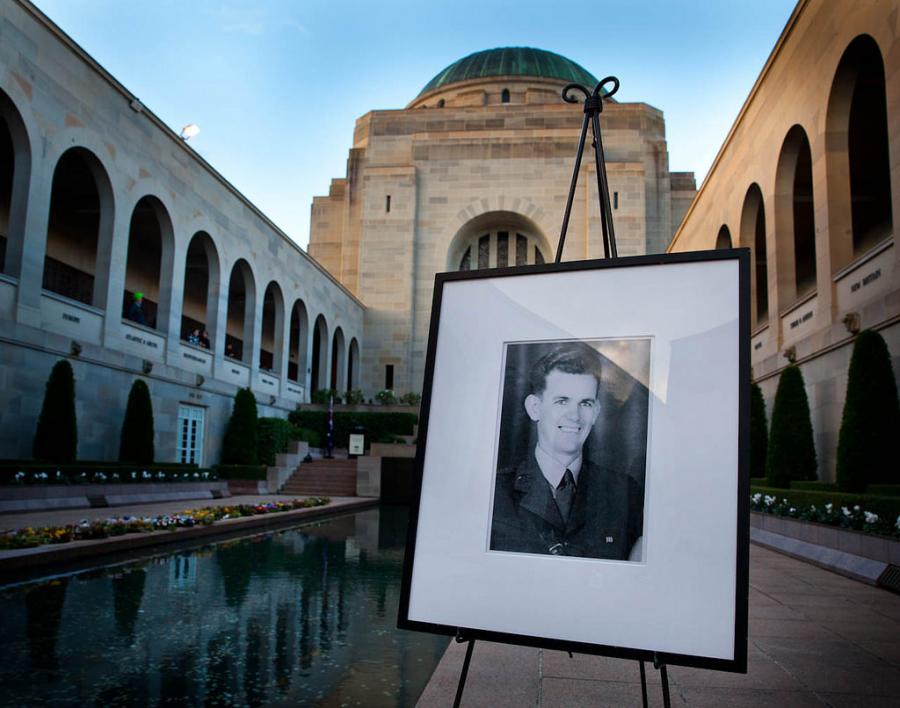 Albert was posted to the 2/13th Battalion and embarked for overseas service five months later. The pair agreed to write to each other and soon fell in love.
"It was through our letters that we fell in love," she later said. "He was very romantic, very sincere and very loving. He was just a very good person."
But it would be years before they could see each other again. Albert formed part of the Australian garrison in Syria, became one of the Rats of Tobruk, and was wounded in the leg and hand at El Alamein. He spent three weeks in hospital and returned to Australia with the battalion in January 1943. But, after a period of leave, and jungle training in the Atherton Tablelands in Queensland, he embarked for Milne Bay in Papua, where he served as a mortar platoon sergeant.
He went on to fight at Lae, Finschhafen, and Sattelberg and was awarded the Military Medal for his command of a mortar detachment at Kakakog, near Finschhafen, in September 1943. He had crawled to within metres of the Japanese positions, dragging a telephone line behind him, to direct mortar fire onto the enemy, and was so close he could feel the effects of the explosions. He repeated the action against another Japanese position several days later so that the wounded could be evacuated.
Back in Sydney, Daphne was busy working at the Moore Park showground as a corporal in the Australian Women's Army Service. "I was in finance, paying the soldiers," she said, smiling. "If they were good, they got paid, and if they weren't, they didn't."
But she missed Albert terribly. He was commissioned as a lieutenant in January 1944, and the pair were married at St Philip's Anglican Church in March 1944 during one of his brief periods of leave.
She will never forget how he asked her to marry him.  "Just like any man, in hurry," she said, smiling once more. "We only ever had short visits … and he came to my home; there were roses and everything; it was nice."
Today, their wedding photo is one of her most treasured possessions.
"It was the best day of my life," she said. "We'd known each other for about two, three, four years … and [the dress], it was the longest veil I'd ever seen, but it was lovely … I forget where I got it – you can't remember everything – it wasn't David Jones: it was too expensive… 
"We got our photo taken, and we didn't have any other photos, we just had our wedding photo."
But the war was never far away. After completing a jungle warfare training course at Canungra in south-east Queensland, Albert was posted to the 2/2nd Battalion and sent to Aitape in December 1944, where he continued to forge a reputation for courage and leadership.
In March 1945, he carried out a one-man patrol in broad daylight, bringing back valuable information about Japanese activity in the area. He continued the patrol for five hours, at one stage entering an empty hut and rifling through the belongings of Japanese soldiers and searching for intelligence. When he noticed a Japanese soldier watching him, he shot the man in the chest and promptly returned to the Australian lines.
Those who knew him believed he was destined for either a Victoria Cross or a white wooden one. Sadly, both happened.
On 25 March 1945, an Australian platoon came under heavy fire from concealed enemy machine-guns during an attack on a Japanese position on a narrow ridge near Dagua. One man was killed, and a further nine were wounded, including the platoon commander. Without awaiting orders, Albert, whose platoon was in reserve, rushed the enemy position, running up a steep, narrow track, hurling grenades and knocking out two light machine-guns. Firing his sub-machine-gun from his hip, Albert called on his men to follow him and continued to charge the enemy. He was shot twice in the chest, but managed to continue his advance for another 45 metres, killing two more enemy soldiers in their foxholes before being killed under a hail of heavy fire. He was just 24 years old.
His actions had enabled the attack to continue and paved the way for the 6th Division's advance on Wewak. 
Daphne learned of her husband's death on her 25th birthday.  The bunch of red roses he arranged to have sent to her arrived just before the news of his death. 
"I remember it very clearly," she said.
"The Lieutenant came up and said I was wanted at home, and as soon as she said that, I thought, 'Oh.'
"My heart sank, you were rarely sent home and it was never good news … so I went home and there was a telegram there… and that's the way I heard.
"Cold, isn't it?  
"But I knew what was wrong… I knew something terrible had happened because my mother and sister were there, and I thought it was her husband at first … but it wasn't, it was Albert…
 "It was a horrible way of telling you. You never had a body, you never heard anything about how it happened, but that's how it was. It was [awful]."
It wasn't until September 1945, when Albert was posthumously awarded a Victoria Cross for "most conspicuous bravery, brilliant leadership and devotion to duty", that Daphne learned how he died.
"I am proud for him, but it doesn't make up for everything," she told the Sydney Morning Herald at the time. "I would rather he had remained just ordinary and was alive. He was a wonderful man and a grand husband … I have no plans for the future. It is all dead to me now." 
The Governor-General, Prince Henry, the Duke of Gloucester – the Queen's uncle – presented Albert's Victoria Cross to Daphne at Admiralty House in 1947 and she later presented it to the Memorial along with his other medals. 
More than 70 years later, it's a painful reminder of all that she lost.
"He was a very brave man, but I wished he hadn't done it, and that he had just come home," she said. "You can't do anything about that, but the Victoria Cross, he deserved it, no two ways about that."
Albert was buried in the Lae War Cemetery and the Japanese position he rushed became known as Chowne Knoll.
His battle-damaged wrist watch, which was given to him by the staff at David Jones when he enlisted, stopped at the approximate time of his death and is on display in the Hall of Valour alongside his medals.
For Daphne, it's particularly moving.
"You survive; you've got no choice," Daphne told Fairfax Media during one of her visits to the Memorial.  "You have got to pick yourself up and start over again. I wanted [Albert] to be as proud of me as I am of him.  I still love him."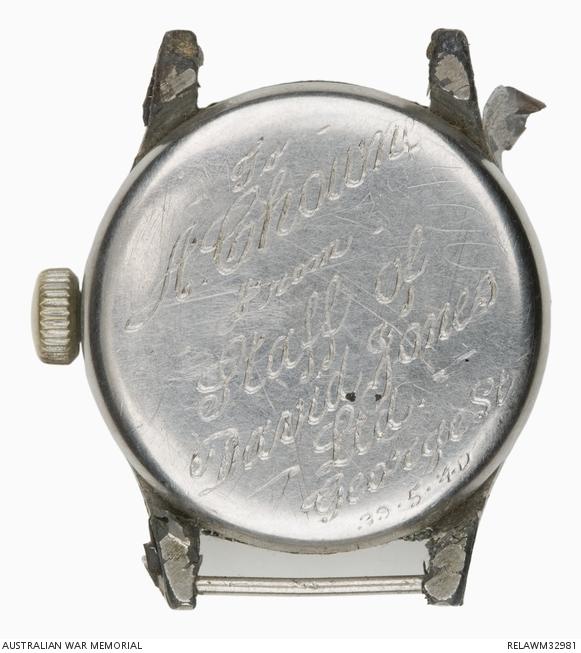 It was more than a decade before Daphne married again. As with Albert, she met her second husband through her work at David Jones.
"That store has been good to me," she said, smiling once more.
Her second husband, John Dunne, had also enlisted during the war, serving as a corporal in the 2nd/29th Battalion.  He had been captured in Malaya in 1942 and was a prisoner of war at Changi. 
"It affected him in every way," she said in an interview with The Sunday Telegraph.
"When he got a turn he would go into the bedroom and close the door, and you couldn't go near him…
"But we got through it, and then he died, and I didn't try a third one."
Today, she still grieves for both men.  
"I would like people to remember them," she told The Sunday Telegraph.  "They were both wonderful people in their own right. John was wonderful, but Albert was my first love."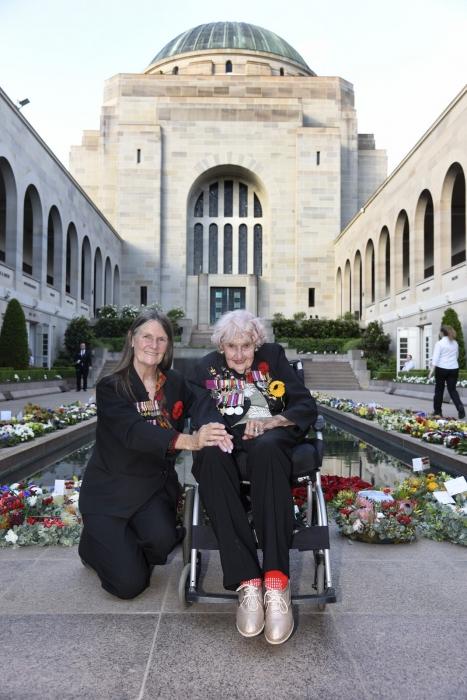 Daphne's story made headlines around the world when she met Prince Harry after his month-long deployment with the Australian Army in 2015. She was dubbed his "favourite Australian" and was impressed by his work with veterans.
"He's a lovely boy," Daphne said.
"He just came up, and he said he knew all about [the Victoria Cross], and then he just looked for me among the crowd."
She was delighted when they were reunited in 2017, and again in 2018. She attended every day of the Invictus Games in Sydney last year and laid a wreath at the Memorial's Last Post Ceremony on Remembrance Day.
"It's very hard, and it's horrible to think of it all really," she said. "That's when you think of the sadness, as well as the happiness… but it's a good life and I can't complain. I'm very happy to be where I am..."
Albert Chowne's story is told in For Valour: Australians awarded the Victoria Cross by Military Heraldry and Technology curator Craig Blanch and senior historian Dr Aaron Pegram.  For Valour retails at $79.99 and is available at the Australian War Memorial shop, online, and at good bookstores nationally.