"The Denudation of Moustaches": Enforcing the Naval Discipline Act
As the New South Wales Naval Contingent assembled in the drill hall at Fort Macquarie on 7 August 1900, the day before embarking for service in China, the men were greeted by a chalked notice on a blackboard: "We are now under the Naval Discipline Act. Officers and men will shave in accordance therewith." The curt notice referred to a regulation in the Naval Discipline Act 1866 requiring those serving in the Royal Navy to be clean shaven or wearing full beards, with peaked or Van Dyke beards permitted.
As the photographs below attest, moustaches were the favoured facial hair adornment of choice at the time, and the regulations caused rumblings in the contingents and in the press, described in one newspaper as "a display of military madness, but only in mild form".
In response to the late announcement concerning facial hair, men who had only worn moustaches had no time to grow beards and were compelled to shave. Several newspaper reports covering the embarkation of the New South Wales and Victorian naval contingents noted most of the men were clean shaven. Meanwhile on HMCS Protector, Gunner John Denzil Etoile Turner reported how the South Australian contingent responded to the regulation in his role as special correspondent to The Adelaide Advertiser:
J. Healy, one of the men, was elected barber on Thursday and The Denudation of Moustaches was at once commenced, as the Queen's Regulations state that "Men belonging to her Majesty's Royal Navy shall have a full beard or a clean shave." The disappearance of the beloved moustache has so altered the appearance of some of the men that their best girls in Adelaide would not know them. The change, however, has decidedly improved their appearance as a body of men, as they have now all a uniform appearance. Many a short moustache was fondly caressed before being consigned to a watery grave, and many a silent tear was shed over the dear departed hirsute adornment.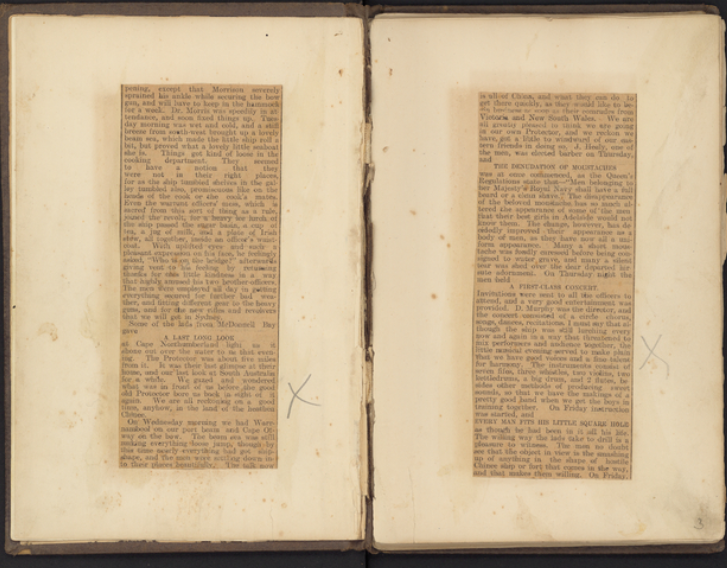 Based on photographs of members of the contingents in China, regulations relating to facial hair were evidently relaxed or disregarded, as many men are seen sporting moustaches throughout the campaign. As was observed during the so-called "trouble" that followed the original notice in August 1900, "Anyone who has seen real service knows well that nothing worries or annoys men more than 'finicking fussiness' on the part of any officer in these personal matters".
 
Refer to the list below for further information on collections referenced in these articles and recently digitised collections relating to the Boxer Uprising.
EXDOC105 – Campbell, Lorne Richard (Major-General, GOC Lines of Communication, China Field Force, 1846–1913)
EXDOC122 – HMCS Protector
3DRL/2180 – Lofts, H. E. (Lieutenant)
3DRL/2181 – Blyth, Bert (Sergeant Major)
3DRL/6218 – Bracegirdle, Leighton Seymour (Rear Admiral)
PR85/020 – Bertotto, William T. (Able Bodied Seaman, Victorian Naval Contingent, SS Salamis)
PR85/047 – Livingstone, Arthur J. (Victorian Naval Contingent, SS Salamis)
PR88/183 – Roberts, Melnotte Arthur (Lieutenant, NSW Naval Contingent)
PR88/212 – Johnston, George Henry (Private, NSW Marine Light Infantry, 1880–1954)
PR01515 – Underwood, Walter (1862–1949)
PR04210 – Turner, John Denzil Etoile (Lieutenant Commander, 1864–1949) and Turner, John George James (Sub-Lieutenant, 1894–1971)
RC00827 – Peking
RC04613 – Rice-paper map of Peking from the Boxer Rebellion, 1900–1901
RC11577.1627 – Map of north-eastern China
RC11577.1642 – Daily Mail map of the war in China