"If you can do something to prevent a war, please do it, because there are no winners." - Second World War veteran Dick Payten
It's minus 4 degrees, and 96-year-old Dick Payten is at the Australian War Memorial at 7 am for the Kokoda vale. He's rugged up against the cold, sitting quietly as the names of more than 600 young men who died in the campaign 75 years ago are read out in the Commemorative Area. The ceremony takes two hours, but Payten doesn't complain. He's honoured to be there to remember his mates.
"It's so sad to be by myself," Payten said.
"We had so many people. There were over a million of us joined up in World War II and they're almost all gone. That's how life is, but it does affect me. I do the best I can to remember them. I call it leaving the footprints, and that's why I do these memorials."
Payten is the president of the 7th Division Association and made the three-hour drive from Sydney to be in Canberra for the ceremony.
"I'm getting rather old. I'm 96 plus, and my legs are giving out, but it has been a very special day for me," he said.
"I'm very passionate about having lost all my mates, and I did break down. I get choked up because it was unnecessary to lose those men, and the great majority of them were under 20. There's nothing I can do about it, but I try to get to the annual services, the memorials and all those sorts of things to get the stories out there.
"A lot of them were mates of mine, and mateship is something that helped us win the war."
Payten was just 20 years old when he served as a bombardier in the Middle East and New Guinea.
"I was in field artillery and there were no roads," he said of the Kokoda campaign.
"We got there with great big trucks, and we tried to get our 25-pounders up there. We got as far as Isurava, but it was hopeless, really. We almost wasted our time.
"People helped us with drag ropes getting everything up there, but it just wasn't field artillery country. It was only a track, of course, and it rained almost every night, so moving with any sort of equipment like we had was almost impossible. And the enemy were right on us at that time."
The youngest of four children, Payten was born in Dubbo on 30 March 1921. He was christened David Clifford Payten after an uncle who had died in the First World War, but was affectionately called "Rickety Dick" as a child and the name stuck.
Payten had been working as a barman in Dubbo when he enlisted in May 1941. He laughs as he tells the story of how he lined up for hours in Sydney to join up.
"There's always someone smarter than you, someone else who knows a bit more," Payten said.
"I got talking to this young fella and he said to me, 'By the way, how old are you?' I said, 'I'm 20.' He said, 'Have you got your papers signed by your parents?' I said, 'I don't know anything about them,' and I didn't. He said, 'Well you won't get in today without them.' So I said, 'Okay, I've just turned 21.'"
Payten laughs again. He has a wonderful laugh and laughs often as he shares his story.
"They did knock me back because I didn't look 21, but there was plenty of food and coffee there, so whenever there was a change [of staff] on, I'd just get in the queue again.
"I had it summed up pretty well. If there was no change, I'd go back a couple in the line until they'd get a new crew. But eventually they caught up with me, and they said, 'Look, we've had a gutful of you. We have a major here, and we'd like you to talk to him.'
"Anyway, I talked to the major – well, he talked to me – and he said, 'Look, the reason we knocked you back is because we could spend a lot of money on you, on clothes and gear and training, and while you're in Australia, if you're not 21, your parents can take you out.'
"I was sitting down at that time, so I stood up, and I said: 'Sir, I've come down from Dubbo here today, and I've been on the queue a few times.' He said, 'I know that.' And I said, 'Look, I'm very, very keen to join because I lost one uncle in World War I and my other uncles died early from the effects of the war.' I said, 'I really want to join up. I'm fair dinkum.' And I put my hand out, and I said, 'I will not let you down.' He said, 'Mate, you're in.'"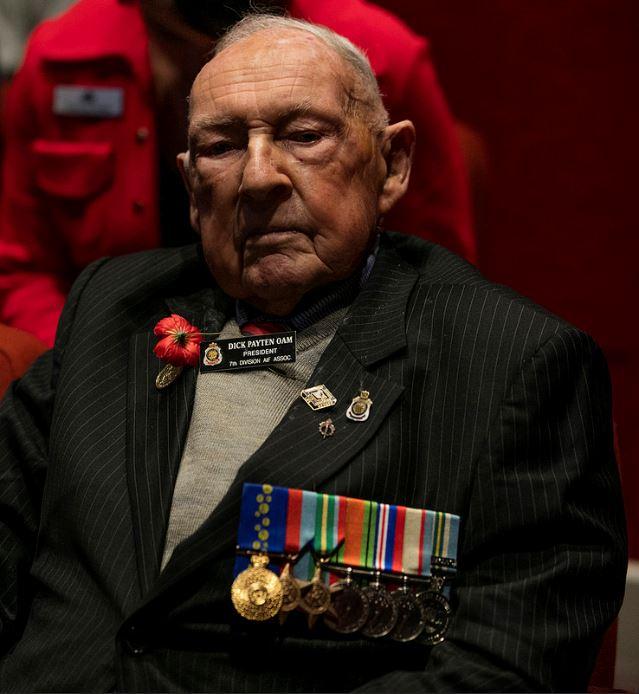 It was not long after he joined the army that Payten met his future wife, Mary.
"It should never have happened," he said, laughing once more. "I should never have won her over."
Payten had a week's leave coming up and a friend arranged for him to meet Mary under the clock at Central Station in Sydney. "He said, 'She's ideal for you. She's great.' But I didn't turn up. My friend chastised me a bit and we organised to meet under the clock again. But the same thing happened, I didn't turn up."
Payten was at Central Station getting ready to go away to war when they finally met.
"I got the shock of my life," he said. "I had my kit bag and my gear and there were hundreds and hundreds of people. The platform was chock-a-block with people saying their goodbyes. It was our final leave and we were going overseas and no one knew whether we were going to return."
He was playing a game of cards when his mate found him and insisted he meet the 18-year-old Mary. "I will always remember," Payten said. "I stopped about 10 yards off. She looked beautiful, and there was no big kiss, or cuddles, it was just a floppy handshake. We had a half hour only and we spent it very well."
The pair wrote to each other, and when the troops returned home from the Middle East to go to New Guinea, Payten contacted her.
"Everything was dead security and we recognised that," he said. "We didn't tell our family or anything, but I did ring my mum, and Mary."
Payten laughs as he admits he rang Mary first. The pair became engaged before Payten left for New Guinea, but the wedding almost didn't happen.
"I got dengue fever very, very late, and it was a bad one," he said. "There was only a young doctor and an orderly in the casualty clearing station, and they didn't have much gear. He said what he was giving me would fix me in time, but one of my friends said our boat was in. I said to the doctor, 'I'm fit enough to go. If I miss the boat, I'll be transferred to another unit, and Lord knows when I'll get home – and I've got a marriage coming up.'"
He laughs once more as he tells how the doctor relented. But his reunion with his unit was shortlived. "I collapsed and they took me back straight away," Payten said. "I was eventually fit to get on the boat, and then we had the New Guinea campaign, and another six months in Borneo, but I did get home for the wedding."
Payten married Mary in February 1944, and has four children, 13 grandchildren and 24 great-grandchildren.
Today, the 96-year-old admits he's "full of good stories" and remains passionate about honouring those who served during the war. He attends memorials and commemorative services as much as he can to remember his mates and often recites a poem about mateship that was written by one of his friends in the 8th division.
"The poem always does the trick," Payten said. "Mateship was one of the big deals in wartime … and there was no question that in New Guinea mateship held us together greatly … You wonder now how people handle things during wartime, but you've just got to do it and get on with the job."