Discovering tradition in post-war Japan
It all began with a small flower arrangement in a Tokyo shop window.
Norman Sparnon was working for ATIS (Allied Translator and Interpreter Section), part of the US Department of the Army. This was post-war Japan, and Sparnon was witness to the extraordinary transformation of a traditional society being channelled swiftly into a modern democracy.
It was 1949, and Sparnon and Mary, his American wife of one year, had just moved to the suburb of Daikanyama. The florist shop where Sparnon saw the display, was close to their new home. The flower arrangement was in the traditional ikebana style. Something resonated in Sparnon and he immediately asked the owner if she would take him as a student.
"Thereafter, for several months I became the object of considerable interest to numerous Japanese of all ages who would gaze through the shop window at this strange foreign man sitting behind a very small table endeavouring to do ikebana". (from My Ikebana Journey)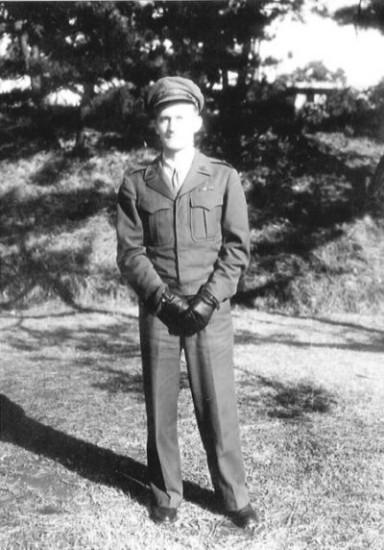 Sparnon's interest in Japanese culture had begun before the war. He had sought out Japanese language training in Melbourne, and after enlistment in 1943, his language skills were utilised by an Army administration now at war with Japan. Sparnon began working in the Intelligence area and was seconded to ATIS.
The story of his war service and appreciation of ikebana is told in a small collection of documents now held in the Memorial's Private Records section, collection PR04750.
The collection contains Sparnon's diary (1944-1945) in which he describes working as Document Officer on Japanese captured documents, during the war crimes trial of General Tomoyuki Yamashita in Manilla. Controlled by the American administration, this was a show trial and although Sparnon expressed his hopes for Yamashita's release, an inevitable guilty verdict was pronounced. The diary contains the General's autograph.
Sparnon arrived in Japan in 1945, and after his discharge in 1946, continued working for ATIS. Following their discovery of ikebana, Sparnon and his wife went on to study under several acclaimed teachers. They exhibited at various exhibitions and became associated with the more progressive Sogetsu school of ikebana.
Sparnon's story is special. At a time when many Australians were still recovering from the aftermath of Japanese Australian war relations, Sparnon was able to move beyond and see the power and beauty of a traditional Japanese art form.
"War despite its horrors had been most kind to me. During twelve years in Japan the country I had most wanted to visit, I had met and married a lovely American girl, been introduced to ikebana, been privileged to be taught by two of Japan's greatest ikebana masters, had written a book and made many wonderful friends. Indeed my life had been immeasurably enriched." (from My Ikebana Journey)
After their return to Australia in 1960, Sparnon and his wife Mary were successful in promoting Sogetsu ikebana. Sparnon went on to found the Sogestsu Teachers Association in Australia, and was awarded an OAM for services to floral art in 1979.
We would like to thank the Australian Sogetsu Teachers Association (NSW) Branch Inc for this beautiful collection. They hold other material relating to Sparnon's ikebana teaching in Australia.