'I can still remember it very clearly'
Margaret Radford was 16 years old when the postman handed her the telegram.
It was February 1945, and her brother, Flight Sergeant Frank Burton Elliott, was dead. The 22-year-old fighter pilot had been killed instantly when his P51 Mustang exploded in the air and crashed while escorting Lancaster bombers over Belgium during the Second World War.
Margaret, now in her 90s, still misses him every day.
"It was awful," she said.  "I can still remember it very clearly. The front doorbell went, and I went to the front door, and there was a postman.
"They used to have boys who carried the telegrams, and I was the one who got the telegram and gave it to Mum and Dad.
"My sister Lynn wasn't home – she was at school or something, I don't remember where – and I didn't realise what it was.
"I handed it to my Mum, and she opened it, and went and told my Dad. I can remember they walked into separate rooms, and they just stood there for a while. They were very, very upset, and it took them a while to come good and to come back out and talk to us.
"It was shocking, but so many other people had the same thing happen to them too."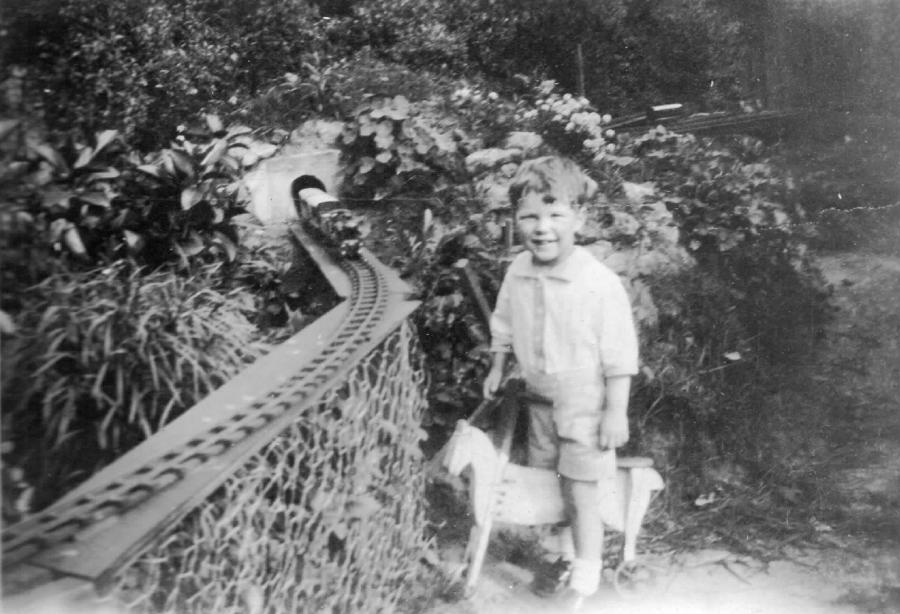 Margaret's older brother Frank was born on 1 August 1922 in Mont Albert, Victoria, the only son of Kenyon, a local architect, and his wife Dorothy.
He grew up in Melbourne with his younger sisters, Margaret and Lynnette. For the Elliott children, it was an idyllic childhood. Margaret remembers trips to the beach at Portarlington and holidays at her grandmother's house in Mornington. Her brother and father also shared a love of trains; building their own model railway in the back yard of their home at Mont Albert. Several train stations were added, and named after family members. The family still has glass plate negatives of the train set as well as photographs of the train stations and footage of the three children playing there with their cousins in the mid-1930s. 
"We all got on very well together, the three of us," Margaret said. "He was just a normal brother. He loved cricket, and he played a bit of tennis too ... and I can remember us playing on bikes out on the street. But to be quite honest, the fondest memory I've got of my brother is when he made me eat a whole apple … We were out in the garden, and we were playing out there, and we all had apples, and he sat there, and made me eat the whole lot, core and all."
Frank had finished school and was working as a clerk at the Australasia Bank in Tallangatta, north-east Victoria, when the Second World War broke out. He was studying accountancy and secretaryship by correspondence, but was determined to do his bit. He enlisted in the Militia in 1941, and joined the 44th Battery of the 22nd Field Regiment, Royal Australian Artillery. But Frank had his heart set on the Royal Australian Air Force, and in July 1942 he applied to join the RAAF and was accepted.
"He always wanted to join the Air Force and he was absolutely thrilled," Margaret said.
Frank was 20 years old when he travelled to the No. 1 Recruiting Centre in Melbourne in October 1942 and enlisted in the RAAF. After completing his initial training at Point Cook, Frank was re-mustered for flying training and was sent to No. 1 Service Flying Training School at Uranquinty in country New South Wales. It was his first introduction to the Empire Air Training Scheme, a Commonwealth-wide effort to train flying crew for the war in Europe.
Due to his lack of flying experience, Frank's instructors thought that he might be too young to be a pilot, but he persevered and after two further postings to flight training schools, he was deemed ready for the next stage of his training.
He was given pre-embarkation leave at the end of May 1943 and returned home to Mont Albert to visit his family one last time. As a parting gift, his parents presented him with a wristwatch with luminous hands. They thought it might be useful for any night flying their son might do, and it had his name and the date engraved on the back.
Margaret remembers travelling into the city to say goodbye.
"He had to go from Melbourne to Sydney by train so my father and I went in to Spencer Street Station," she said. "We weren't allowed onto the platform they were on, but we stood on another one, and we could see him. He waved to us as he got on the train, and then he looked out the window, and he waved to us as he was going off."
It was the last time Margaret ever saw her brother. Frank embarked from Brisbane with other aircrew trainees in June 1943, bound for Canada and further flight training. While in Canada, he flew Harvard trainer aircraft and Hurricane fighters. He was awarded his flying badge in October 1943, and was promoted to flight sergeant in late April 1944.
He was on leave in Canada when he met Miss J. Courtemanche, of Jonquière, north of Quebec City.  He wrote to his family about her and the couple became engaged shortly before Frank's departure for England.
"He wrote letters to Mum mainly and he sent them to the family," Margaret said. "I remember he fell madly in love with this girl in Canada. We were Church of England, and she was a Roman Catholic, and in those days it wasn't the thing to do. He wrote back and said, 'Does it really matter?' And I can remember that very well."
Frank left for England on the 29th of May and reached his destination nine days later. He could not have failed to notice the Allied build-up for the D-Day landings.
In England, Frank flew Spitfires and P51 Mustang fighters. He joined the Royal Air Force's No. 122 Squadron in December 1944 and was involved in escort flights for bomber missions over Europe.
He was getting ready to board his aircraft just before 2 pm on the 7th of February 1945 when the strap on his watch broke. As he handed the watch to a member of his ground crew, one jokingly asked, "What do we do with it if you don't come back?" to which Frank replied, "Hang onto it!"
Soon after, 13 Mustang fighters lifted off from RAF Andrews Field in Essex, England. Their mission was to rendezvous with 100 Lancaster bombers over Belgium before escorting them to Germany. The bombers' mission was to destroy a synthetic oil plant at the German city of Wanne-Eickel. Frank was number six in his flight, flying a P51 Mustang Mark III, serial number FX989.
From the outset, the weather was poor. When the fighters crossed the Belgian coast, they entered cloud cover at 800 feet, but climbed to over 25,000 feet where they broke cloud cover. Frank radioed his flight leader and in a broken transmission said that he had to return to England, mentioning something about his fuel. His flight leader asked Frank if he needed an escort, to which the Australian replied that he was all right.
Five minutes later his aircraft was heard in the clouds, apparently out of control in a spiral dive. It exploded before it broke cloud cover and pieces of the wreckage were scattered around the area of the Belgian town of Anzegem. Frank's body, still strapped into his seat, landed in a field nearby.
The villagers took Frank's body to the chapel of the Anzegem Communal Cemetery, and he was laid to rest three days later in the Kortrijk Communal Cemetery in Belgium.
The RAF lost three other Mustangs from different squadrons that day in similar circumstances. One was flown by another Australian, Warrant Officer James Morgan Harris, of Bathurst. Initially investigators at three of the crash sites thought that the aircraft might have collided, but the distances between each ruled that out. Mechanical failure, combined with the effects of the poor weather, was found to be the likely cause of each crash. The fourth crash site has never been located.
Frank's personal effects were sent home to his family in Melbourne, but the watch his parents had given him was missing. It would be returned to his parents soon after. The man Frank had handed the watch to before his fateful flight searched for their contact details and returned it to them as soon as he could. Frank's sister, Lynette, wore the watch in memory of her brother for the rest of her life. The family still treasures the watch to this day.
But it is not just Frank's family who remember him. In June 2019, after extensive research of Frank's story and archaeological searches of the main crash site and surrounds, the people of Anzegem unveiled a memorial stone dedicated to Frank Elliott in the field where his remains were recovered in February 1945.
Brothers Romain and Sylvain Devos were children at the time and remember witnessing the crash. Most of the debris from the aircraft fell on the farmhouse where they lived, and where Romain, now in his eighties, still lives.
Today the townspeople continue to tell the stories of Frank Elliott and other airmen who died in and around their town during the Second World War. They held a special service last year to mark the 75th anniversary of Frank's death, and took part in a Last Post Ceremony commemorating his life at the Australian War Memorial in Canberra.
Belgian schoolteacher Johan Durnez said the people of Anzegem had taken "their Australian pilot" into their hearts.
"It was my dream to have a special commemoration to mark the 75th anniversary and to do this with the students of the Saint-Vincentius secondary school in Anzegem," Johan said. "This dream came true … We had the best winter day one can dream. There was plenty of sun and a perfect blue sky, [with] enough wind to make the flags fly in the most perfect style … the Australian flag flying over the field where the body of the pilot was found 75 years ago."
For Frank's sister Margaret, it was particularly moving to know that her brother was remembered.
"To be quite honest, I was bowled over," she said.  "I cannot get over how wonderful they all were to do all this for someone they didn't even know.
"I only wish that my mum and dad had been here. They would have been thrilled.
"I thought it was absolutely wonderful, right from the beginning when they found a piece of my brother's plane. I honestly can't get over it. I only wish I was young enough to go back again."
Margaret had travelled to Belgium in 2010 with her son, and left a sprig of eucalyptus leaves on her brother's grave.
She laid a wreath in his honour at the Last Post Ceremony marking the 75th anniversary of his death.
"It was lovely," she said.  "You couldn't have asked for anything more."