Gordon Andrews and Ted Davidson were the best of friends.
The two grew up together on the Murray River in South Australia and did everything together.
They enlisted together, were married together, and served at Tobruk together.
The two would be together right until the end.
Their story of enduring friendship was told at a Last Post Ceremony at the Australian War Memorial in Canberra.
For historian Michael Kelly, who researched and wrote their story, it was particularly poignant.
"I was researching one of my relatives who was born in Renmark and killed at Tobruk when I first came across Andrews' story," he said.
"He'd joined up with his best mate, who he'd been best mates with since childhood, and they'd grown up in a town that I knew well and had pretty fond memories of.
"It was where my grandma and grandpa lived, and where my mum and her sisters came from, so looking at the streets where they'd grown up, it brought back a lot of my own memories and was just really vivid for me.
"He grew up on the Murray ... fishing, swimming ... and the two boys were inseparable."
The eldest of the two, Gordon Andrews was born just over the border in Mildura, Victoria, on 20 September 1913.
The third son of Henry and Louisa Andrews, he moved to Renmark with his parents at an early age and grew up in the family home on Sixteenth Street.
It was at school in Renmark that he met his best mate, Morris Davidson.
Known to family and friends as "Ted", Davidson was born at Renmark on 17 November 1914, the fifth son of Robert and Edith Davidson.
The boys grew up together among the vineyards and orchards of Renmark, where the rich, red soil of the Riverland was perfect for growing citrus fruit and wine grapes.
When the Second World War broke out, they were among the first in the district to enlist.  
"Both of the boys join up together on 11 November 1939, so not long after the Second World War actually began," Kelly said.
"They've stuck together throughout their childhood, and into adulthood, joining up together right at the start of the piece, and ended up in the 2/10th Battalion together.
"It was the first South Australian battalion formed for the Second Australian Imperial Force during the war, and they signed up on Remembrance Day, the significance of which would not have been lost on these two young men."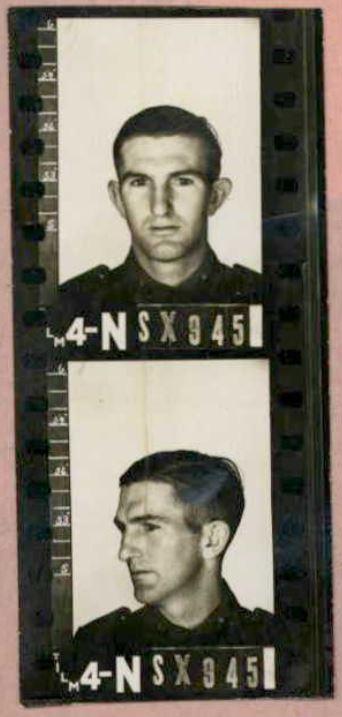 After training in the Adelaide Hills and at Greta Camp and Ingleburn in New South Wales, the pair embarked for overseas service from Sydney together on 5 May 1940.
"They spent their last leave back home in Renmark, where they had a joint wedding," Kelly said.
"They'd been granted pre-embarkation leave on 4 March, and the next day, at the Congregational Church at Medindie, Andrews married Ellinor [Milich] and Ted married Olive [Wood] in a double wedding.
"They were back at camp soon afterwards, so it was only very brief, but the fact they were so close that they shared a wedding together is pretty special.
"It was even mentioned in the local paper."
The pair were en route to the Middle East on board the transport ship Mauretania, when the 2/10th Battalion was diverted to the United Kingdom to help bolster its defences after the fall of France.
They would go on to serve together during the Siege of Tobruk, as well as in Palestine and Syria, before returning to Australia in February 1942 to join the war in the Pacific.
"On 17 April, the boys go absent without leave together to go and spend a bit time with their wives," Kelly said.
"When they returned to the battalion, they were severely reprimanded, and they lost a total of 24 days' pay each, but I'm sure they thought it was well worth it.
"It would be the last time the couples were together."
The 2/10th Battalion left Australia at the beginning of August 1942 and arrived at Milne Bay on the 12th. The battalion had been sent there as part of Milne Force to defend three airstrips from an impending Japanese attack.
"Japanese forces began landing at Waga Waga on the northern shore of Milne Bay on the night of the 25th of August," Kelly said.
"Two days later, the Japanese forced the 61st and 25th Battalions to withdraw to the Gama River where they were relieved by the 2/10th Battalion.
"That afternoon, on the 27th of August, the 2/10th advanced to K.B. Mission and soon came under fire from the Japanese marines.
"That night, during a night of confused fighting, Andrews was killed.
"It had been bucketing down, and had eased off a bit, but the men were fighting and they could barely see what was going on.
"Combine that with being in the dark, and in the jungle, and trying to fight through a mission area as well, it would have been pretty confusing.
"Andrews was one of 43 members of the battalion who were killed during the battle, which lasted until 7 September when the surviving Japanese forces finally withdrew.
"Andrews was initially buried at K.B. Mission, where he and his comrades were killed, but then in early December, his remains were re-interred at the Milne Bay War Cemetery.
"He and his best mate Ted were together right up until his death."
Andrews was 28 years old when he died, and after the war his remains were re-interred at the Port Moresby's Bomana War Cemetery in New Guinea.
When his wife Ellinor found out about his death, she enlisted in the Australian Women's Army Service (AWAS) in South Australia, where she served as an anti-aircraft gunner until the end of the war.
Ted's wife Olive had also enlisted in October 1942.
She was serving with the AWAS in Adelaide, when the Davidson family received the news they had been dreading.
"In January 1943, Ted's family were informed that he'd been badly wounded during the beachhead fighting at Sanananda," Kelly said.
Ted was evacuated to the 2/4th Australian General Hospital at Ipswich in Queensland where he died of his wounds and the effects of scrub typhus on 6 February 1943.
"Being wounded and ill, he just wouldn't have had the strength to fight it off," Kelly said.
"They were pretty brutal conditions up there and men were dying of scrub typhus and other tropical diseases.
"When they were at Milne Bay, tropical diseases were reasonably common, and the exposure to the heat and the tropics affected them pretty badly.
"But it's not until a little later on when the conditions start getting into their boots and their clothing that it starts to fall off them because they're always wet.
"It was just always raining, and foot rot and things like that set in.
"But by the time they're up in the beachheads in 1943, fighting around the swampy areas like that, disease was rife and the tropical conditions just took them apart.
"They're really nasty conditions, so you're fighting nature as well, and you're battling the heat and the conditions, let alone the Japanese, before they arrive as well."
Ted was 29 years old when he died. His remains were buried in the Ipswich General Cemetery.
His death notice said simply: "Reunited with his pal, Gordon Andrews."
Today, their names are listed on the Roll of Honour at the Australian War Memorial, alongside the names of almost 40,000 Australians who died while serving in the Second World War.
"It's one of the stories that really gets under your skin," Kelly said.
"Their lives were so closely intertwined and their stories so inextricably linked.
"It's pretty heart-wrenching.
"They enlisted together, got married together, and both left young wives behind.
"Their lives were both shattered by war within a short period of time.
"But bringing these stories to life, and just being able to breathe life into their history and tell their story is really rewarding.
"There was a fair bit of digging to get their story out there, but it's worth it.
"Their story deserves to be told."